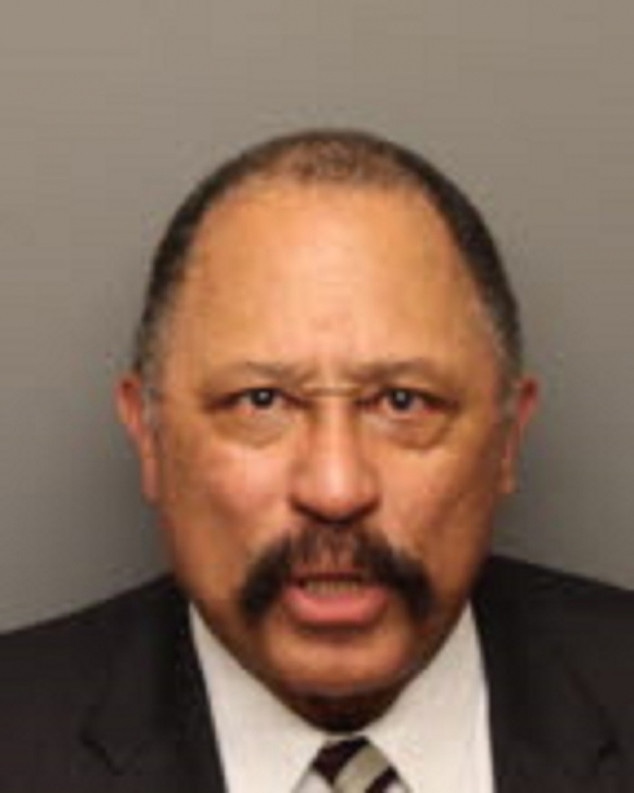 Shelby County Sheriff's Office
The star of the Emmy-winning courtroom show Judge Joe Brown recently turned himself in to police to begin a five-day jail sentence for contempt of court.
Joe Brown, whose series was canceled two years ago, was arrested and sentenced in 2014 for ranting at and getting into an argument with a magistrate during proceedings at a juvenile court in Memphis, Tennessee after learning the child support case he was litigating was not on the docket. After his sentencing, he filed an appeal over his contempt of court charges and lost this past March.
Before the 68-year-old turned himself in, he stopped to thank supporters. The group held signs that read slogans such as "Judge Joe stood up for justice" and "#ISupportJoe Judge Joe Brown."
"I've always been about supporting the people in this county," Brown, a former county prosecutor and criminal court judge, told local NBC Affiliate WMC Action News 5 from inside a vehicle. "That's what they're here to do is support me. Support me, you support yourself."
When asked how it feels like to be judged, as he is used to judging others, he rattled off names of civil rights leaders.
"You might have asked [Nelson] Mandela, Martin Luther King, Reverend [Joseph] Lowery, Stokely Carmichael," Brown said. "You might ask those people that just got arrested in Ferguson what it's all about. Sometimes, you have to do what you have to do and stand up for justice."
Brown turned himself into police around 12:30 p.m. that day. He was booked at the Shelby County Corrections Center and placed in the protective custody unit, Memphis TV station WREG reported.
In a Shelby County Juvenile Court order detailing the contempt charges against Brown, he was accused of "willfully and intentionally baiting the court" and indulging in "willful misconduct clearly intended to embarrass, hinder and obstruct the administration of justice."
Before his arrest, the magistrate had told him inside the courtroom that he was "very close" to finding himself "in contempt." The following argument ensued, as seen in court records and heard in audio posted by WREG:
BROWN: "Excuse me, on what authority do you sit by the way? As a former judge here, we have a rule in the 30th Judicial District—it says every single Magistrate Referee has to be unanimously approved by every Circuit, Chancery, and Criminal Court Judge. I don't recall that your name's ever been submitted, sir. This tribunal on a General Sessions Court's authority is insufficient to establish you. Therefore, I challenge your authority to hear it. And by the way, what is that, Magistrate, sir, with due respect."

MAGISTRATE: "Mr. Brown, the Court finds you in contempt."

BROWN: "Here. Ten dollars. That's all you've got on me."

MAGISTRATE: "I sentence you to 24 day...for 24 hours in the Shelby County jail."

BROWN: "You're out of it. The maximum-"

MAGISTRATE: "You may have a seat."

BROWN: "I'm not. Ten dollars. That's all you got. Twenty. Take the two."

MAGISTRATE: "Get the bailiffs."

BROWN: "Go find the law or I'm reporting you to the Court of 3 Judiciary. I'll have you charged with violation of process. Now, you want to get into this, let's get into it. This sorry operation needs to stop."

MAGISTRATE: "Twenty four hours, Shelby County jail for contempt. You may have a seat."

BROWN: "Excuse me."

MAGISTRATE: "Do you wish to have another 24 hours?"

BROWN: "If you try to do this, you need to straighten yourself up and you need to cite your authority."

MAGISTRATE: "Do you wish to have a second day, Mr. Brown?"

BROWN: "What did you say?"

MAGISTRATE: "Do you wish to have a second day?"

BROWN: "A second date?"

MAGISTRATE: "Day."

BROWN: "Day?"

MAGISTRATE: "Yes, sir."

BROWN: "I'll tell you what. You cite the authority. You find it. I looked it up before I came in here. You have 10 dollars maximum contempt jurisdiction. Now you jump in here."

MAGISTRATE: "That's two days in the Shelby County jail. Do you wish to continue?"

BROWN: "OK, OK, I'll tell you what. Ill be out of here very shortly on a Petition for Habeas Corpus and I'll bring up all these problems and guess what, you might not be operating tomorrow."

MAGISTRATE: "Have a seat, Sir."

BROWN: "OK, as a courtesy to the officers, I'll do that. Mmmhuh."

MAGISTRATE: "Alright."

BROWN: "It's a circus, Sir."

MAGISTRATE: "That's three days."

BROWN: "You can do all you want."

MAGISTRATE: "Four days."

BROWN: "You don"t have the jurisdiction I had to do it. You've got to be up above a trial judge. You've got 10 dollars."

MAGISTRATE: "Five days."

BROWN: "I offered you 10 dollars."
Security officers then remove Brown from the courtroom and escort him to jail. He was soon released of his own recognizance.
"I will not apologize for vigorously defending my client and demanding that the court follow the law," Brown said in a statement posted by WMC Action News 5. "What I saw was a miscarriage of justice and I did what needed to be done. I will serve the time and I will continue stand up and speak out for justice as I have done throughout my 40-year legal career."
"When our courts don't follow the rule of law, justice is in jeopardy for everyone," he added. "Thank you to all of my supporters. Your prayers and well wishes are appreciated."
(E! and NBC are part of the NBCUniversal family.)