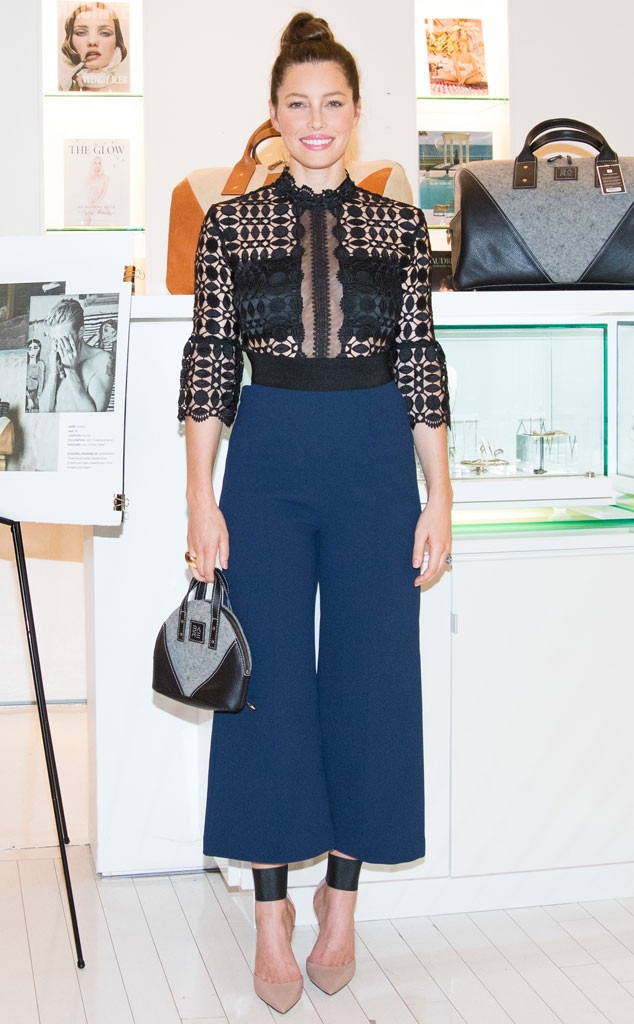 Owen Kolasinski/BFA/Sipa USA
Jessica Biel definitely has that new mommy glow.
The actress made her first red carpet appearance since giving birth four months ago to her and Justin Timberlake's son Silas last night in Santa Monica.
She was on hand at RonRobinson to celebrate the latest collection of Bare, the eco-accessories line she helped launch about two years ago with her brother Justin Biel and designer Grason Ratowsky.
The Total Recall star stunned with her hair up in a bun and wearing an embroidered black and blue culottes ensemble that showed off her gorgeous bod.
In her first post-baby interview, she talked exclusively to E! News at the fashion event.
Watch:
Jessica Biel Reveals "Most Magical Moment" as a Mom
I asked her what's been the most magical thing about motherhood.
"Probably the moment he wakes up from a nap," she said. "He's sort of looking around and you sort of creep up and look over the crib and he looks up and he goes [Biel lets out a big sighing sound]. Just a gummy mouth, no teeth, just a big smile, happy that you're alive and you're just looking at him. That's probably the most magical."
Biel admits to getting emotional during those moments, "but you quickly move on from it because there is a dirty diaper in your palm."
Funny enough, Bare doesn't offer a diaper bag—even though Jessica has asked for one. "Grayson said no," Justin said with a laugh.
Owen Kolasinski/BFA/Sipa USA
"What's wrong with this company?" Jessica cracked.
When Justin said Ratowsky may not be too keen on the word "diaper," Jessica promised to brainstorm for a new way to refer to the mommy and daddy must-have. "Something that will wet his appetite," she said.
Jessica's fave Bare bag is the $395 Park Portfolio Bag. "I just think they're unique," she said of the rectangular leather and wool piece. "You can put a lot of different things in there. I like the shape. It's quite beautiful. I love the colors. I love the brown and the oatmeal. " (It's also offered in black and grey).
Watch:
Jessica Biel Goes Into Business With Brother
Justin said Bare is focusing on bags right now, but they have hopes of branching out into hats, shoes and ready-to-wear.
The night before the Bare party, Jessica was backstage at the last of Taylor Swift's five sold-out shows at the Staples Center in L.A. to watch her hubby perform with the "Bad Blood" pop star.
"It was super fun," she said. "We are fans of music from all walks of the spectrum, from country to rock to R&B, to hip hop, whatever. I'll pretty much see anyone live."
That's not all the Jessica we have for you. For more of our exclusive chat, make sure to come back to E! Online later on and tune into E! News tonight 7 p.m. and 11 p.m.
Watch:
Artist Grason Ratowsky Dishes on BARE Inspiration