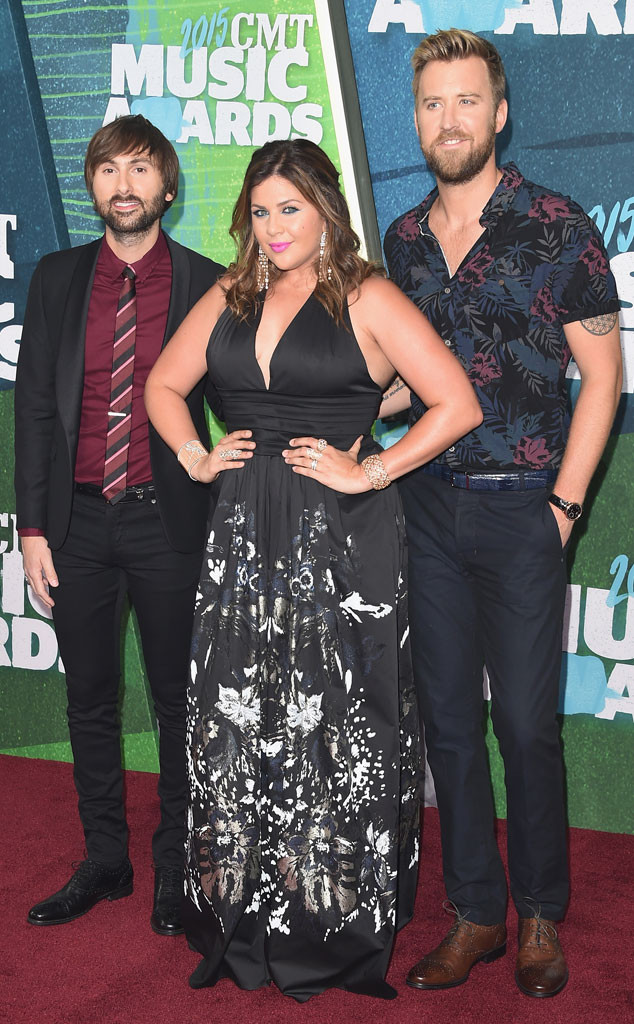 Jason Merritt/Getty Images
Lady Antebellum has so much to celebrate these days.
There's a new baby on the way for Charles Kelley and his wife, the group has sold 11 million copies of their album 747 albums worldwide and they've won "Vocal Group of the Year" honors from both the CMA and ACM Awards three years in a row. Moreover, they're enjoying their very successful Wheels Up Tour with Hunter Hayes and Sam Hunt. And next up...
A break! But don't worry, they'll still be very much on the job.
Hillary Scott told E! News, during a chat to talk about the band's collaboration with Chili's and St. Jude Children's Research Hospital on their Create-A-Pepper campaign, that they'll be focusing on writing songs for their next album. "Everything's obviously always in forward motion, but since our first album we've not really given ourselves the gift of time, to just get in the room and write together until we feel like we have everything," says the "Need You Now" singer.
The 29-year-old mom and musician confessed, "We've just made so many albums in such a short period of time, and we're proud of them, and what we've done in our career, and what we've said with them—but we've never given ourselves the gift of time. So, that's what this next season is for us, spending time with our families, and really relishing in this successful year for us, and focusing on where we're headed next."
She admits the break probably won't be long, which sounds like good news for Lady A fans. "Knowing us, it will probably be a lot shorter than what we probably set out for it to be, because we can't ever really stop," Scott says. "But yeah, there's no timeline, and that feels so nice to know. When we feel like it's ready we'll go to work."
Scott is most looking forward to just slowing down and enjoying time with her nearest and dearest. She can't wait "to be able to just spend time with our friends and family, and everyone we love," she said. "So, I'll be cooking a lot in my kitchen and having people over, and just honestly making up for lost time with memories with everyone we love. That's the hard thing about what we do is just being away from our friends and family."
Charles Kelley has said their Wheels Up Tour is their best one yet, and Scott says she thinks the reason is how comfortable they are on stage and in their careers, as well as in their personal lives. "It's the whole thing, the whole package of the tour, it's where we are in our careers, and our personal lives, getting to bring our families, the ever-expanding families we have, and it's just a really beautiful time."
Bandmate Dave Haywood also became a dad last year, welcoming son Cash with wife Kelli, so Kelley's incoming bundle of joy will complete the circle.
Scott had a chilling experience before heading out on the tour, however, when her tour bus caught on fire. Luckily, everyone escaped unharmed, but the experience forever changed the musician.
"I think looking back on it, I'm just so grateful for every day," she told us. "I tried to live that way before, but then every now and then I believe you just kind of get sent a wakeup call, and you hug those you love a little tighter. Say you love them when you want to, and hold on to those words, and all those things people say when they've been through something like this. I definitely am forever changed."
As their families continue to grow, their pre-show rituals have also changed. Scott says, "What used to be going in to Club La Bellum we call it, and making ourselves a cocktail, or going in and jamming with all the different instruments we have in that room, or playing ping pong. Now it's like, I get to go read a bedtime story to my little girl, and kiss her before she goes to bed. We still find our time to have our adult time, because we obviously need that to keep our sanity, but I will say there is nothing better than seeing her face right before I go on stage, and getting to tell her goodnight and I love her, and say our prayers together."
Scott joked about the trio's expanding families, saying, "We need to start a Lady A daycare...!"
She divulged to E! News that Kelley and wife Cassie do know the sex of the baby they're expecting, but haven't shared the news just yet.
"They're going to be the most amazing parents," Scott gushed. "It's just so funny to see how Charles is starting to look at the world differently and through a different lens, and as Cassie continues to carry this baby you're forever changed, and the pregnancy process starts that change, even for the dad too."
As for their work with St. Jude, Scott explained that "from now until September 14, you can donate whatever you feel comfortable with [for the Create-a-Pepper campaign]. I've been saying it's such a cool way to involve the whole family, and to teach your children at a really early age how to pay it forward, in ways that don't really take a lot of time out of your day, but they really make a big impact.
"I think it's a great lesson to teach your children as soon as they're old enough to doodle on a piece of paper. It's amazing!"
September is Child Cancer Awareness Month and Chili's will also be donating all dine-in profits from Sept. 14 to St. Jude as well.
Related:
Lady Antebellum Singer Rips Pants at 2015 People's Choice