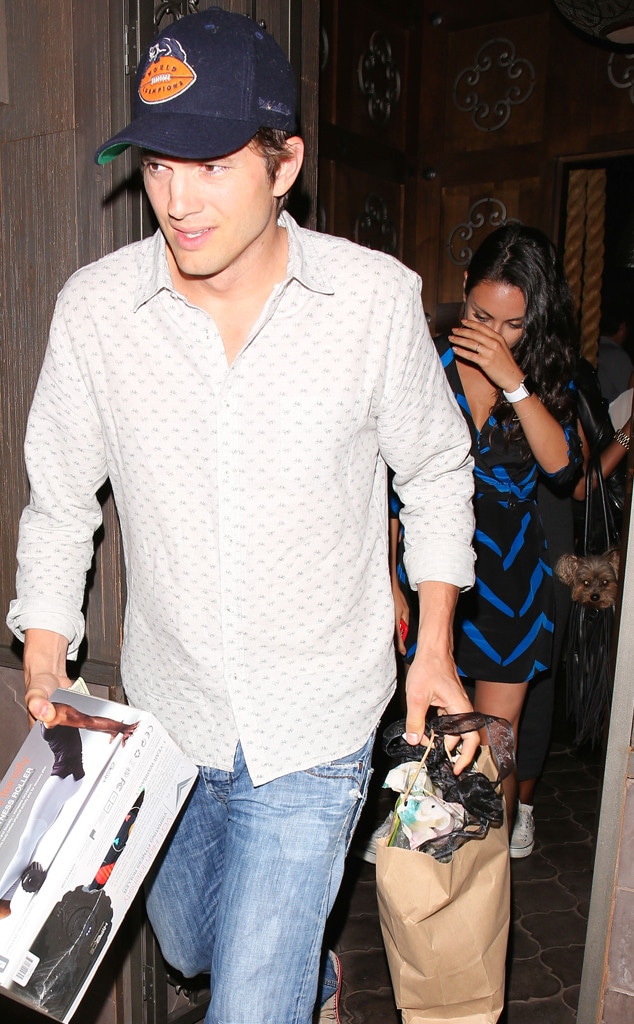 DEBY/AKM-GSI
As Kylie Jenner has exquisitely illustrated, a birthday celebration doesn't have to be limited to just one day.
After E! News exclusively reported that Mila Kunis and Ashton Kutcher ventured out to New York City with their daughter Wyatt to celebrate Mila's 32nd birthday last weekend, we learned that this Hollywood couple took the party back to the West Coast.
The pair were spotted leaving West Hollywood hot spot Toca Madera last night for a belated birthday dinner in honor of the beautiful brunette.
"They sat in the back garden and kept a low profile, Ashton wore a ball cap while Mila opted for a nice black and blue striped dress," an eyewitness tells E! News. "Leaving Wyatt at home, the two were joined by another unidentified couple for the night as they dined on fresh Mexican cuisine."
Plus, there were presents! Kunis was given a gift from her hunky hubby during dinner, and it was quite an interesting choice.
"Mila was seen opening presents from Ashton, which turned out to be a vibrating exercise roller," the insider adds. "Laughing hysterically as she opened the gift, Mila leaned in to give Ashton a kiss after opening her gift." LOL!
Although the present is definitely a funny gesture, it kinda makes sense. Kunis didn't waste any time shedding those post-baby pounds after welcoming their baby girl, and has been looking flawless (per usual) lately.
As for how she lost the baby weight so quickly after giving birth? The new mom previously said that "breastfeeding's a great workout" and she regularly enjoys long walks with her mini-me. 
"She and Ashton have also taken long walks along the bike path in Santa Monica," an insider previously told E! News. "Their house has a hiking trail outside of the front door and Mila also loves hiking in the canyon."
Now they can tag-team using the vibrating roller!
—Reporting by Sara Kitnick
Watch:
Wilmer Valderrama Dishes on Mila and Ashton's Baby