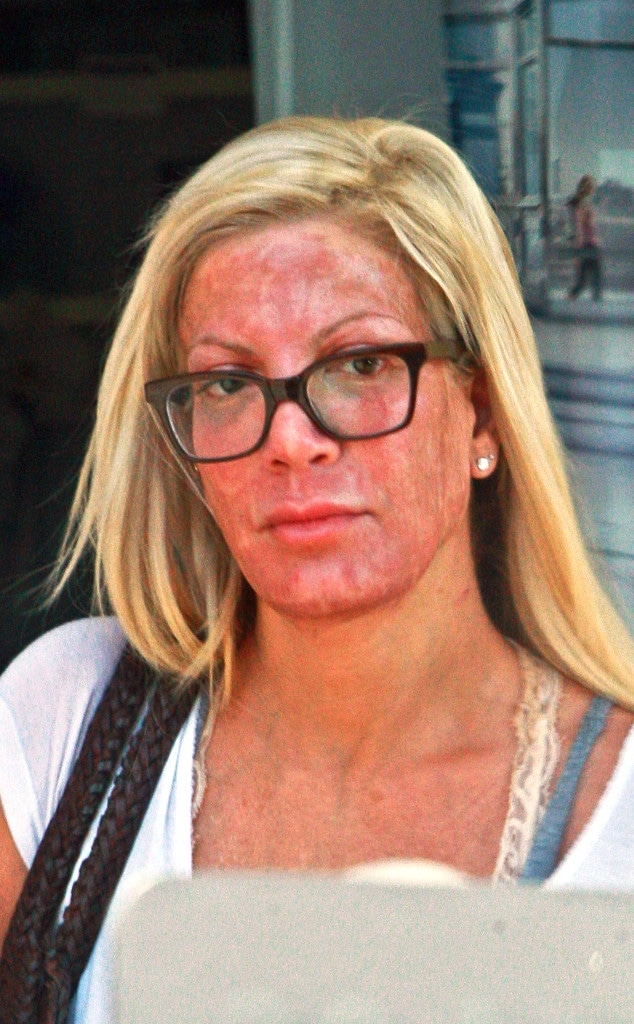 Boss/blink-news.com
Tori Spelling went to the spa over the weekend, but she came out looking anything but relaxed.
The 90210 alum left Calabasas Medical Spa with a very blotchy and very red face. Spelling underwent three procedures at the medical spa: a chemical peel, a microdermabrasion facial and eyebrow wax. Anybody else having flashbacks to the episode of Sex and the City when Samantha gets a chemical peel?
Ouch.
The 42-year-old, who seems to be very interested in keeping her youthful glow, departed the building with a visibly irritated face, but an insider told The Daily Mail that it should calm down in a little while. "It's pretty normal for the skin to look red and angry at first, but that should settle down within a few hours if [she] stays out of the sunlight," the source explained.
Spelling left the Calabasas center with a bag full of products to keep up with her beauty regimen at home. Also on display was the black sleeve she has been wearing to protect the bad burn she received after falling onto a hot grill at a Benihana restaurant on Easter. "Benihana burn" aside, Spelling has endured a few other health scares this year. In March she was admitted to the hospital to be treated for severe chronic migraines.
"I wish the media would stop making it so dramatic/scary 4 my family, friends,&fans...I have horrific migraines. I'm ALWAYS open about that!" she tweeted at the time.
But Dean McDermott's wife has been all about the relaxing life as of late, as she and her four children recently returned from a weeklong vacation at upscale Omni La Costa Resort and Spa in Carlsbad, Calif. 
Hopefully the redness calms down soon!
Watch:
Tori Spelling Tells All on Family Feud