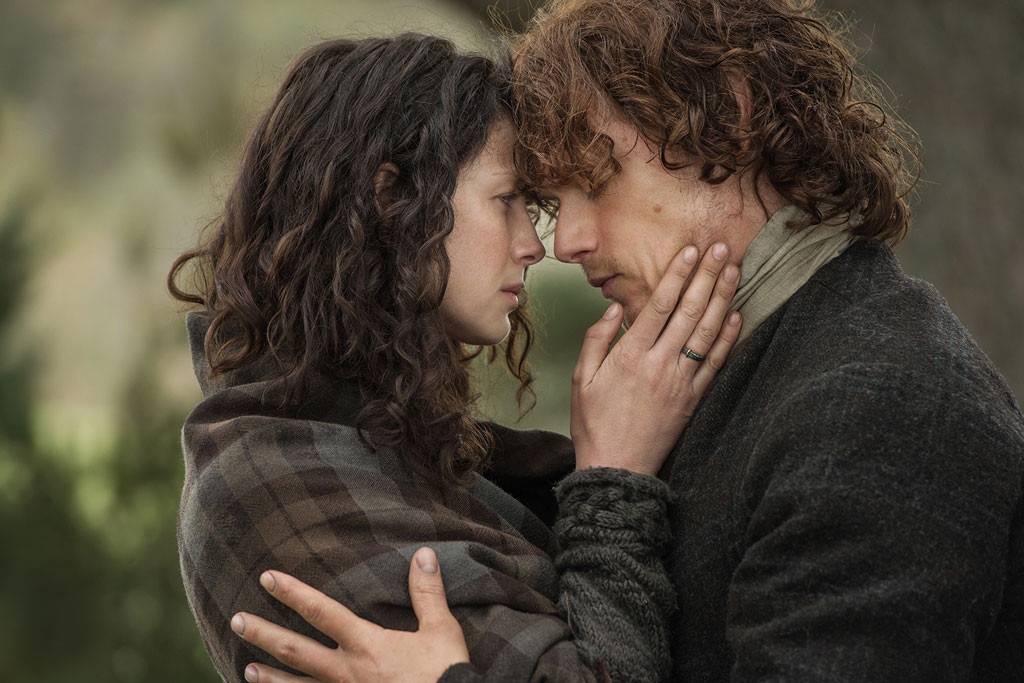 Starz
There's a new face coming to Outlander...and she's actually going to look very familiar.
Warning: major Outlander book spoilers ahead! If you don't want to be spoiled on a major season two and beyond storyline, avert your eyes now...
It's finally time to meet Jamie and Claire's daughter! E! News has learned that Outlander is officially casting Brianna, aka Jamie (Sam Heughan) and Claire's (Caitriona Balfe) biological daughter. As all book fans know, season two of Starz's hit series will be based on book two of Diana Gabaldon's series, Dragonfly in Amber, and that includes a huge time jump. Viewers will get to meet Brianna when she's 20, and she is described as looking a bit like Jamie—very tall, long red hair, high cheek bones, and slanted blue eyes.
But here's the twist: her last name is Randall. As in Frank Randall (Tobias Menzies). Claire's first husband. Who is, at the moment, back in the future, still searching for his missing wife. What?!
The official character description for the show calls Brianna a young 20-something American who's "strong-minded, intelligent beyond her years with an effortless charm and sparkling sense of humor (traits inherited from both her mother and father). She also has a scholastic mindset, with a healthy dose of American strength, having been born and bred in Boston under the watchful eye of professor and historian Frank Randall." 
Not only will this twist surprise non-book readers, but fans who have read the books are in for a shock as well: Although Brianna is introduced at the beginning of the second book in the 1960s in Scotland, the casting call for the role says that "Brianna has secretly followed her mother back in time to find the father she never met and the family she never knew." Spoiler alert: that does happen in the books, but not until the fourth book, Drums of Autumn. Does that mean the second season is going to borrow from future books, not just the second one?
© 2014 Sony Pictures Television Inc.
Sony Pictures Television, which produces Outlander, confirmed to E! News that everything stated in the casting call is correct. "Sony Pictures Television can confirm that we are casting for the role of Brianna in Outlander," Sony said in a statement. "Fans of the books will know that she first appears in the second book, Dragonfly in Amber, which corresponds to the season we are currently filming, but continues on to have several major storylines as noted in the casting search details."
The show is looking for an actress 5'8″ and over to play Brianna as "earthy and grounded and not girly, with the inexperience and vulnerability" of her age. (And for all you fans dream casting the role, don't take hair color as a factor since the show will dye hair if necessary).
When E! News asked executive producer Ronald D. Moore about casting Jamie and Claire's kids, he told us that they were planning on taking their time to find the perfect actors to take on Brianna as well as Jamie and Claire's adopted son Fergus, who's about 10 when we meet him in France in 1744. He's described as having black hair, pale skin, and a beaked nose.
"We have not cast them yet," Moore said. "It's a long chain that gets you to finding the actors, as we went through with Cait [Balfe] and Sam [Heughan]. Sometimes you find them right away, sometimes you have to keep looking."
As for what Moore and the casting director are looking for when they're casting, he couldn't give us a list of requirements.
"There's no one particular thing that you're looking for in any of these roles, except that when they get on camera, they kind of become that character and they lose themselves in the role," he told us. "It's just one of those things that you just know it when you see it. When you see the tape, you just sort of sit up and go, 'Oh my god!' It's an ineffable quality that the right actor with the right role can bring to the show."
Who do you want to see play Brianna and Fergus in Outlander season two? Hit the comments section below to weigh in with your dream cast choices now!