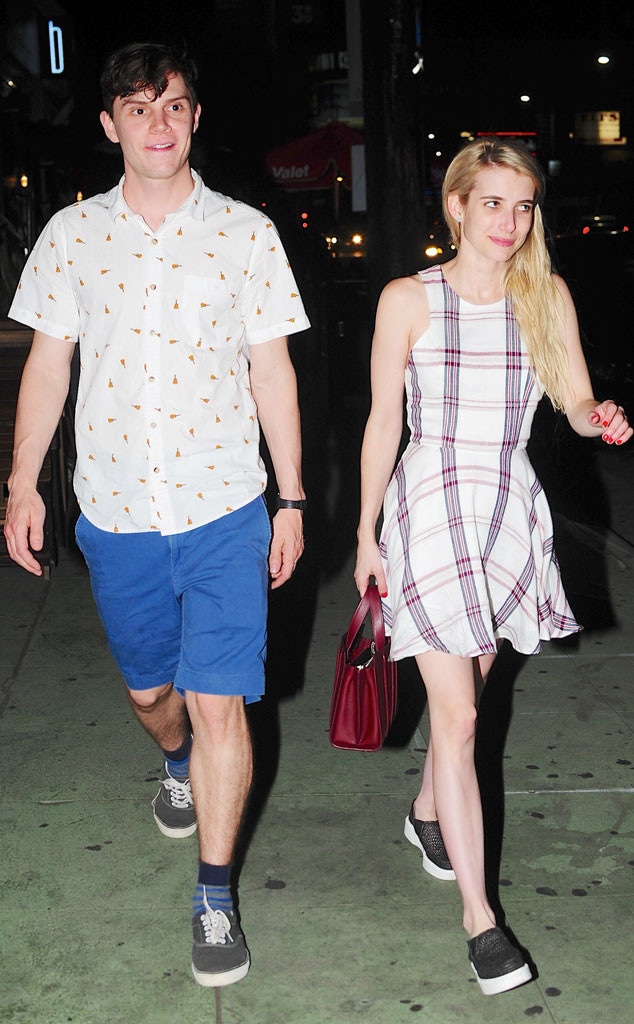 DutchLabUSA / Splash News
Summer is almost over, but can the same be said for Emma Roberts and Evan Peters? Two months after the actors ended their engagement, the actress, 24, and the actor, 28, were photographed leaving dinner together in West Hollywood Sunday. The American Horror Story: Freak Show co-stars were both smiling and seemed to be on friendly terms as they left Izakaya restaurant and headed home.
Whether they're back together is anyone's guess, however.
Neither Roberts nor Peters has publicly commented on their breakup.
At the time of their split, a source told Just Jared, "Their three years together just ran its course. They have so many great memories together but couldn't make it work in the end. The breakup was amicable. There was no drama whatsoever. Emma and Evan are even still friends!" A source also told People, "They grew apart. They both had a lot of growing to do, and it was better that they do it on their own."
Roberts and Peters, who reunited at Entertainment Weekly's Comic-Con party in July, met while filming the indie Adult World and began dating in 2012.
They actors engaged over the Christmas holiday in 2013.
While Roberts and Peters have broken up with each other, neither star has called it quits with American Horror Story creator Ryan Murphy. Roberts stars in the series Scream Queens, debuting Sept. 22 on Fox. Peters, meanwhile, has joined the cast of American Horror Story: Hotel, debuting Oct. 7 on FX.
Will Roberts and Peters work together again? "Emma is doing an arc on American Horror Story at the end once Scream Queens is done, but we haven't figured it out totally yet. She loves the show and wanted to keep being a part of it, so she'll probably do two episodes? Not sure," Murphy recently told E! News. "Or maybe she'll be too exhausted from Scream Queens, what with all that running from the killer!" Roberts herself said she would "follow" Murphy anywhere, telling E! News in May that she planned to play a part "at the end" of American Horror Story: Hotel. "I'm hoping, but I don't know!" she said. "You'll have to ask Ryan!"
To find out more about Roberts' role on Scream Queens, watch the video below:
Watch:
Emma Roberts Hopes to Be Back for "AHS: Hotel"