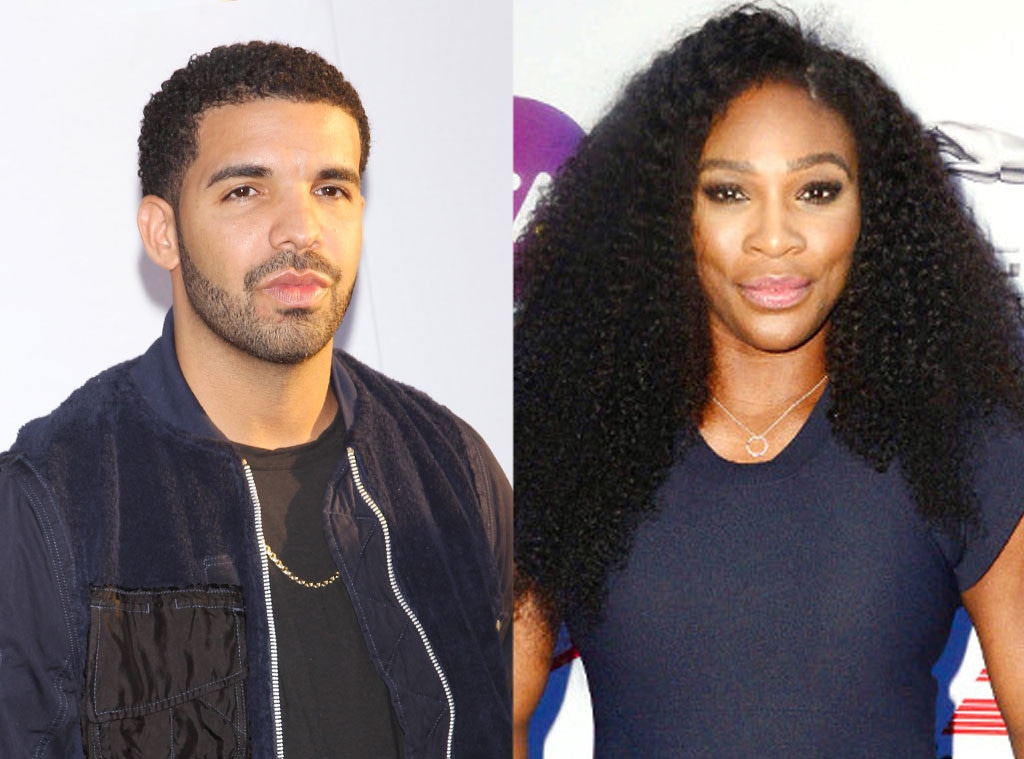 Getty Images
It's official: the Twitterverse is freaking out over this hot new couple. 
TMZ has obtained photos of Drake and Serena Williams engaging in a steamy makeout sesh at a restaurant in Cincinnati on Sunday. E! News has learned that the two, who have been friends for some time, have been talking romantically for the past month. 
We're told their budding relationship is very new and the duo does not yet have a title, but Drake has always been a big fan of Serena and she is very much his type. The insider added that the rapper and the athlete are both going with the flow for the time being. 
Earlier in the day, Williams won the WTA's Western & Southern Open with Drake on hand to lend his support. 
This isn't the first time the 28-year-old hitmaker and the 33-year-old tennis champ have been romantically linked. Back in 2012, Drake and Common, who previously dated Williams, were rumored to have beef over the six-time U.S. Open champion.
The "Started From the Bottom" rapper was also spotted at Wimbledon last month, and he Instagrammed a shot of Serena after she claimed her sixth Wimbledon title. 
"Showtime Champ. A big plate for all that food you ate at Wimbledon!" he wrote. 
While neither Williams nor Drake have commented on their romance, the Twitterverse sure has a whole lot to say. 
Way to win at life, Drake. 
A Drake and Serena baby would be more powerful than anything this world has ever known. Even Blue Ivy would raise a sippy cup in respect.

? Sara Benincasa (@SaraJBenincasa) August 24, 2015
Drake and Serena = yes!!!!! ??

? Serena Williams News (@serenanews) August 24, 2015
Drake and Serena tongue kissing photos to start off my Monday right???

? Eliza Soup (@elizasuppal) August 24, 2015
Are Drake and Serena dating? For real? He is winning at life right now

? Petty Patricia (@DragemT1814) August 18, 2015
texting all my exes about Drake and Serena because this news is bigger than any of us

? Mallory Ortberg (@mallelis) August 24, 2015
I would actually ship Drake and Serena Williams. Can't believe I'm using that word but yeah.

? liyah (@liyahhun) August 24, 2015
Drake and Serena gonna run the country. Just watch.

? GO:OD AM 9/18 (@jefflanejunior) August 24, 2015
At what point do we declare Drake and Serena relationship goals? ????????

? Chi (@Omalicha__) August 24, 2015
Drake and Serena Williams look so cute together omg ??????

? Lolitá (@Itsslolayo_) August 24, 2015
Drake and Serena making out in a restaurant!! The best pairing ever! I salute

? #EvolutionAsa (@talktoharmony) August 24, 2015
Watch:
Drake Reveals Favorite Kardashian