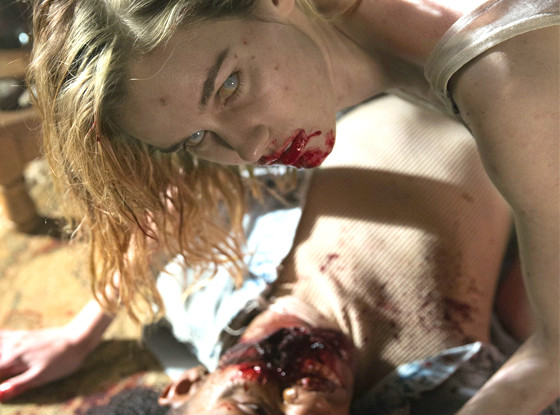 AMC
We never thought we'd say this about a zombie show, but we actually did not miss the zombies in Fear the Walking Dead.  
AMC's newest show, a spin-off of The Walking Dead, debuted tonight and introduced us to a new group of people we can potentially look forward to seeing eaten later on in the series. 
First we met the heroin-addicted Nick (Frank Dillane), right before he discovered his girlfriend was eating a guy, which was also right before he ran out into traffic and was hit by a car.
Throughout the first episode, we also met his mom, school counselor Madison (Kim Dickens), his sister, Alicia (Alycia Debnam-Carey),  Madison's English teacher boyfriend Travis (Cliff Curtis), Travis' ex-wife and son, Alicia's boyfriend, a weird student of Madison's who's scared of the zombie apocalypse, etc etc. 
We met a lot of people tonight, and we can be pretty positive that a lot of them aren't going to survive the series. When we sat down with the cast at this year's Comic-Con, we asked them who they thought would make it to the end. 
Press play below to see what they had to say! 
Related:
Who Dies First on "Fear the Walking Dead"?
Not only did Cliff Curtis just really jump up there in terms of our favorite cast members, but he also might just have given us our new favorite tongue twister and what is probably a perfect summation of this show: 
"Whatever the expectation is, almost expect the opposite of what you expect to be expecting when you're expecting something you might not expect, and have no expectations please." 
Did you get all that? Apparently we're supposed to expect the unexpected while also expecting nothing at all, which is fine with us as long as we don't have to think about it too hard. 
We can't wait to see where this series eventually takes us, especially if it continues taking us in the direction of people thinking the zombie apocalypse is a hallucination due to PCP, because that's hilarious. 
We'd also like to see how and where the zombie virus actually begins while also seeing some people brutally eaten by zombies, but drug jokes are fun too, for now. 
What did you think? Vote in the polls below and then head to the comments to weigh in! 
TWD vs FTWD: Which Is Better?