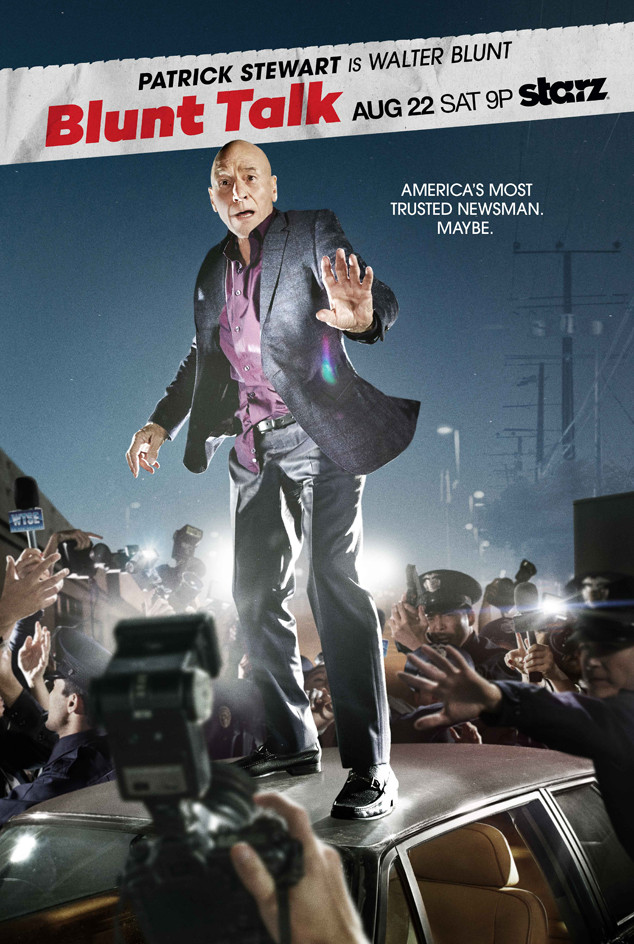 Starz
Well, we can't say we were expecting that.
Starz' latest comedy just debuted, and we may never look at Patrick Stewart the same way again.
The Star Trek and X-Men legend stars in Blunt Talk as Walter Blunt, a famous English talk show host who, within the first ten minutes of the pilot, refers to the "f—king house of Windsor," nearly sucks on a prostitute's breasts, sings along to a rap song, beats up some cops, and then jumps on top of a car to recite a Hamlet monologue.
It's like nothing we've ever seen from Stewart before, but he's so incredibly good in the role that we're now wondering why he hasn't been snorting cocaine and being spanked with towels throughout his entire career.
Adrian Scarborough stars alongside Stewart as his loyal manservant Harry, and we sat down with both of them during Starz' press tour to talk about the hilarious and unexpected new show.
E! News So, Adrian, what is it like to work with Patrick Stewart?
Adrian Scarborough: Working with Patrick is a hourly pleasure, because well A, he's a professional to his fingertips, and B, he's been doing it a long time and really knows what he's doing, so that's been very useful to watch and be around. I work on the principle that somewhere along the line hopefully a bit of it will rub off. That's my prayer. But also, I mean it is a combination of everybody.