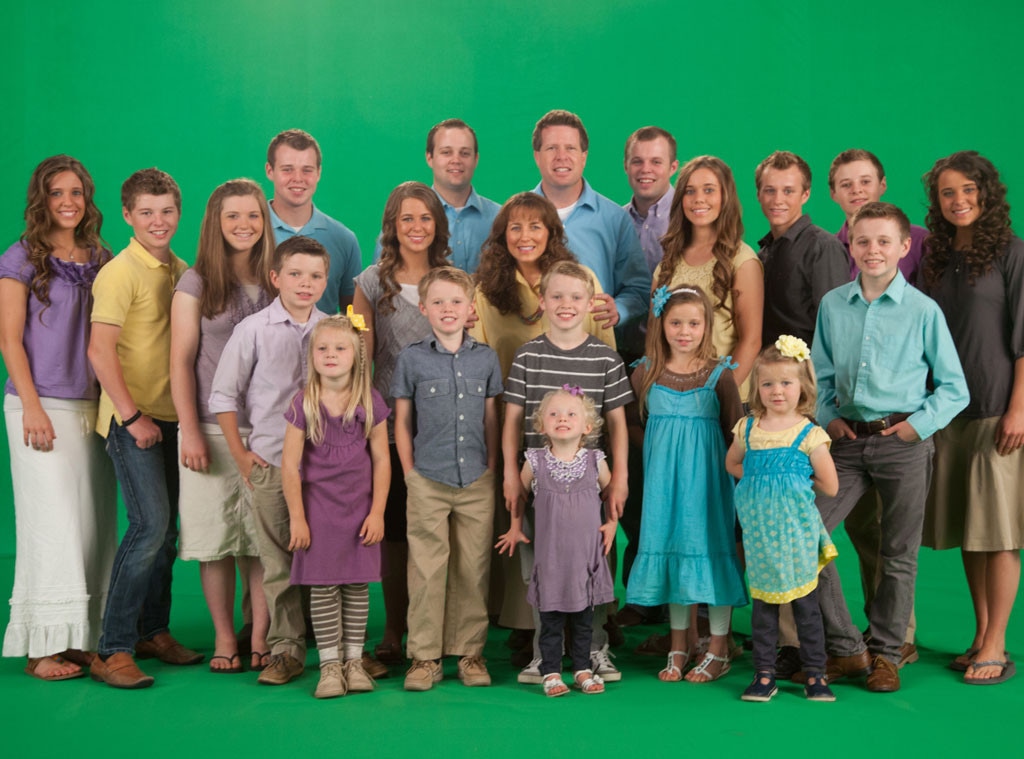 TLC
19 Kids and Counting has been canceled, but is the Duggar family really down for the count?
On Aug. 30, TLC will air a documentary on child sexual abuse in the wake of the scandal that prompted the network to pull the plug on 19 Kids. Breaking the Silence will feature footage from a prevention-training seminar attended by Jessa and Jill Duggar. Older brother Josh Duggar molested them when he was a young teenager, after which he underwent counseling.
And just yesterday, Josh admitted to being unfaithful to Anna Duggar, his wife and the mother of his four children, after Gawker posted alleged excerpts of an Ashley Madison account paid for with a credit card belonging to Joshua J. Duggar and billed to a family member's home.
"I have been the biggest hypocrite ever," Josh said in a statement posted on the family's website.
Will this hour-long special on abuse appease the critics calling for the sanctimonious family's heads?
Or give the Duggars a shot at a spin-off?
The growing family of Jim Bob and Michelle Duggar and their embrace of conservative Christian values became a pop culture phenomenon almost from the get-go in 2008 and was TLC's most- watched show for the last four years.
The nuptials of daughter Jill and Derick Dillard aired four months after their wedding day and still attracted a whopping 4.4 million viewers last October, a record for the show.
And the happy headlines continued into 2015. The family's popularity kept rising as many of the now-grown-up Duggar kids started their own families. There were social media postings of new courtships, marriages and births for fans to "like."
But everything changed in May.
In an interview airing tonight on FOX News Channel's The Kelly File at 9PM/ET
In Touch published a police report that revealed Josh Duggar, Jim Bob and Michelle's eldest son, had been accused as a teen of molesting five underage girls; the victims were later revealed to include Jessa and Jill. The parents, Josh and his wife, Anna, acknowledged the news days later and Josh admitted he "acted inexcusably." His family—including Anna, Jessa and Jill—has maintained unwavering support for him in the wake of that scandal. (None of his sisters or his wife has commented yet on the infidelity news.)
But TLC and Hulu, which streamed re-runs, immediately yanked 19 Kids from their lineups. Sponsors such as General Mills, Payless Shoes and Walgreens cut ties.
Finally, in mid-July, TLC announced that the show had been canceled for good.
In an interview airing tonight on FOX News Channel's The Kelly File at 9PM/ET
"The biggest mistake they made is they waited too long. There is too much of an opportunity for the crowd to turn against you and it comes very quickly. Not responding in a week when there is a scandal makes it look like you are endorsing it," public relations and strategic communication expert Dr. Daren Brabham, an assistant professor at USC's Annenberg School for Communication and Journalism, told E! News.
Seriously, why did TLC wait so long?
"They were doing it to protect their most valued brand and maybe trying to spin off new assets out of the crisis," Brabham said. "I hate to be so cynical, but I think they lingered so long because they were trying not to kill their cash cow, one of their highest-rated shows, and all that revenue."
When scandal came to TLC's Here Comes Honey Boo Boo, the network axed the show within days. Family matriarch Mama June was facing accusations of dating a convicted sex offender who had victimized one of her daughters. 
But there was more at stake with 19 Kids and Counting.
"There is a lot more revenue for 19 Kids and Counting as opposed to Here Comes Honey Boo Boo, which had already run its course," Brabham said. "The Duggars had a lot more people and story lines to pursue."
In fact, the cancellation of 19 Kids cost TLC parent Discovery Communications $19 million due to higher-than-usual restructuring charges, CFO Andrew Warren revealed earlier this month in a second-quarter earnings conference call.
Moreover, hypocrisy played a part in the outcry against the Duggars, says Robert Thompson, Syracuse University Professor of Television and Popular Culture.
"What really got the Duggars so much more than Honey Boo Boo is that the Duggars were self-righteous, and it turns out that in this case one of the characters admitted to behavior antithetical to what they portrayed on the show," Thompson said.
Josh Duggar, a now former executive director of the Family Research Council's FRAction political action committee, wasn't shy about expressing his political views. He vocally supported conservative issues and advocated against same-sex marriage and abortion rights.
Hypocrisy isn't "tolerated in America," whether it comes from politicians or reality TV stars like the Duggars, Thompson added. "If you are a senator and get caught with a sex tape it is hypocrisy and people won't stand for it, but if Paris Hilton has a sex tape it's OK. With the Duggars, it's the sin, the lie and the contradiction—a triple whammy."
"We spent the past month and a half in thoughtful consideration about what is the best way forward here," TLC president Marjorie Kaplan said in an interview in July explaining the cancellation and the subsequent plan for a documentary special. "We took it as an opportunity to step further than just 'How do we protect ourselves?' and step into 'How do we protect our audience and protect children?"
She added, "Our hope is to do more of that, in a way that's thoughtful and respectful of the victims of child abuse—in the Duggar family and across America."
In announcing the documentary, produced in collaboration with the non-profit advocacy organizations RAINN (Rape, Abuse & Incest National Network) and Darkness to Light (which seeks to put an end to child sexual abuse), TLC called it "an effort to promote education, raise awareness and advance the conversation on this important matter." Jill and Jessa "want to use their situation to help others and promote adult education for the protection of children."
Jennifer Marsh, VP of Victim Services for RAINN, told E! News in June, "First thing is, [the scandal] is forcing a national dialogue around an issue that isn't discussed often. We see this issue in over a third of the online national sexual hotline interactions. This is something we hear from children and adults every day and having this issue put into the national spotlight has people talking about how you should respond if someone has been abused by another family member.
"Sexual assault and violence has had unprecedented attention but the issue of abuse perpetuated by family members is often not discussed."
So is the documentary truly an attempt to do some good, a delayed apology or a hail-Mary attempt to keep the Duggar brand alive? Or a combination of the three?
Brabham thinks it could be a mea culpa moment for the network.
"I think their heart is in the right place. But it sure did take a long time for them to double down with a reparative measure," he said. "The way I interpret this is kind of trying to issue massive apology in a sense. It takes some guts to do it knowing they have waited."
He compared the decision to an oil company having a spill and then talking about how much they give back to the environment.
"It raises eyebrows and it's like a fast food chain that has a problem with one of their ingredients and then all of a sudden has low-calorie options. It is a classic PR move," Brabham said.
Thompson sees it yet another way, as "an act of cleansing."
"TLC has an ugly cloud hanging over it and the documentary in some way creates some distance in making TLC less toxic and taking [out] the toxicity that 19 Kids and Counting has brought," he said.
There's still a chance for a spin-off, Thompson said, because you don't need that many viewers to be considered a hit on cable television.
"There are plenty of people for whom this Duggar scandal is not something that bothers them and they are still willing to watch," Thompson said. "I would not be surprised if TLC doesn't still have it somewhere in their idea that people from this show could be spun off. They already have their brand and fans and identity built up, but they can't introduce anything new or bring out any minor players before they clear the mess on the stage."
TLC had no further comment when contacted by E! News other than to reiterate the details of the special airing Aug. 30.
Both Thompson and Brabham agree that the documentary could do a lot of good creating awareness about a difficult and important subject—child sexual abuse.
"There is enormous potential if they do it right and create awareness and change opinions, but it's sexual abuse so it's a pretty hard target to hit," Brabham said. "I think if it's well done it can have a tremendous positive effect."
The documentary also provides closure for the series, especially with two of Josh's victims, Jessa and Jill Duggar, participating, says Thompson.
"I can't judge the documentary. I haven't seen it yet. I don't know if it will be good or not. Potentially I like the idea," Thompson said. "I can see in a certain way that it is tasteful and useful."
Asked yesterday about the latest scandal, Josh admitting to cheating, Brabham told us, "I would say at this point Josh Duggar's brand is pretty much destroyed...The family values cause was his brand and potentially his political platform in a would-be political career, but now that has all been revealed as a sham. Public relations doesn't get much worse than this. TLC is wise to have broken bonds with the Duggars in light of this new development."
But we'll have to wait to find out if the documentary is really the end for the Duggars' TV career or the beginning of a new chapter.
"This documentary is like a series finale. Sopranos went fade to black and we don't know what happened. Mad Men crafts the Coke commercial," Thompson said. "19 Kids and Counting will end with this public-relations ad, and perhaps an important hour-long documentary, and we will judge it when we see it."
Added Brabham, "My guess is that the family is not done. There will probably be some attempt at some point to get a spin-off or some sort of redemption narrative-kind of show. But Josh for sure is going to have to be kept at a distance at this point. It remains to be seen what the family will do and if TLC will want to be at all connected to them going forward."