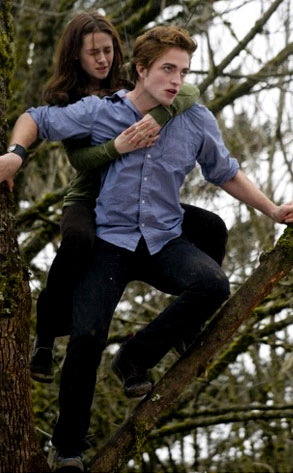 What fanggirls want, fanggirls get.
While there's still a week to go before Twilight opens in theaters, producer Summit Entertainment is already sinking its teeth into more installments of the vampire romance, acquiring the rights to the next three novels in Stephanie Meyer's series.
According to the Hollywood Reporter, the studio has also secured the services of Twilight screenwriter Melissa Rosenberg to pen New Moon and Eclipse, the second and third installments of the would-be blockbuster franchise.
Further ensuring squeals from the masses: Lead bloodsucker Robert Pattinson is also on board for the first three films.
The principals have not yet signed for the fourth installment, Breaking Dawn (SPOILER ALERT—the one where regular teen Bella and her vampire love, Edward, finally tie the knot), but presumably that fact is still a significant number of years away from being a worry.
Twilight opens—as if you needed reminding—Nov. 21. (Check out the latest movie stills in our Twilight gallery.)