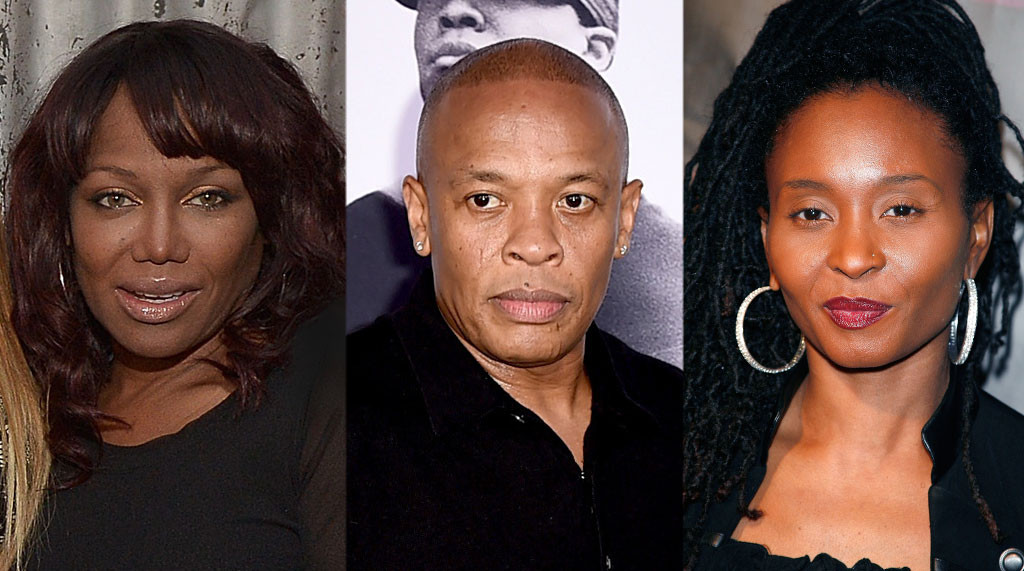 Charley Gallay/Kevin Winter/Getty Images; Paul Archuleta/FilmMagic)
Straight Outta Compton was greeted with massive success over opening weekend. Not only did the movie release to some pretty rave reviews, but it slaughtered the box office, blowing the competition out of the water with a $56.1 million haul.
However, there are some who have their own issues with the biopic, which follows rap group N.W.A.'s rise to fame, and they're not afraid to speak out on it.
Dr. Dre's ex, Michel'le Toussaint, and journalist Dee Barnes, have each criticized the film for failing to recognize their respective abusive interactions with the now-billionaire producer.
Michel'le, an early 90's R&B singer and Dre's ex-fiancée, spoke about their relationship in a new interview with VladTV.
Both she and Dr. Dre have openly acknowledged that he was abusive towards her during their six years together (1990-1996), and Michel'le seemed to understand why it wasn't illustrated in the film, although her answer still struck a chord.
"Why would [Dr.] Dre put me in it? If they start from where they start from," she said, "I was just a quiet girlfriend who got beat up and told to sit down and shut up."
However, Barnes, the former host of well-known hip-hop show Pump It Up! in the late '80s and early '90s, had a bit more to say.
Writing a guest article about the film and her personal experiences with Dre for Gawker, Barnes detailed a specific scenario with Andre Young (Dr. Dre).
After referencing the footage of California Highway Patrol officer Daniel Andrew beating on Marlene Pinnock from last year, Barnes wrote, "That must have been how it looked as Dr. Dre straddled me and beat me mercilessly on the floor of the women's restroom at the Po Na Na Souk nightclub in 1991."
And she's not necessarily mad that the film didn't show this. In fact, she doesn't think the audience would've been able to handle it.
"That event isn't depicted in Straight Outta Compton, but I don't think it should have been, either," Barnes wrote. "The truth is too ugly for a general audience. I didn't want to see a depiction of me getting beat up."
However, completely dodging the entire incident didn't sit well with her.
"But what should have been addressed is that it occurred. When I was sitting there in the theater, and the movie's timeline skipped by my attack without a glance, I was like, 'Uhhh, what happened?' Like many of the women that knew and worked with N.W.A., I found myself a casualty of Straight Outta Compton's revisionist history," she wrote.
Johnny Nunez/Getty Images
Meanwhile, Dre, who executive produced the movie along with his former groupmate Ice Cube, didn't shy away from talking about the abuse allegations during the Straight Outta Compton press tour, telling Rolling Stone, "I made some f--king horrible mistakes in my life. 
"I was young, f--king stupid," he continued. "I would say all the allegations aren't true—some of them are. Those are some of the things that I would like to take back. It was really f--ked up. But I paid for those mistakes, and there's no way in hell that I will ever make another mistake like that again."