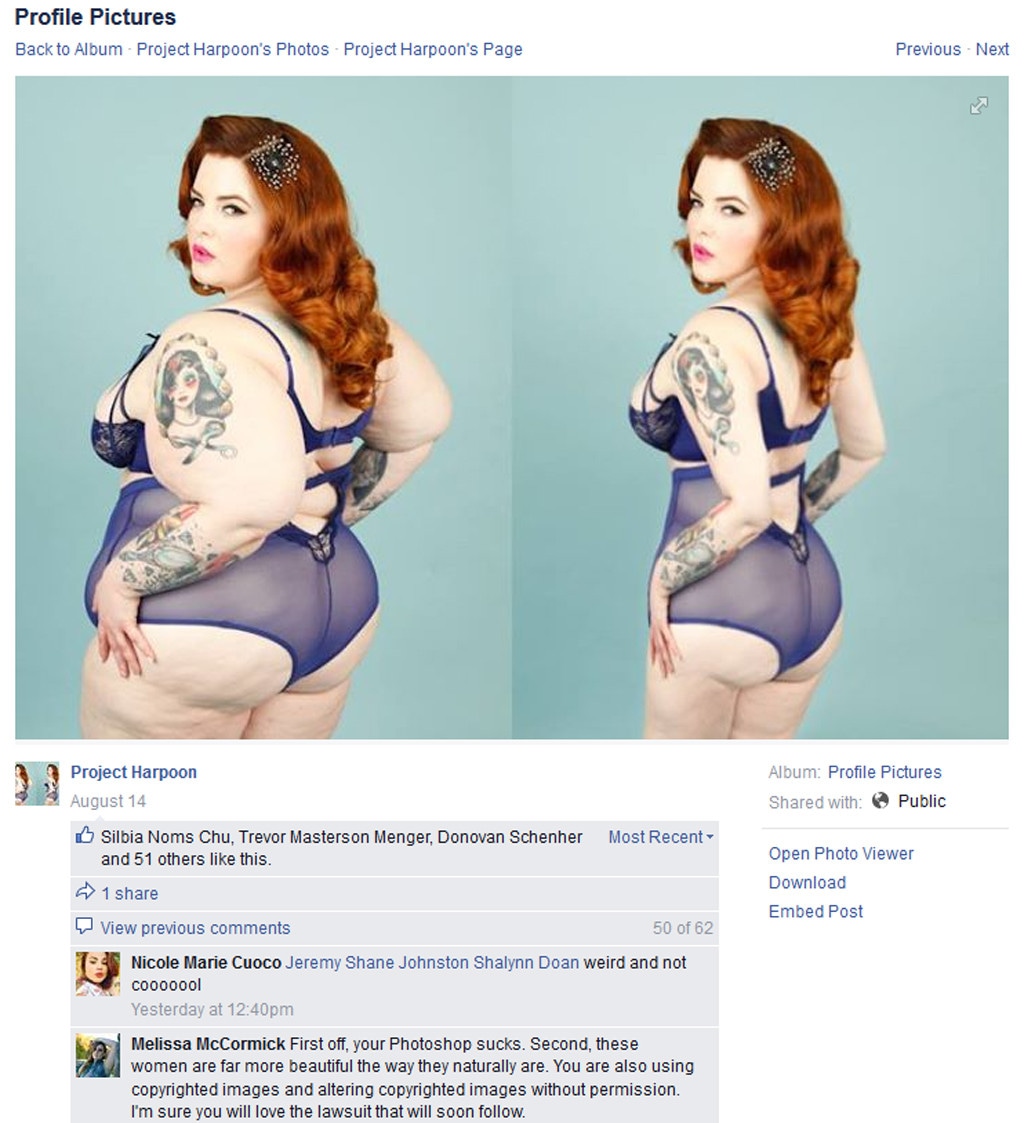 Facebook
Ugh—file this one under really?
A Facebook user heading the page "Project Harpoon" (a dig referencing the weapon used in whaling) is jonesing for attention, and using his or her amateur-at-best Photoshop skills to get it. The user has posted a series of professional shots (all taken without permission, we assume) showing the plus-size individuals in them—including famous models and actors—edited to have much thinner figures.
In the gratingly tone-deaf captions included, the user (and that's user in every sense of the word) asks for "no hate speech" or "shaming"—despite the fact that the "art" presented is body-shaming in its most tactile form.
Actress (and style maven—check her new clothing line) Melissa McCarthy was even included, with the user making a drastic edit to her 2014 Emmys look.
Model Tess Holliday is one of the plus-size women whose image the anonymous individual edited. She tells E! News exclusively that the page deserves to be boycotted (we agree).
"It's abominable that this [Facebook page] is using my image without permission to promote themselves," Tess said.
"This kind of hit piece is exactly why I started #effyourbeautystandards. I am asking my followers to boycott this [page] and any others like it. Loving yourself is the most powerful message we all need to stand behind."
Michael Loccisano/Getty Images
This particular controversy follows the growing momentum of the body positivity movement in modeling and the mainstream media, which has seen plus-size beauties like Tess and Ashley Graham come to the forefront in promoting body acceptance and size inclusivity.
Dimitrios Kambouris/Getty Images
We even asked the question for guys ("Where is the body diversity push for male models?") and got an answer of sorts via Internet celebrity and newfound fashion darling The Fat Jew (real name: Josh Ostrovsky), who was signed to One Management Agency in July and will be presenting a collection of Dad Bod-friendly duds at New York Fashion Week this September.
Suffice to say, this amateur artist is on the wrong side of history.
—Additional reporting by Holly Passalaqua