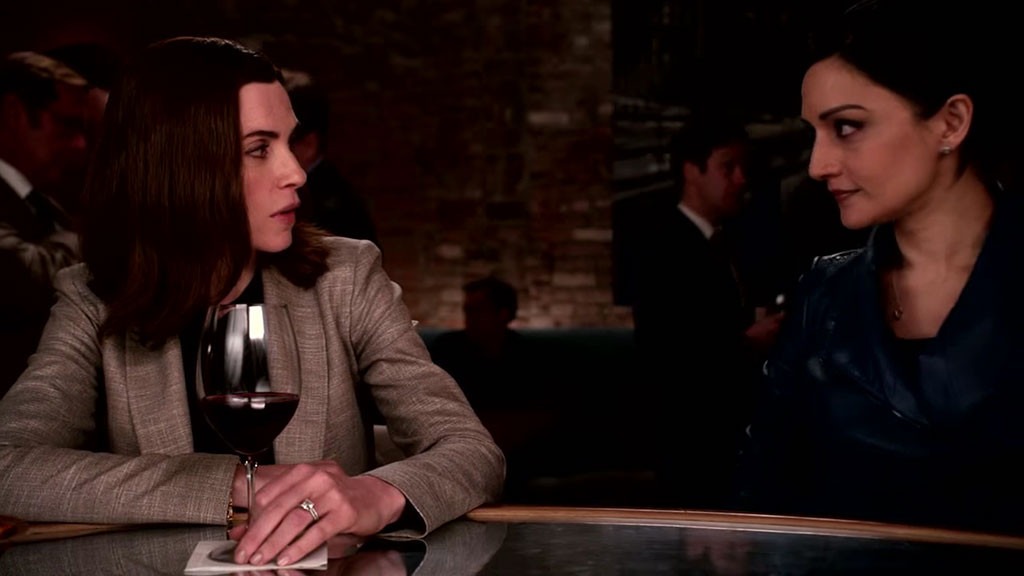 YouTube
The Good Wife is ready to say goodbye to the CGI controversy.
The CBS hit's bosses Robert and Michelle King are finally breaking their silence on all the controversy surrounding the final scene between Julianna Margulies' Alicia Florrick and Archie Panjabi's Kalinda Sharma, which was clearly CGIed and has been the source of disappointment among the fanbase since it aired in May.
In an interview with TV Line, the Kings said it was never their intent to "dupe" viewers by not having their two female leads actually in the scene together after not sharing a scene in over 50 episodes. 
"Fans can feel what they want and we respect them because they keep the show on the air, but I hope they don't feel duped," Robert King said. 
Michelle King added, "We are certainly never ever hoping to hurt the fans' feelings or make them feel like that trust has been broken. But we're making the show every day using tricks, like if you're in a car and there's green screen and it looks like Chicago out the window but that's not exactly where we are. That's an everyday, run-of-the-mill thing on the show."
And Robert King said if the fans should feel duped by anything, it should be the death of (Spoiler Alert warning for lazy viewers!) Will Gardner (Josh Charles) last season. Why? "We kept something from the fans for a long time, because we knew a year earlier that we were going to be killing Will," he explained. "And I think when you play a real emotion, you get around that duped factor."
But when TV Line clarified that viewers might've felt duped over the way in which the story was told, not the actual story, the Kings refused to get into "the gossip of it," before once again using Will's death as an example. 
"Here's what I will say about that without going into the gossip of it… We've had reporters in the editing room before and they can see the tricks we bring to [the show]. What I don't like is how this connects itself to gossip," Robert explained. "Just so we're clear, Josh wasn't really killed. We faked those gunshots. We fake everything in the show, so I can address this on a storytelling level that there was no intent ever to dupe the viewers. We'll be an open book there. But when it attaches to gossip, part of the privacy of the set and the privacy of what we do on the set, allowed us to keep secret the fact that Josh was leaving for almost a year before we showed that episode. Part of the shock was that we had such a tight, close-knit set — [The Good Wife cast and crew] know the difference between storytelling and who we are as human beings. And we benefit from that because we're allowed to have reveals be secretive. I do know what you are going after, and the only thing I will address is the storytelling. The mechanics of how we do our show is its own thing and we're usually an open book about it, until it comes down to gossip."
So yeah, they aren't going to answer why the final scene between Alicia and Kalinda had to be CGIed. But CBS boss Nina Tassler defended the decision at the 2015 Television Critics Association summer press tour.  Calling it "a very satisfying ending" for the relationship, Tassler said, "I stand behind how Robert and Michelle [King] produce their show."
While Margulies has yet to address the controversy, Panjabi, who is not returning for season seven, opened up to E! News after the finale, telling us, "All I can say is this: the decision making process is not something I'm privy to."
 The Good Wife returns Sunday, Oct. 4 on CBS.
Watch:
Archie Panjabi Breaks Silence on "Good Wife" CGI Rumors