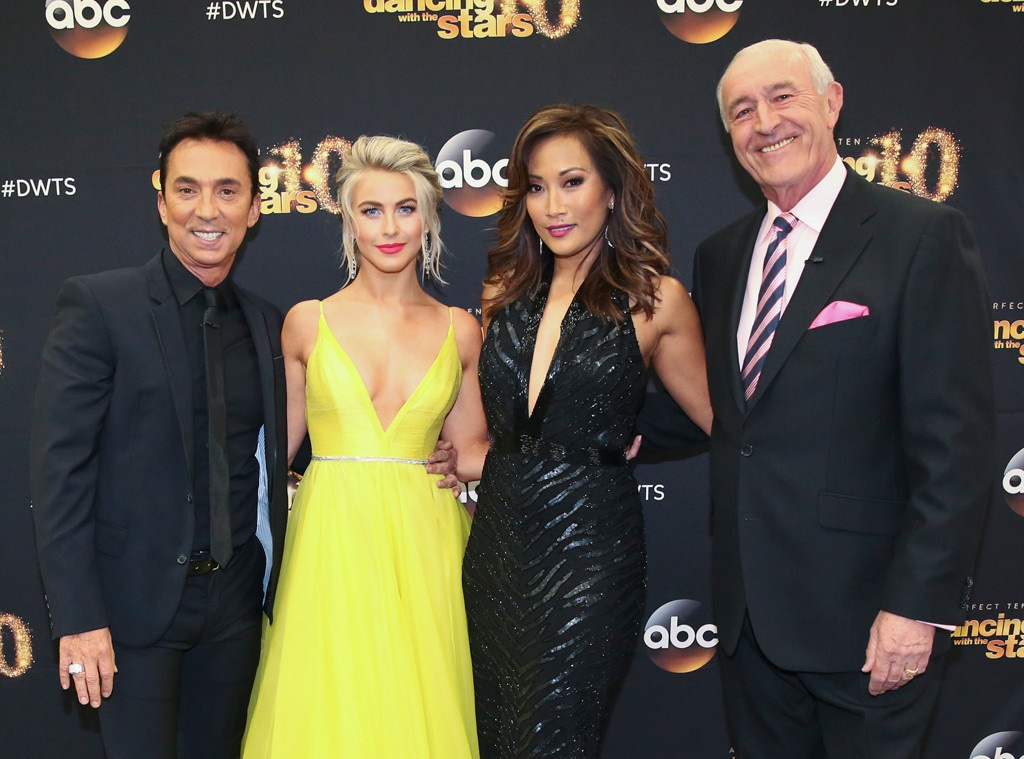 ABC
Start polishing your dancing shoes because the ballroom is almost open.
We're less than one month away from the premiere of Dancing With the Stars and there's already been some serious speculation about the celebs that will compete, but we're more concerned about the judges and the professional dancers who will be taking part in the new season.
While DWTS had yet to finalize its cast when we spoke with showrunner Rob Wade, he told us fans could expect to see most of their favorites return for season 21. "I don't think the cast will be much different than the one we've had the last couple of seasons," he said.
Still, that doesn't mean there won't be any changes. So who's definitely in and who might be out when the reality hit returns on Sept. 14?
The Judges: While Julianne Hough, Carrie Ann Inaba and Bruno Tonioli are all definitely returning to their seats at the judge's table, the jury is still out on head judge Len Goodman's involvement. (Goodman had previously said he was leaving the show prior to season 20, but then back-tracked.)
"It's been back and forth the last year. I said to him, look, see how you feel," told us. "I'm waiting. He's in England, he's working. I think there's a good chance he's not going to back for some of the shows...We'll see where he lands, we'll see how his health is, what he wants to do. But whatever happens this season, whether he comes back for some or none, the following season…I'm sure he'd be back for." 
For now, the show is once again looking at having some big names stop by to fill in for Goodman, with Wade confirming, "We're looking at guest judges."
The Pros: While Derek Hough initially was set to sit out last season, he ended up joining the cast at the last-minute, only to suffer a serious ankle injury late in the competition. So will the Emmy-winning choreographer come back? 
At the moment, he's been texting me giving song ideas. You take from that what you will," said. "He's completely engaged. Derek's an amazing guy and it requires so much work, the show, and to really succeed on the show, you have to give it your everything. I hope Derek's back, he'll always be welcome to come back."
And fans shouldn't expect Val Chmervoskiy to rest on his recent win with Rumer Willis, as the show's casting director Deena Katz told us, "Three days after he won, he texted me like, 'Babe, I need another one.' I was like, 'You just had one!' And he's like, 'I need to do it again!'"
So yes, expect Val to return as well. (He even called and left a voicemail for Wade as we were speaking. No joke!)
DWTS returns Monday, Sept. 14 on ABC. 
Watch:
Caitlyn Jenner Joining "Dancing With the Stars"?