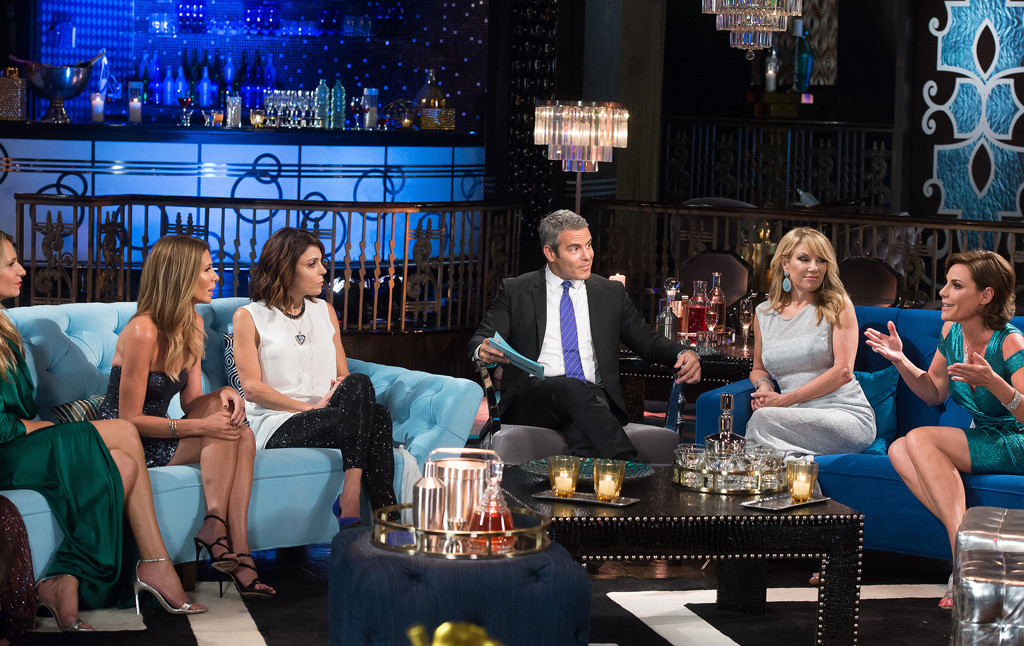 Charles Sykes/Bravo
The Real Housewives of New York City had quite a year this season: Bethenny Frankel returned, Countess Luann de Lesseps used the word "cool" a lot, Carole Radziwill had an emotional trip to London with Dorinda Medley and met a new man, Kristen Taekman launched a nail polish line, Heather Thomson got left in Sonja Morgan's foyer and Ramona Singer walked around in a yellow bikini and got her towel stuck in the door. Naturally, there is a lot to discuss, and the first part of the three-part reunion was a doozy.
There were bombshells, insane statements, Ramona doing Sonja's makeup and so much more. Let's start with the best thing: Andy Cohen asked Heather when she'd retire "Holla!" AND SHE DID IT RIGHT THEN AND THERE. HOLLA IS NO MORE. OK, moving on, the ladies were in rare form and very revealing. Actually, the other best revelation is apparently Hillary Clinton is a RHONY fan?
"I hear that you heard from Hillary Clinton about the show?" Andy asked Dorinda. "Yes, can you believe that? 'Cause Richard used to work on his campaign so I got a call from one of the people who work on it and they said, 'You know I just want to tell you that Hillary really enjoys you on the show'…I didn't even know what to say." "That's amazing!" Bethenny said, but then Andy got real: "Wait, but was the next sentence, 'Can we have $20,000?'"
The best of the rest:
Did Bethenny have any regrets about coming back? "In the very beginning for one moment when I pulled up to meet you at Beautique and I saw you and Kelly getting miced," she said. "I said eff this." BEAUTIQUE!
What are eggs à la française? "Eggs à la française are scrambled eggs and you never let them get dry. You keep stirring them. You add a little bit of water," Luann explained. But did she actually make them for Sonja before that infamous beach spat? "Of course!"
Bethenny got frank (well, as frank as she can) about her ongoing divorce. "There's no way for people to realize really what's going on and I really never expected it to be like this," she said and calling it one the most excruciating thing she's had to deal with. Her new BFF Carole added, "There are so many head games being played." So what exactly happened with Jason Hoppy? Bethenny gave this little nugget: "When you bring somebody into fame and then they're left without it, they see the shiny objects and they grab the shiny objects, then it's taken away, they want it to be taken away from you also."
Oh and apparently people wanted to take her down? Heather revealed there was a toast to taking Bethenny down with Carole, Ramona and Luann. Luann said this never happened.
Heather's friendship ended with Sonja when Sonja left her in the foyer. "You were a bitch, you were gross, so whatever," Heather said revisiting the topic.
The ladies love to drink, but apparently not in the morning. While discussing the chaotic Atlantic City trip—and Sonja's inability to really "get" what the ladies are talking about when they say they're worried about her—Dorinda revealed "morning drinking makes me throw up." Those dirty martinis wait until the afternoon. "Yeah, I don't drink in the morning," Sonja said. Yeah…She then threw this bomb into the crowd, "There's a few people that abuse alcohol," she said alluding to her costars, still unable to truly grasp what they are saying when they say they're worried about her.
"It's three drinks with prescription pills or something," Carole said about Sonja's partying. They also got into it about John F. Kennedy Jr. and Sonja saying she partied with him. Carole got pissed, naturally and the cyclic conversation lasted way too long until Bethenny said, "Do you believe your own bulls—t?" "Yeah," Sonja replied. So there you go.
And then we had the Adam fight. Luann said she was mad Carole dated he chef, or is it because it's her niece's ex or is it because he's young? It's all of those things, she said. According to Luann, her niece, Nicole, was still hooking up ("as they say it") when Carole met Adam. But throughout the season she didn't really seem to be bothered by it until the very end. The attacks ramped up on social media lately and Carole seemed to have just about enough. "You pick up men and you f—k them in bathrooms," Carole said about Luann's behavior.
Bam.
The fight is far from over. There's still some lunging that happens, apparently, and Ramona does something never done before on a Real Housewives reunion.
The Real Housewives of New York City reunion continues next Tuesday at 8 p.m. on Bravo.
(E! and Bravo are both part of the NBCUniversal family.)