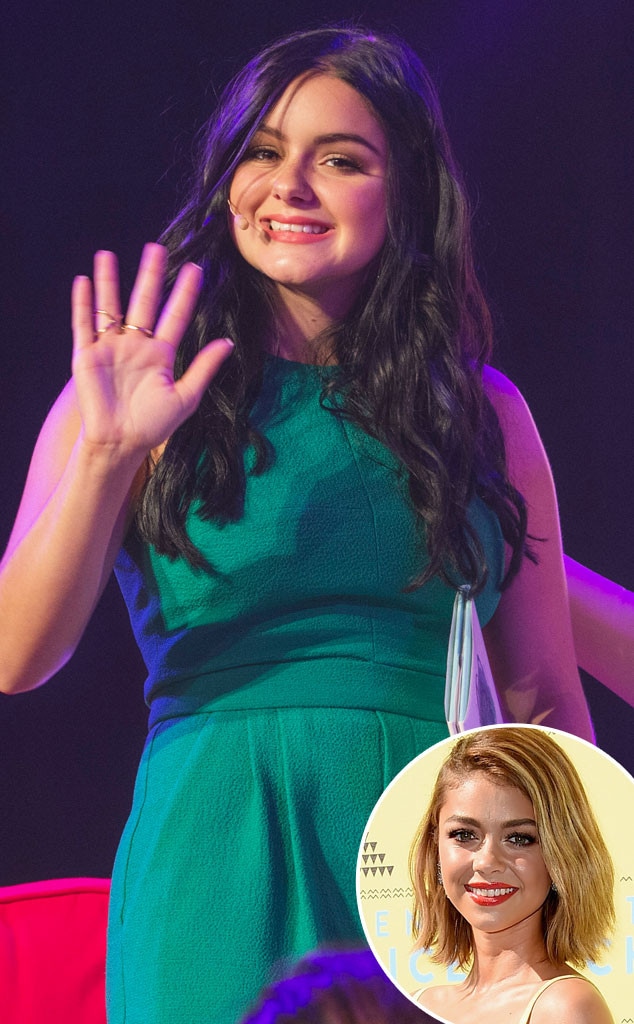 Disney/Image Group LA via Getty Images, Steve Granitz/WireImage
Sarah Hyland isn't surprised that her Modern Family co-star Ariel Winter decided to have breast reduction surgery.
"It's something we've been talking about for a long time," Hyland told me exclusively at the Teen Choice Awards. "I'm super proud of her. I'm super happy for her."
Winter, 17, revealed on Glamour.com last week that she underwent the procedure on June 4 to reduce the size of her breasts from a 32F to a 34D.
Not only did Winter suffer emotional abuse from "internet bullies" about her appearance, but the physical problems became unbearable, too.
"I had a lot of back problems. I really couldn't stand up straight for a long period of time. It started to hurt so bad that I couldn't take the pain," she told Glamour.com's Jessica Radloff. "My neck was hurting so bad and I actually had some problems with my spine. I had been discussing my chest with doctors for many years, but when I finally said, 'I'm thinking of doing this,' he said, 'Your back is going to thank you so much.'"
Hyland said, "She's a tiny girl. We're practically the same size. I'm about a half of an inch or an inch taller than her and I can't imagine carrying that weight. She's happy and most of all, she is healthy. She's glowing. As long as she's healthy and happy, that's all that matters to me. She's always been a very happy little girl—oh, God, I will still her as an 11-year-old in my eyes. She's really like my little sister."
Winter made her first public appearance since revealing the surgery over the weekend at Disney's D23 Expo to promote Sofia the First. The actress voices the title character on the Disney Junior series.