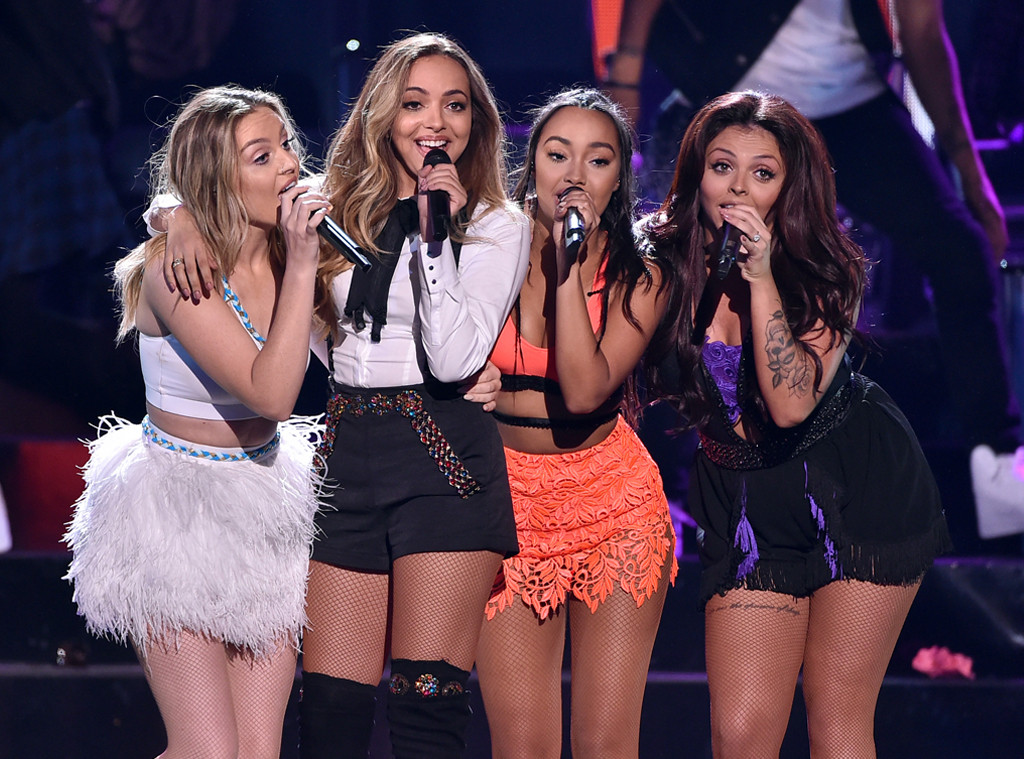 Kevin Winter/Getty Images
Take that, Zayn Malik!
The slightly embattled star's ex-fiancée Perrie Edwards took to the stage at the Teen Choice Awards tonight to prove that she's not letting the end of her engagement get in the way of her rockin' music career. She joined her fellow Little Mix members for a performance of "Black Magic," and they really went all out.
Seriously, they had everything—pyrotechnics, special effects and a wardrobe change included. Perrie and her bandmates started out dressed as schoolgirls in a classroom, and transformed themselves in a flash to the Little Mix we know so well (yes, that means crop tops and miniskirts). It's hard not to think that Perrie jumped on that Revenge Body bandwagon. And she sure did look great!
What's even more, after all the dance moves and belt-y notes, the band got to accept a surfboard of their very own. That's because they won the Choice Music Breakout Artist award for their post-X-Factor work. Were you watching, Zayn? Perrie's a Teen Choice Awards winner.
And of course, we'd be remiss if we didn't mention the strategic timing of Perrie's performance. Just last night Zayn threw some online shade her way in a not-so-subtle move. He re-tweeted the profile @musicnews_shade's poll comparing Little Mix's single "Black Magic" to "Worth It" by Fifth Harmony. In other words, he's basically saying that he thinks Little Mix is just a Fifth Harmony copy cat. We see you, Zayn, we see you.
Now he could have just been reacting to that time that Little Mix's Jade Thirlwall called him irrelevant, but it was a bit of a low blow nonetheless. And it probably provided some good energy for Perrie and her BFFs to really kill it on the Teen Choice Awards stage. After all, there's no better motivator than revenge!
We're sure this isn't the end to the constantly back-and-forth saga, so we'll just be sitting here with our popcorn waiting for it to all play out. As you were, Zayn and Perrie. As you were.