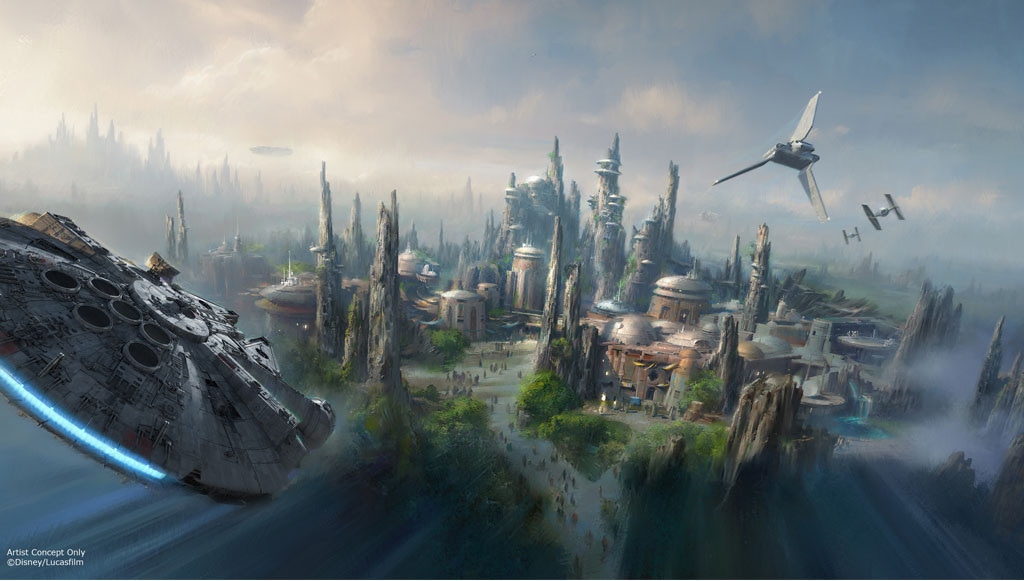 LucasFilm/Disney
Great news, this is!
Disney plans to build not one but two Star Wars-themed lands in its parks. One will be located at Disneyland in Anaheim, California while the other will be built at Disney's Hollywood Studios at the Walt Disney World Resort in Orlando, Florida.
CEO Bob Iger announced the news on Saturday at the D23 Expo in Anaheim, following years of rumors and speculation that followed the company's 2012 $4.05 billion acquisition of George Lucas's production company, Lucasfilm. He made his comments four months before the Dec. 18 release of Star Wars: The Force Awakens, the first part of a third trilogy and the first film in the franchise to be produced by Disney.
Three photos showing concept art for the new Star Wars lands were also unveiled during Iger's presentation.
Guests will be transported to a "different planet" where all restaurants and stores will be operated by "local inhabitants"...and obviously, there will be that famous Cantina. The concept art depicts beasts roaming the park and also shows, yep, a Millenium Falcon ride.
The ride, a signature attraction, will have a "customized secret mission" that puts riders in the middle of a "climatic battle between the first order and the resistance."
"I am thrilled to announce the next chapter in the long and exciting history between Disney Parks and Star Wars," said Iger, according to the Disney Parks blog. "We are creating a jaw-dropping new world that represents our largest single themed land expansion ever. These new lands at Disneyland and Walt Disney World will transport guests to a whole new Star Wars planet, including an epic Star Wars adventure that puts you in the middle of a climactic battle between the First Order and the Resistance."
The opening dates for the two Star Wars-themed lands were not revealed. 
A Disney rep told E! News that they plan to break ground on the new Star Wars land in Disneyland by the end of 2017. There is no timetable yet for the one set to be located at Walt Disney World's Hollywood Studios.
In Disneyland, the new Star Wars land will reside where Big Thunder Ranch is located as well as in backstage areas not open to the public. The fate of the attraction, which includes a petting zoo and a barbecue restaurant, was not revealed.
Disney had recently purchased three parcels of land, totaling 14.7 acres, near Disneyland, sparking speculation that the property would free up land for a future park expansion, The Los Angeles Times had reported last week. Resort officials did not say what they was for.
MiceChat had reported in 2014 that Disney was planning to build a Star Wars-themed land in Disneyland. The company, which currently has a Star Wars-themed Star Tours ride within its parks, did not comment.
Earlier this year, Iger told Wall Street analysts that there's "a fair amount of design and development to greatly increase Star Wars presence in multiple locations around the world" and that specific plans would be announced "later in 2015," Variety reported in March, adding that he had also said that whatever new attractions are announced, they will be based on future films in the series, as well as its spinoffs.
Marvel Land next? We can only hope.
—Reporting by Jenna Mullins