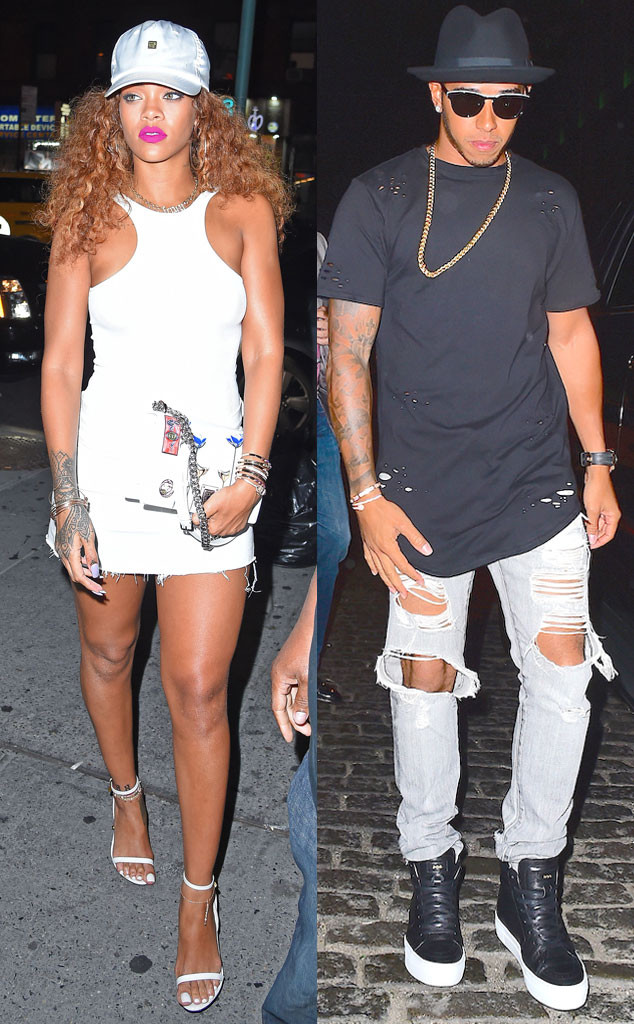 NCP/Star Max/GC Images; 247PAPS.TV / Splash News
Things definitely appear to be heating up between Rihanna and Lewis Hamilton!
On Friday night, the two were spotted near each other for the third time in less than two weeks. Rihanna, 27, and the 30-year-old Formula One race car champion were seen near The Griffin nightclub in New York. The singer sported a white halter top and super short matching denim skirt, paired with matching strappy sandals and a matching baseball cap. Hamilton wore a black cap, a matching T-shirt and ripped light jeans.
The two arrived in different cars and at different times. Around 3 a.m., Hamilton waited in his vehicle for the singer to enter the club first before going in himself, E! News has learned. Both were photographed leaving the venue separately around 4:30 a.m. Half an hour later, Rihanna was seen walking up to the 24-hour Coppelia diner.
Weeks ago, she was linked romantically to soccer star Karim Benzema. A source recently told E! News that "Karim is fading out and it looks like Rihanna has only one guy on her mind, and that's Lewis," adding that she is taking it slow and has not put a "label" on them yet.