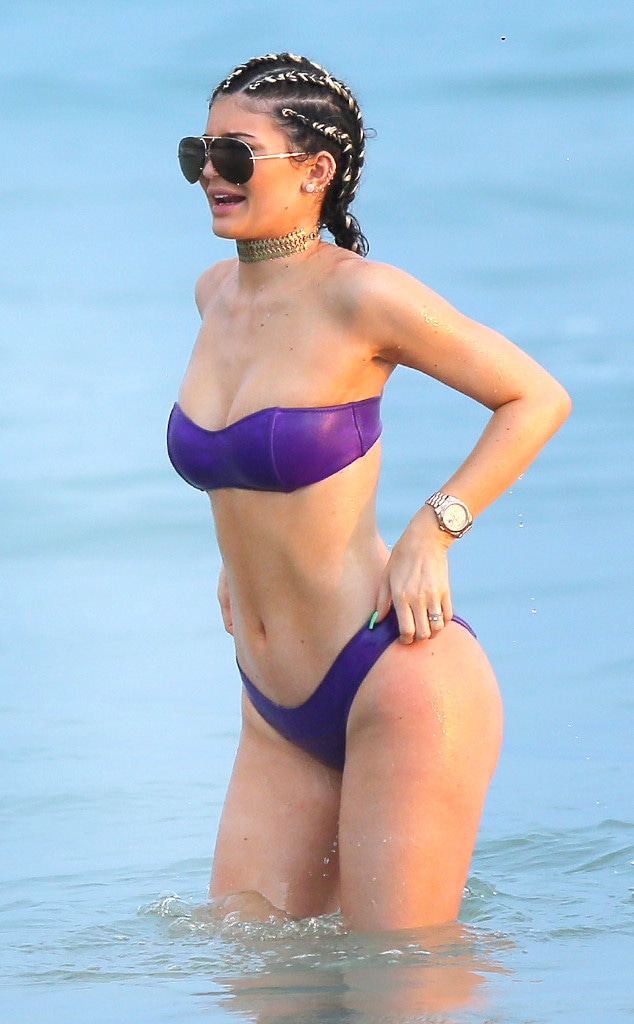 Brian Prahl/Splash News
Another day, another bikini, you guys.
Kylie Jenner's birthday trip to Mexico with her closest pals, her sister Kendall Jenner and boyfriend Tyga has been filled with fun in the sun, selfie photoshoots and tons and tons of bikinis.
Case in point? The Keeping Up With the Kardashians star was spotted once again playing in the ocean wearing a barely there purple two-piece that left very little to the imagination.
In keeping true to her swimsuit choices, Kylie opted to hike her bottoms up over her curves while her bandeau top highlighted her toned upper bod.
The birthday (er, belated birthday) girl was sporting cornrows and a pair of oversize aviator sunglasses for her dip in the ocean—naturally—and joked around with pals as they took turns splashing each other in the waves.
The outing comes just a day after the group was seen riding wave runners "from the shore out to the Lolo yacht that was anchored near [Joe Francis' home] Casa Aramara," a source told E! News. 
"As they climbed off the Wave Runner, Tyga helped Kylie balance and held her around her waist so that she could get on safely. They climbed aboard with a few friends and headed up to the bow of the boat. They sat on the front as they cruised around and went for a ride. Kylie was laying in between Tyga's legs and resting up against him…Everyone was having an amazing time and the best day."
E! News previously reported that earlier this week, the brunette TV star celebrated with her famous family and friends with a big (Oh, did we say big? We mean huge!) birthday bash at Los Angeles hot spot Bootsy Bellows.
And as if that wasn't enough for the newly minted adult, at the end of the evening her rapper beau surprised her with the gift of a lifetime: a brand-spanking new Ferrari!
It's good to be Kylie…