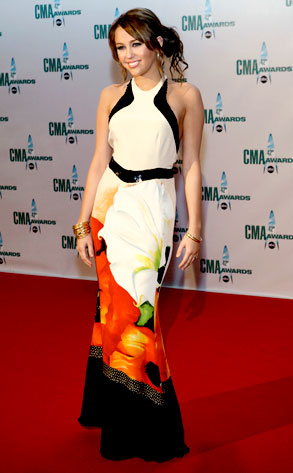 ABC/ADAM LARKEY
It's not about big hats anymore at the CMA Awards.
According to Miley Cyrus, it's all about the hair.
"My daddy said that I should wear it up and put it in a 'Get your hair as high and close to Jesus as possible' type hairdo," said the Hannah Montana star. "I said, 'Daddy, I don't think I can get it any higher, but I did my best.' "
The singer also said she would love for Barack Obama's daughters to appear on her show. "I know they have a lot going on, but I think for them to come and hang out with normal kids would be fun."
The country-music event was overflowing with stars including Reese Witherspoon, Nicole Kidman and Carrie Underwood.
Get the full story, check out the fashion, and find out who said this about her outfit.
"It's sort of like carrying around a bag of rocks, but I love it."