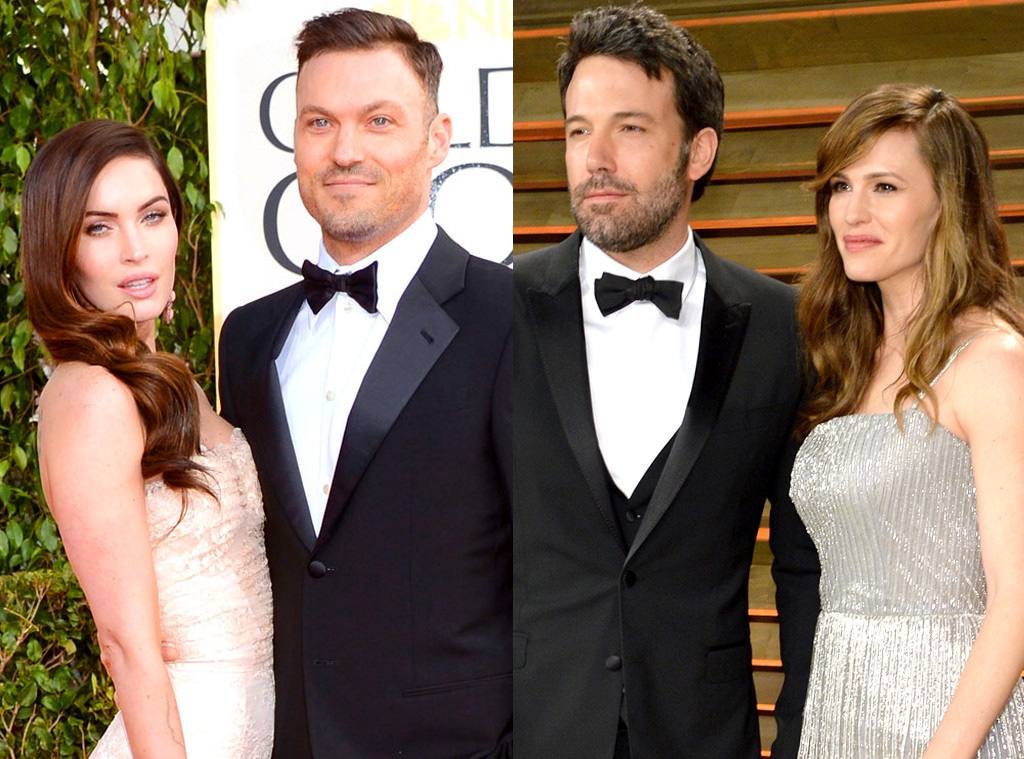 Getty Images
The Summer of Splits just claimed another couple.
This strangely eventful season began with the long-rumored demise of Jennifer Garner and Ben Affleck's 10-year marriage. Their split was quickly followed by the divorce of country's golden couple, Miranda Lambert and Blake Shelton. And then came Gwen Stefani and Gavin Rossdale. Poof!
And now, Megan Fox and Brian Austin Green have separated after five years of marriage and six years of togetherness before that.
Even though Jennifer Aniston got married just weeks ago in an intimate yet star-studded setting, this has been one relentlessly cold summer.
Not that high-profile breakups are anything new, but why does it seem as though we've entered a particularly dark age for the celebrity romance?
Watch:
2013 Golden Globes: Megan Fox
First of all, millions of people are involved in every superstar's marriage right from the get-go because when celebrities take the plunge, it can feel as though we're bearing witness right beside them. We're certainly hanging on every word.
You can't blame us. We're usually privy to every milestone in their romantic journey, from courtship to proposal to "I do." Thanks to magazine spreads and, more than ever these days, social media, we often get to see their wedding photo album, their birthday presents and sometimes even their sonograms.
And even if they strive to lead more private lives…we still feel as though we know them! We see their movies, watch them on talk shows, pine over their fashion. They're out there, as public personas at the very least.
So it's hardly surprising when the negative rumors start to circulate. What goes up must come down. Even Prince William and Kate Middleton, arguably one of the most perfect couples ever (yes, we are proudly obsessed with the Duke and Duchess of Cambridge), are not immune to speculation. Regardless of whether the tabloid headlines are true or not, when outsiders start meddling in a relationship, it can impact what's going on behind closed doors.
Blake and Miranda were plagued for years by rumors of marital discord and eventually the rumors helped tear them apart.
"Trust was an issue for both of them," a source told us after they filed for divorce. "It went along with having to spend a lot of time apart. Rumors of his infidelity put stress on them. Despite denials, even just rumors of cheating are still hard to hear."
Being an A-lister takes work. It's not good enough anymore to spend the year making a few films or releasing a hit song. To stay relevant, celebs have to be multifaceted: maybe launch a wine, get a signature nail polish color or fragrance, become a lifestyle guru. We expect more than just beauty and talent these days; we want celebrities to be Super Human.
But all that work means schedules fill up fast, and that doesn't leave a lot of time for romantic beach strolls and candlelit dinners. The proverbial, "How was your day, dear?"
Experts say that the biggest factor in whether a relationship will last is how much you communicate with one another—which can pose a bit of a problem if you have more appointments in your diary than the prime minister.
When famous people fall in love, they become the main characters of our modern-day fairytales. Tom Cruise and Katie Holmes even got hitched in an Italian castle! The love triangle between Jennifer Aniston, Brad Pitt and Angelina Jolie played out with Jen cast as the innocent princess and Angelina as the evil queen.
But are we building that pedestal too high?
Rogers & Cowan/Robert Evans
Take Zayn Malik and Perrie Edwards, for instance. He gave up being in the biggest boy band on the planet ostensibly so they could spend more time together. It was a move that led to One Direction fans likening her to Yoko Ono. Personally,  we thought it was romantic. He loved her so much, he was willing to sacrifice having the world at his fingertips.
But even after such a grand gesture, they couldn't make it work. (Perhaps because all along he couldn't wait to go solo, professionally and personally.
Michael McNulty, a couples therapist and relationship workshop leader with the Gottman Institute in Chicago, explains why: "I think that people are just under a microscope…where they go, how they dress, how they interact is watched and that has to be a ton of pressure and a lot to manage—talk about a perpetual issue. That requires a lot of communication and putting each other first and pushing the rest of the world away."
A power imbalance can also be an issue.
It often goes that in a celebrity partnership, one is more successful than the other, Beyoncé and Jay Z being the rare example of a duo made up of two equally weighted megastars, each at the top of their respective games.
This imbalance, however, may have impacted Gwen Stefani and Gavin Rossdale. Gwen and Gavin were at arguably different points in their career toward the end of their marriage. While Gavin enjoyed major success as the frontman of Bush in the 1990s, his reign as an alt-metal heartthrob was coming to an end as Gwen was continuing to reach dizzying new heights, thanks to her successful solo career post-No Doubt and her more recent role as a coach on The Voice.
Imeh Akpanudosen/Getty Images
"As his career fades that's got to be tough on him and the both of them," McNulty says. "He's on the road a great deal and her career took off…For people to be able to remain happy under those circumstances is hard, and then to have the public watching and waiting…that has to be so much pressure."
Gwyneth Paltrow and Chris Martin suffered from a similar ailment. In 2014, a source told E! News about the breakdown of their 10-year marriage, "They grew apart. They fell out of love…. They realized that they were more friends and not lovers and they were at different stages of their careers."
But let's not give up on true love just yet.
Rather than lament the slew of Hollywood splits, really we should be, if not quite celebrating, at least empathizing! Making it to two years, three years or 10 years of togetherness is a huge achievement, and not just for celebrities.
Maybe it's time to change our expectations a bit. We had grandparents who were married for nearly 70 years and our parents are still chugging along after 40-plus, but that's going to be more and more unusual moving forward (not least because so many people are just waiting until they're older than our 19-year-old grandparents were to get married in the first place). So Gwen and Gavin having three beautiful children and making it to 13 years could be seen as a success story, rather than a failure.
Jason Kempin/Getty Images for A&E Network
But back to the other Jen. When Aniston walked down the aisle with Justin Theroux, she may have single-handedly restored our faith in happily ever after. Here was a woman who was admittedly pretty destroyed after the breakup of her first marriage, and yet she healed and really seems happy now.
We may have thought her fairytale was over 10 years ago, but she was busy writing a whole new story. So let's toast to that instead. Most Hollywood marriages might not last forever nowadays, and maybe we're having an especially rough summer, but the possibilities for love remain endless.
Besides, a source told People regarding Megan and Brian that "anything could happen in the future, but for now they've decided it's best to take some time apart."
We'll just focus on that first part.
(Originally published Aug. 13, 2015, at 9 a.m. PT)
Tune into E! News tonight at 7 p.m. and 11 p.m. for more on Megan Fox and Brian Austin Green's shocking split!