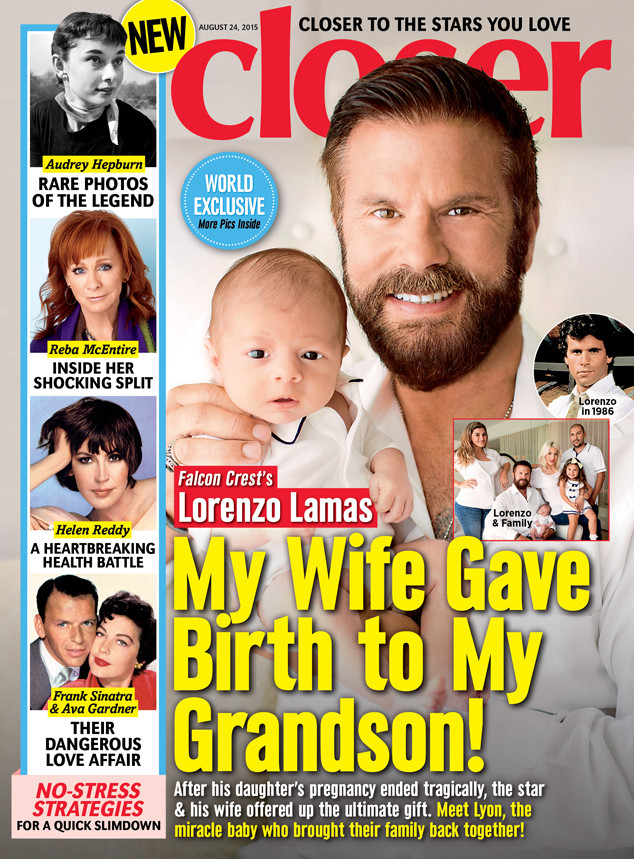 Closer Weekly
Meet Lyon Lamas-Richie.
Shayne Lamas and Nik Richie share the first photos of their baby boy, who was born via surrogate on July 4, in the new issue of Closer Weekly, but E! News has the exclusive first look at their bundle of joy!
The precious tiny tot gives the camera an adorable stare while being held up by his famous grandfather, Lorenzo Lamas, on the mag's cover, which featured the text, "My Wife Gave Birth to My Grandson!"
"I'm so happy for my daughter and son-in-law, because they wanted another child really badly," Lorenzo gushed to Closer in an exclusive interview. "I was happy that we were able to help them accomplish that."
Her stepmother, Shawna Craig, who carried the child for Shayne, added, "We all feel a little more complete now that Lyon is here and growing and doing well."

"I was shocked that my dad was on board with this, to be 100 percent honest," Shayne says. "But I'll always be grateful."