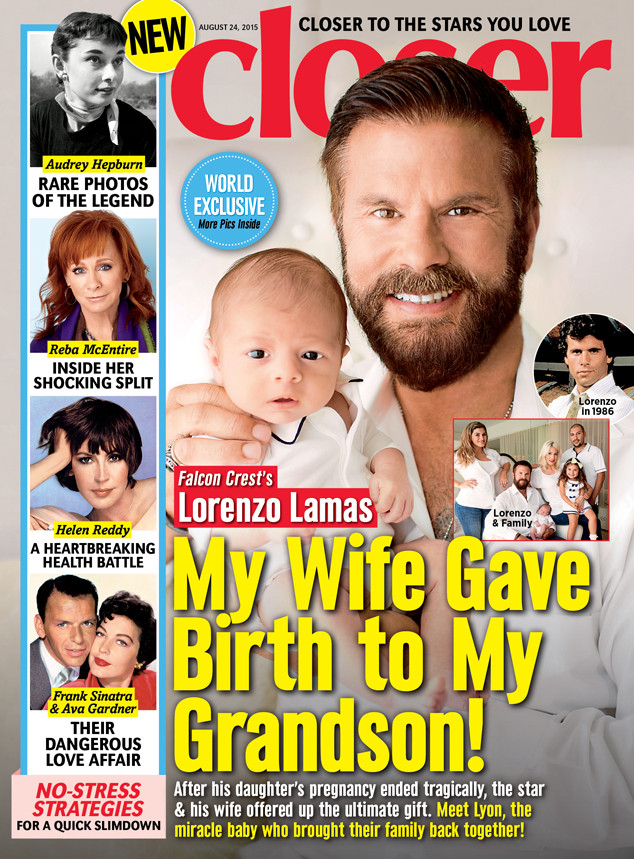 Closer Weekly
Meet Lyon Lamas-Richie.
Shayne Lamas and Nik Richie share the first photos of their baby boy, who was born via surrogate on July 4, in the new issue of Closer Weekly, but E! News has the exclusive first look at their bundle of joy!
The precious tiny tot gives the camera an adorable stare while being held up by his famous grandfather, Lorenzo Lamas, on the mag's cover, which featured the text, "My Wife Gave Birth to My Grandson!"
"I'm so happy for my daughter and son-in-law, because they wanted another child really badly," Lorenzo gushed to Closer in an exclusive interview. "I was happy that we were able to help them accomplish that."
Her stepmother, Shawna Craig, who carried the child for Shayne, added, "We all feel a little more complete now that Lyon is here and growing and doing well."
 
"I was shocked that my dad was on board with this, to be 100 percent honest," Shayne says. "But I'll always be grateful."
The reality star announced in September that they were expecting a baby via surrogate, and in February, Lamas revealed through an exclusive interview with Closer that the woman who is carrying her baby is her stepmom.
"Shawna's not just my stepmother. She's like a soul sister," Shayne said in the March 2 issue of Closer Weekly. "She's an angel that blessed my whole family, including my father."
The news came a year after Shayne lost the baby boy she was carrying after a rare uterine rupture. At the time, she was 20 weeks pregnant. Doctors performed emergency surgery but the couple's son, whom they later named Rex Jagger, was growing outside her uterus and couldn't be saved. Shayne then underwent an emergency hysterectomy, and she lost her uterus and half her bladder.
On Feb. 10, Shayne paid tribute to her son via Instagram: "I might not carry you in my arms but I will always carry you in my heart. Love, Mommy 2-10-14 lost a piece of my soul that day."
Little Lyon joins big sister, Press Dahl.
Related:
"Limitless" Stars on Working With Pregnant Jennifer Carpenter