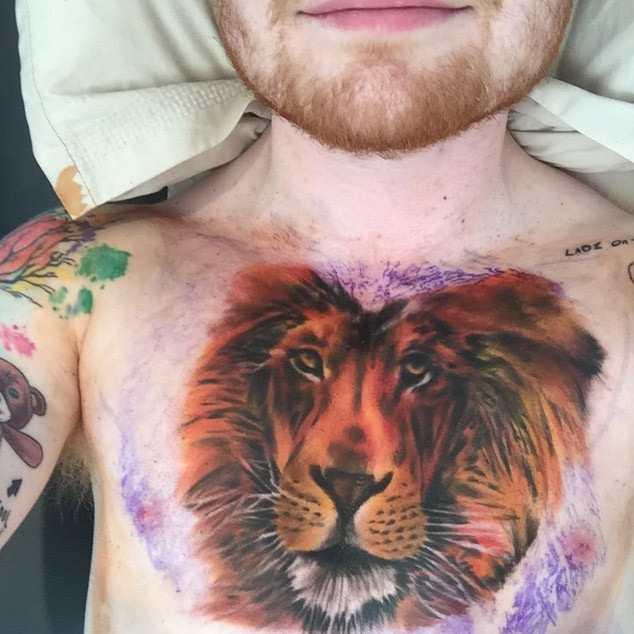 Instagram
UPDATE: Ed Sheeran's tattoo artist/the man responsible for the massive lion and "most of Ed's artwork," Kevin Paul, tells E! News that he started the tattoo Monday but has a long way to go!
"The piece as it stands took about 6 hours to do but there is still about 6 hours left to complete the tattoo," he says. 
Even though Sheeran usually "handles the pain well," Paul admits that his latest ink might have caused the singer some discomfort. "...Through the last hour on this piece you could see the pain started to get to him. The chest is a painful place to get inked," he explains.
______________________________________________
Apparently being a redhead wasn't enough for Ed Sheeran.
The "Thinking Out Loud" crooner decided to solidify his gingerness with a brand new tattoo of a lion on his chest. No, he didn't go for a small lion cub on his peck, he opted for a massive, Mufasa-style lion smack in the middle, chock full of all the red, black and orange colors you could ever imagine.
Sheeran, who already has plenty of tattoos on his body, told the BBC that he planned on getting a massive chest tattoo after selling out a trio of shows at Wembley Stadium. The original idea was to have the floor plan of the stadium tattooed on his side, but ultimately he went in a different direction.
"Originally I was going to get the floor plan tattooed on my side, but that seemed a bit ridiculous," he told the BBC prior to his first show. Instead he chose the lion, which is the logo of the English National Team. Sheeran debuted the start of the tattoo Tuesday morning, sharing a pic on Instagram and captioning it, "Halfway and ouch."
If this is halfway, who even knows what we can expect once it's completed. The "Don't" singer also tweeted about the tattoo, thanking the artist who is responsible for the permanent cat. "Lion is courtesy of @kp_est78, who puts up with me complaining about the pain," he tweeted, to which tattoo artist Kevin Paul replied, "Can't wait to start the rest it's going to be amazing love you dude xxx."
Many of Sheeran's other tattoos also commemorate career highs, including the word, "Red," which symbolizes Taylor Swift's Red album and tour. Sheeran was featured on the song, "Everything Has Changed," and opened for every one of her 66 shows. He also has a tattoo of a Canadian maple leaf, which is a tribute to his Canadian fans.
Clearly the British singer is not only proud of how far he's come but also incredibly thankful to the fans who continue to support him. In November 2012 Sheeran received an inking of a British teacup in honor of a live radio show he completed.
While some tattoos can be just plain silly—his Heinz ketchup bottle, for example—at least his wild and crazy body art has some meaning? We guess?
What do you think of Sheeran's newest tattoo? Sound off in the comments below!
(Originally published Aug. 11, 2015, at 12:44 p.m. PT)