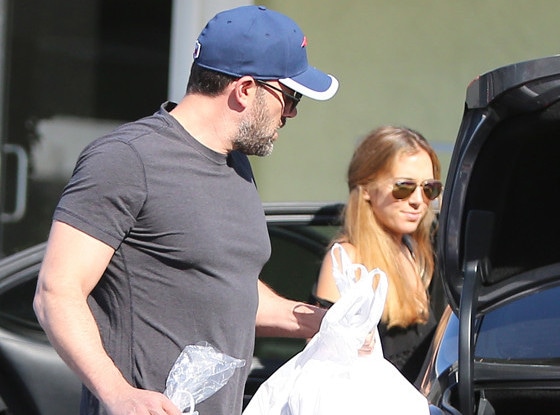 AKM-GSI
Ben Affleck and his former nanny Christine Ouzounian enjoyed a private trip together just days before he and Jennifer Garner announced their divorce. A source tells E! News, however, that there was nothing romantic about Affleck and Ouzounian's brief getaway.
A source tells us that the 42-year-old actor was scheduled to make an appearance at a charity poker tournament in Sin City. Affleck left a family trip in the Bahamas and Ouzounian joined him on a private jet to Vegas as a way to get back to L.A. The insider adds that they weren't alone and there were other members of the Affleck-Garner entourage on the flight.
"It was not done in secret," the source dished. "If they were trying to hide something they wouldn't go to a charity event where there were a lot of other people."
On the way to Vegas, Affleck picked up pal Tom Brady and Ouzounian was even photographed on the private jet wearing the footballer's four Super Bowl rings. After the tournament, Ouzounian continued on her way to Los Angeles and Affleck returned to the Bahamas to be with Garner and their three kids. However, a source says that Garner fired Ouzounian after learning she had joined Affleck in Vegas instead of heading directly home to L.A.
"Jen thought Christine was getting on the jet and going back to Los Angeles, but then she found out that she ended up in Vegas with Ben," another source said.
The divorce announcement was always in the works, says the insider, and it was just a coincidence that the Vegas trip happened right before the announcement. Vegas trip or not, they were going to be announcing their split.
Affleck and Garner announced their divorce on June 30, saying in a statement, "After much thought and careful consideration, we have made the difficult decision to divorce. We go forward with love and friendship for one another and a commitment to co-parenting our children whose privacy we ask to be respected during this difficult time."
Just last night, Affleck hit the red carpet at his and BFF Matt Damon's Hollywood premiere of Project Greenlight (Affleck was still wearing his wedding ring). As for how Affleck is doing, Damon told E! News, "He's great. Got a big smile on his face tonight."
—Reporting by Marc Malkin