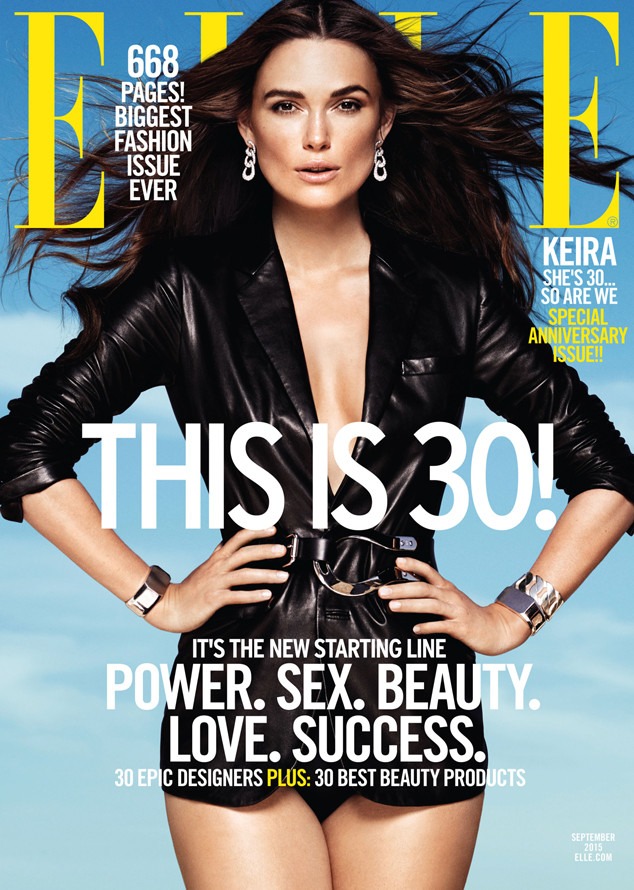 Paola Kudacki for ELLE
Keira Knightley is loving motherhood. 
The 30-year-old Imitation Game star covers the latest issue of Elle magazine in honor of the publication's 30th birthday, looking absolutely stunning in a sexy Ralph Lauren Collection leather jacket and calfskin belt teamed with tiny black swim bottoms. 
The interview also marks Knightley's first since welcoming her baby girl with husband James Righton in the spring and she even reveals her name of her 3-month old daughter: Edie! 
"The love thing is astonishing. It's a very primal, primal love. That's quite extraordinary," Knightley tells Elle of her wee one. "And the ability to have no sleep and continue going. It's not pleasant—I never thought that I could actually do it for the amount of time that I've done it." 
Knightley also credits her baby girl with helping her to love and appreciate her body. 
"Also, I have to say, as a woman, you hate certain parts of your body. You go through those periods where you look in the mirror and you think, Oh, if only I had different legs or arms or whatever," she admits, adding, "You go through pregnancy and labor and then feeding the kid and you go, Wow, my body is totally amazing, and I'm never going to not like it again, because it did this, and this is f--king extraordinary." 
Additionally, the actress, who has been working in the business since she was a little girl, recalls her twenties and admits the age was tough at a time when her career was soaring. 
"My twenties were pretty crap," she says. "My career was absolutely amazing; in fact, I don't think my career will ever get better than it was in my late teens, early twenties.
"But as a person, you're changing so much and you're trying to figure stuff out," she explains. "Some people go wild and have a great time and throw caution to the wind, and I was the complete opposite. I was very shy. It took me a lot of years to try and stop pleasing a lot of people and allow myself to have fun. It's the difficult thing of getting out of your own head. To stop going, 'Oh, there's something I should be doing, there's a way I should be behaving, I should be dressing….' All of those shoulds, you can drown in them."​
Thankfully, Knightley has since gained a healthy perspective on life due to her daughter and the occasional therapy session. 
"Oh, f--k, yeah!" Knightley laughs when enthusiasm when asked if she's tried therapy. "I've totally done therapy. I highly recommend it. I don't do it at the moment. But in my early twenties when I found everything completely overwhelming, 100 percent, I did it! Are you kidding? I think when you're in those moments in your life, and you want to get through them…you have to do whatever it is to help you get over it. You have to give it a go. Try anything that might help."​
In spite of finding happiness, Knightley hilariously admits that her 30th birthday (she celebrated on March 26) was not what she had hoped for. 
"I was heavily pregnant, I couldn't drink—what is the point of having a thirtieth birthday if I couldn't get phenomenally drunk?" she says. "But my husband took over, arranged a lovely lunch at one of my favorite restaurants, 20 of us, and they were all being so sweet, like, 'Look, you can have a great time and be sober!'
"And it's fine apart from the fact that they started drinking at about one. Then they came back to our house—they'd covered it in balloons that said my name and happy birthday and all that—and they got completely obliterated," she reveals. "They were there until two or three in the morning, absolutely drunk, and I was there eight months pregnant, completely sober. So it was lovely, but it wasn't what I'd imagined a thirtieth birthday was going to be."​
Sounds like this hot mama deserves a wild 31st birthday bash.
Watch:
Keira Knightley Trumpets True Story Behind Film