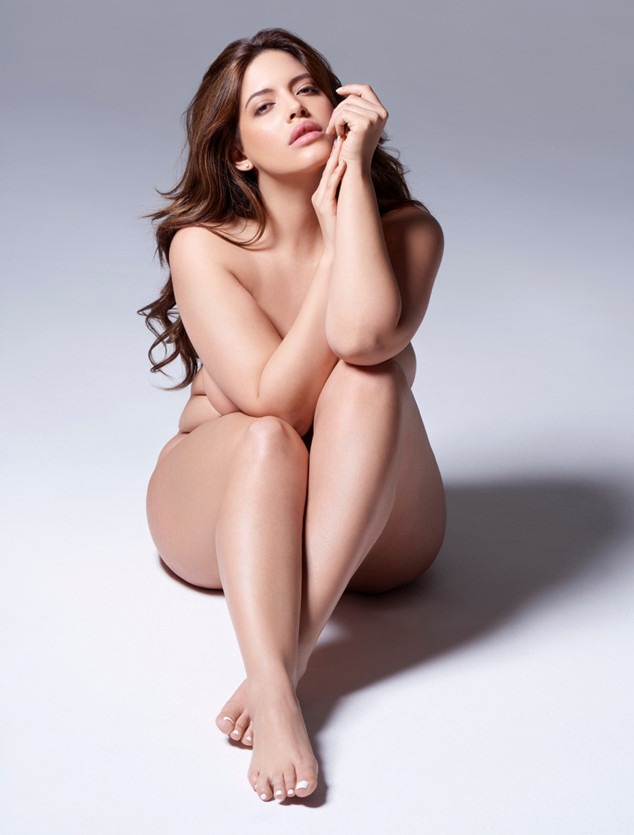 PETER ROSA
Denise Bidot is one of the most recognizable (not to mention beautiful) faces in the plus-sized modeling world.
She has strutted her stuff down the runway of New York Fashion Week, worked with some of the biggest names in the industry like Nordstrom's, Lane Bryant, and Levi's. Did we mention she was the face of Zizzi Clothing? So, will we be seeing her as the first plus-sized Victoria's Secret Angel? 
Well, not quite yet, but she isn't ruling it out. In fact, Bidot thinks now is the perfect time for the lingerie giant to put a pair of wings on a curvy girl. 
"I think if they did go ahead and include a plus-sized angel, I think it would be such a huge statement from Victoria's Secret especially cause for so long, as a curvy woman, I haven't been able to shop there, able to fit in a lot of their stuff," she tells E! News in an exclusive interview.
"I think it would be a way to embrace us and make us feel like they get it...They get we're beautiful and they are embracing all sorts of sizes and diversity."
Bidot admits she looks forward to the Victoria's Secret Fashion Show every year and remembers a time when one famously fierce supermodel broke body boundaries. 
"I think Tyra Banks was a size 6 at the time and she walked that runway with every power in her being and used to make every woman feel beautiful. Those old '90s models when women were just themselves and they were real and they were embraced that way—I think we should get back to that."
But that doesn't mean she has beef with today's models like Gigi Hadid and Kendall Jenner. She actually credits them and their social media savvy ways for the recent boom in the popularity of models. 
"I think those girls are beautiful. They're young and they are cool and I think they are really changing up fashion," Bidot said.
"It's so funny how social media has really changed the way our industry works. I mean we used to go into a casting and it really didn't matter what you were wearing— but so much of it's social media and people are taking behind the scene pictures and videos and there is so much press everywhere and it's really cool to see people really care about the models and really put us forward."
The beauty added, "I think for a while magazines were using celebrities and it's really coming back to the age of the supermodel and models having a name and having a voice and it's refreshing. I love them the Caras, the Kendalls. All those girls they are killing it. It's fantastic to see a new generation of models."
Bidot, who has been modeling for the last eight years, said that she and other plus-sized models are constantly fighting preconceived notions that come along with being curvy. 
"I think there is such a huge misconception that we are unhealthy or that we don't work out as much as we should or even so much—I get asked all the time that we don't look the same as straight-sized models and I am like 'why does it have to be a versus'. Why does it have to be straight size vs plus-sized. I think it is one big industry. I am doing amazing things. I have to say we work out, we run around town, we most of the time are traveling so it's hard not to be running through airports. We are just us," she explained. 
She confessed to E! News that she even models are insecure about their bodies and have to learn to love their flaws.
"I'm a woman—I'd be lying if I said I didn't have insecurities. I am a mother, I had a daughter and it's amazing for any mom out there you know how that changes your physicality. For a very long time I was super insecure about my stretch marks and I would go out on casting and every time it was lingerie I  would be wearing high-waisted, I would never show my belly. It's so crazy how that has this power over you and at one point I started realizing, when i started getting the women crush Wednesdays from all the girls and how they were empowered by my images and I thought wow these girls get it."
"It's funny how my industry helped me embrace—and help me feel beautiful cause i started seeing myself how other people saw me and I have to say it has been such an amazing journey and such a great feeling to be a part of this industry and be accepted the way that I have."
Bidot reflected on one of the first times she posed nude and how accepting her own body, along with the support of the industry, pushed her to take it all off for the camera and that it proved to be a powerful experience. 
"They were like 'OK, this is what you are going to wear,' [and] it was this big headpiece and I was laying on this fur rug and I was so scared to see the picture. I had to wait for it to be printed. I felt so beautiful and everyone responded so well so ever since then I have been like forget it! This is my body and this is what I got. I hope you like it and i am not going to stop here. We can let that take power over us or we can just be powerful in our bodies and I have learned to love my body with all the flaws and i totally embrace it and i am not shy about it at  all".
The brunette beauty credits her mother as teaching her everything she knows but also counts some of Hollywood's most famous females as having a huge influence on her life. 
"Amazing women like Salma Hayek, Jennifer Lopez, and Drew Barrymore who I grew up admiring and loving and now they have families and they are successful and powerful and they built empires and I think those are the type of women who I look up to is women who that never let anything any no they have challenged everything you know they never let a no get in the way and they always fought really hard about what they believe in. I love that power."
And one day we may just see her sharing the big screen with the big screen with Salma, J.Lo and Drew because Bidot is an aspiring actress and producer  who hopes to create roles for other curvy women.
But, until then we will continue to see her inspire on the runway and in fashion ads everywhere. 
Watch:
Amy Schumer Was Surprised to Star in "Trainwreck"