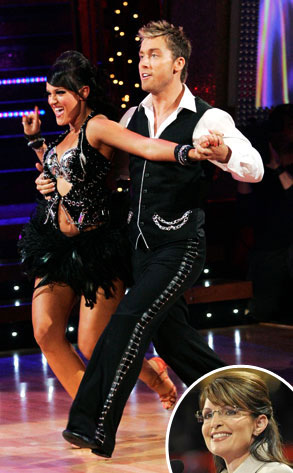 ABC/KELSEY MCNEAL, ABC/Donna Svennevik
Forget hunting season! Sarah Palin may want to think about bumpin' and grindin' over to Dancing With the Stars.
At least that's what Lance Bass' professional dancing partner, Lacey Schwimmer, thinks. "I'd love to see Sarah Palin go out there and shake her thang," Schwimmer said last night at the Shaun White Snowboarding video game event in L.A. "She'd be great at it. Put on little cha-cha heels, and she'd be ready to go."
On a completely different note, we're happy to report that Schwimmer's dance with the DWTS curse is healing and she won't have to go under the knife.