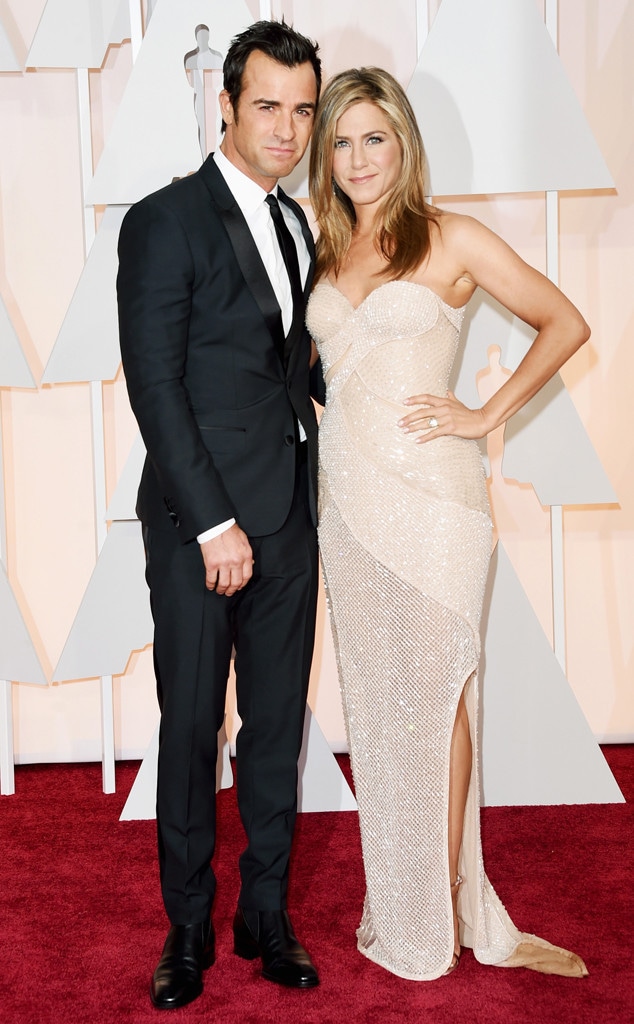 Jason Merritt/Getty Images
Jennifer Aniston and Justin Theroux's wedding was an affair to remember.
While the actors have yet to comment on Wednesday's nuptials—cleverly disguised as a surprise party to celebrate Theroux's 44th birthday—one of their A-list guests, Howard Stern, shared details from the wedding on his Sirius XM radio show.
Stern told said he was one of the few guests who knew the surprise party was a ruse, as he was asked to prepare a toast. "I was so nervous," he said Monday, adding that he even kept his own mother in the dark. "They're so secretive, those two."
"I'm very friendly with Justin. I like him very much...I really admire him. I even said in my speech to them that if one of my daughters brought home a guy like Justin, I'd be very pleased. Except for the s--tty tattoos, 'cause he's got some f--king weird ones," he said. "And except for the fact that I gave him a journal to draw in and he draws pictures of dead zombie babies with blood dripping out their head on every almost page. I said, 'Those two things might disturb me.' But aside from that..."
Stern said the idea of having to speak at the Wanderlust co-stars' reception made him "f--king miserable." He also denied reports that he made his toast with Robert Downey Jr., who did not attend the wedding or reception.
He had other grievances, too, and they inspired his speech. "They had these little tiny chairs. There was a table, and then you sit down and the chairs were like poufs, like little pillow poufs," he said. "I'm 6-foot-f--king-5! I'm a grown man!" The shock jock also said that he didn't appreciate having to leave his phone in the car. "Why can't I have my cell phone? I don't want to take a picture of you two! I really don't. I want my cell phone so after I make this speech I can call my car and get the f--k outta here!" he explained. "People were laughing at my misery."
"I had such a bad attitude. I was wrecked," Stern said, noting that he's not generally an upbeat conversationalist. "When I went to their wedding, I felt like...death."
The only person who was allowed to have a camera was Terry Richardson. "The irony is, I've been on vacation with those two, and they take pictures every f--king minute! They're constantly shooting pictures. But if I take a picture, I'm committing a sin!" Stern said. "This whole...It was always called a birthday party. Whenever you got an e-mail, it was a birthday party. They're so secretive that they even had the wedding on a Wednesday because nobody gets married on a Wednesday."
Aniston's dress was "short," a source tells E! News, and her dogs participated in the ceremony. Famous guests included Jason Bateman, Emily Blunt, Sandra Bullock, Courteney Cox, Chelsea Handler, John Krasinski, Lisa Kudrow, Rachel McAdams, Tobey McGuire, Jennifer Meyer (who also designed the rings) and Samantha Ronson.
Stern, who has vacationed with the couple in Mexico, "talked about some personal stuff, too. I complimented Justin's mother on raising such a wonderful son. I love him. I told Jennifer that she deserved a guy like this, because after all, she's been very sweet and generous with us. But Justin and his body—his abs, his ass—look at him! I'm giddy over him! Although Orlando Bloom blows him away."
Bloom happened to be seated near Stern at the wedding, as were Ellen DeGeneres and Portia de Rossi. "This really handsome guy is sitting next to me at the table. This f--king guy. He's, like, better looking than Johnny Depp, Brad Pitt and Tom Cruise all rolled into one. So, I'm sitting and talking to this guy—interesting dude. We're hitting it off and talking for a long time. I said, 'What is your name?' He says, 'Orlando.'"
Stern had heard of Bloom, of course, but he wasn't familiar with the actor's work. "He's a nice guy. He's so handsome. I said to him at one point, 'This must be tough for you to be at this wedding. You haven't gotten laid or gotten a b--w job in a half an hour. You must be used to getting f--ked every 15 minutes.' He said, 'You know, you're right.'" Of course, Stern took the joke a step further. "I said to Whitney Cummings, 'Would you take Orlando somewhere and b--w him?'" he said. "And she said, 'OK!' And she lifted up her dress. It was very funny."
Dimitrios Kambouris/Getty Images
Stern also confirmed that Sia performed when Theroux, 44, and Aniston, 46, had their first dance as husband and wife. "It was very romantic," the radio host told co-host Robin Quivers. "So, I run to Orlando and say, 'Orlando, first dance!' Orlando grabbed me so tight I thought my bones were going to break."
"You would love this f--king guy," Stern said of Bloom. "I almost b--w him."
Jimmy Kimmel officiated the wedding ceremony. "He did a beautiful job," Stern said. "I didn't think he'd get through it. Jimmy's still depressed about that lion getting killed over in Africa." He added that DeGeneres made at him "for making fun of Jimmy for crying, because she's an animal lover. I said, 'Hold up a second. I have a house filled of f--king cats. What are you talking about? I said the opposite.'"
By the end of the night, though, Stern was in a much better mood.
"We had a fun time," he told Quivers. "Great time."