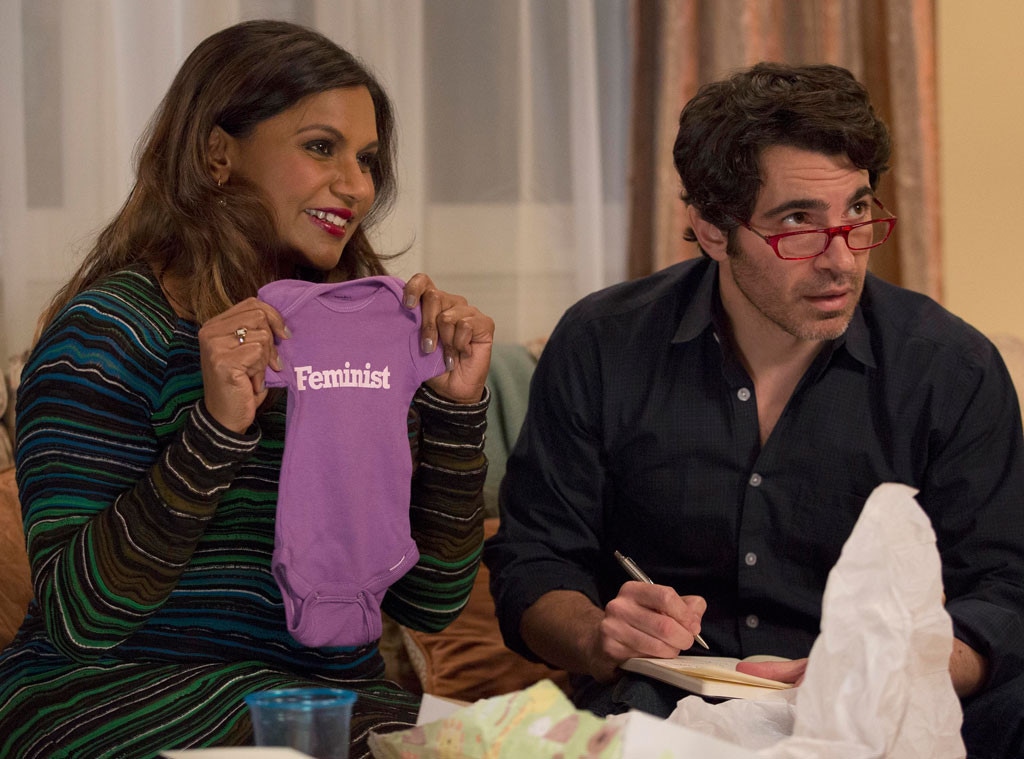 John P. Fleenor/FOX
Praise Beyonce Pad Thai Hulu for keeping The Mindy Project in our lives!
After Fox made the horrible, no good, very bad decision to cancel one of the greatest comedies on TV last spring, the online streaming site swooped in to save the day. The (super-sized!) season four will now exclusively air on Hulu.
But this ain't Netflix: all 26 episodes will be released on a weekly basis, instead of all at once. Sorry, binge-watching addicts!
So when will the The Mindy Project season four premiere? A lot sooner than you think! Hulu will release the first episode on Tuesday, Sept. 15. Mark your calendars now! 
And season four is already set to be totally star-studded. Joseph Gordon-Levitt has been cast as Mindy's (Mindy Kaling) husband...but what about Danny Castellano (Chris Messina)?! 
Put down your pitchforks, because the premiere is inspired by the 1998 romantic comedy Sliding Doors, and in an alternate-reality version of Mindy's life, she isn't with Danny Castellano, but she's actually married to Matt (Gordon-Levitt), a suave reality show producer for Bravo. And Danny will be wooed by Slumdog Millionaire's Freida Pinto in that same episode.
Also set to appear in season four are The Big Bang Theory's Kunal Nayyar, Raising Hope's Garrett Dillahunt, and House of Cards star Sakina Jaffrey and Royal Pains' Ajay Mehta have been cast as Mindy's parents.
But will The Mindy Project's new home change the show in any way? Not according to Ike Barinholtz, who plays Morgan.
"If we made the show risqué, we would turn off some of our viewers," Barinholtz said during the 2015 Summer TCA press tour. "So we're not changing the show in a big way. But there is a little more freedom which is nice for us. There's freedom in being able to tell a joke and not have to neuter it. It's a much more fertile ground for comedy."
And speaking of "fertile" (sorry, too easy!), Mindy's pregnancy is going to be explored a lot more in depth this season.
"We always thought it was funny that an OB-GYN would have an accidental pregnancy," Kaling said during the panel. "It's brought out really funny sides of Mindy and Danny's personalities."
Executive producer Matt Warburton adds that Mindy will be totally unprepared for motherhood when she finally does give birth. "She's at square one when the baby pops out," Warburton says, while Kaling reveals that we'll see a maternal, protective instinct in Mindy that we've never seen before.
And pack your bags, because The Mindy Project is hitting the road this season!
"We have a road trip episode coming up, that is just these guys," Kaling reveals, pointing to Barinholtz and Messina. "It's going to be a disaster."
A Morgan/Danny road trip? We are so in.