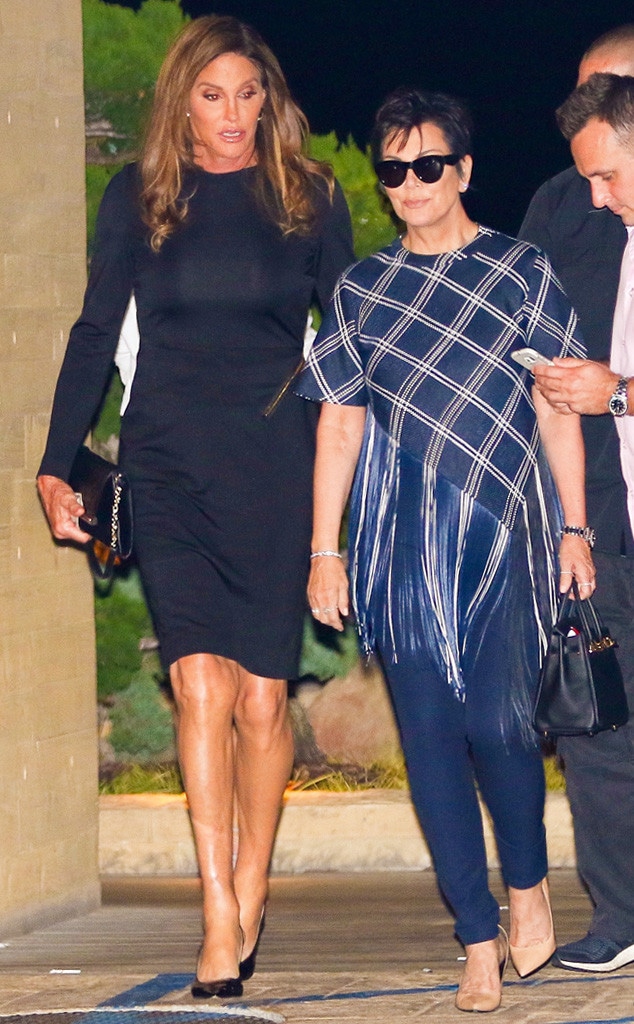 AKM-GSI
Friendly exes alert!
Caitlyn Jenner and ex-wife Kris Jenner reunited on Friday for their first public appearance together in more than a year and since the Olympian transitioned to become a woman. She debuted her female look two months ago. Caitlyn, 65, and Kris, 59, joined their family at the Malibu restaurant Nobu to celebrate their youngest daughter Kylie Jenner's 18th birthday.
The former Keeping Up With the Kardashians couple were photographed hugging outside and holding hands. Caitlyn wore a long sleeve black knee-length dress while Kris donned a dark blue and white fringed top and blue skinny pants.
Last week, the two met for the first time since her transition. A source had told E! News that "everything is fine" between Caitlyn and Kris, who had initially struggled with the news. Until Friday, they were last seen in public together in Paris in May 2014, ahead of Kim Kardashian's wedding to kanye West, 38.
The two, who were married for 23 years, finalized their divorce late last year. They split in October 2013, more than a year and a half before Caitlyn, formerly known as Bruce Jenner, revealed in a TV interview her plan to transition.
The two later took a sweet selfie with Kim Kardashian, 34, who shared it on her Instagram page. Caitlyn and Kim also posted for one by themselves.
"The parent trap," Kim wrote.
Caitlyn, who had joined Instagram on June 1, the day she debuted her female look in Vanity Fair, had earlier this week shared on her own page her first selfie.
Kim, who is pregnant with her and Kanye West's second child, showcased her baby bump in a tight black tank dress.
Kylie, who turns 18 on Monday, Kim, Khloé Kardashian, 31, Kourtney Kardashian, 36, and Kendall Jenner, 19, later posed for some sisters-only selfies of their own.
Khloé, who appears to be into the whole warped videos thing, posted on her own page a funny one showing Kris.
Kylie kicked off her birthday weekend earlier on Friday.
"Let the birthday celebrations begin! First stop: @childrensla," she wrote on Instagram.
I Am Cait airs Sundays at 8 p.m., only on E!
Watch:
Does Caitlyn Jenner Want to Date Men or Women?