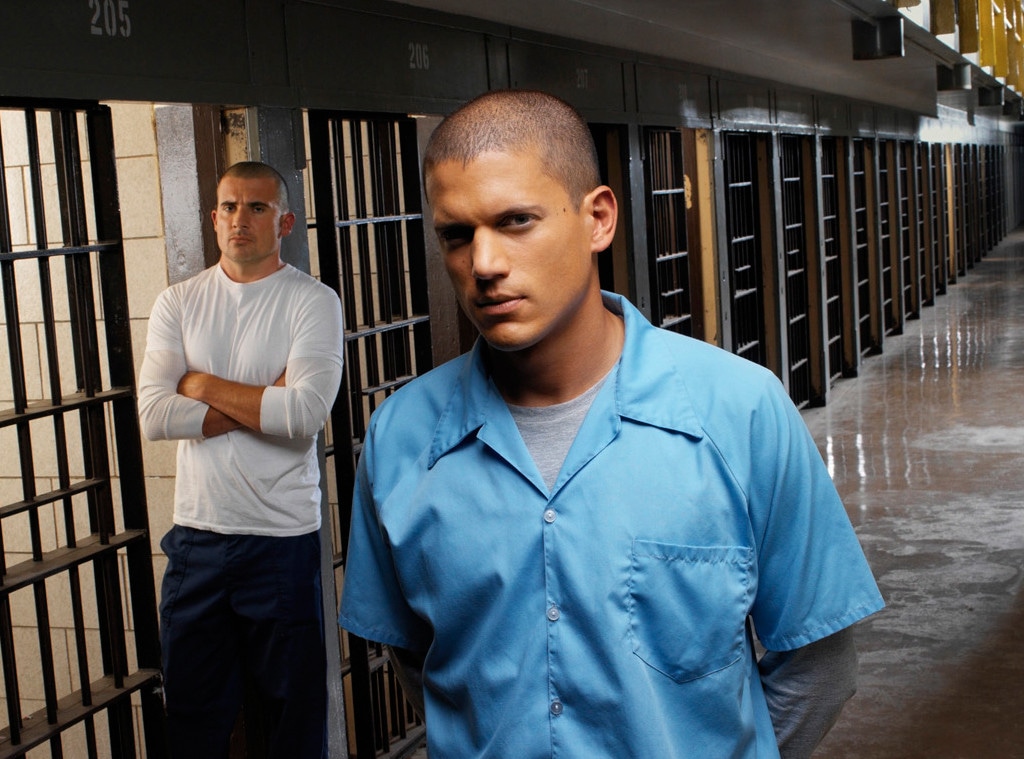 FOX
Update 1/15/16: Fox has made it official and we're all going back to prison. The network announced at the 2016 Winter Press Tour that Wentworth Miller and Dominic Purcell will return for a new event series. Original producers Paul T. Scheuring, Neal Moritz, Marty Adelstein and Dawn Olmstead will return to executive-produce the revival. Scheuring will serve as showrunner/writer. "We are going to be shooting in April for a few months and it will be broadcast during the 16-17 season," revealed Fox boss Gary Newman to a small group of reporters, adding that the revival will be somewhere between eight and ten episodes (depending on Miller and Purcell's schedule on their CW superhero series, Legends of Tomorrow).
"Wentworth and I have a very unique chemistry," Purcell told E! News while promoting his new show. "I can't recall two actors who are so synonymous together working on another show like Legends. Wentworth and I are like brothers." He also confirmed that shooting is set to begin soon, saying, "I probably won't stop working for the next seven years in a row, which is daunting."
Earlier: Prison Break fans, you can finally breathe a sigh of relief. After a half of year of rumors, back and forth and total confusion, we finally have some good news to share! 
Fox announced today at the 2015 Summer TCA press tour that the fan-favorite Wentworth Miller and Dominic Purcell prison drama is returning as an event series.
"We have another event series in development that we're excited to tell you about," Fox boss Gary Newman says. "Finally we can confirm that we're in development on Prison Break."
"[Series creator] Paul Scheuring came in and pitched a great story to bring the show back," Newman says. "It's going to bring back both brothers, Wentworth Miller and Dominic Purcell, and Paul is busy writing the first episode. And once we have those written materials, I feel confident we're going to be going straight to series on that one."
So where will this event series fit into the Prison Break timeline?
"Paul's in the middle of writing it right now, I would describe it as a bit of a sequel," Fox boss Dana Walden says. "It picks up the characters several years after we left them in the last season of the show. The brothers will be back. Some of the iconic characters from that show will be back. Not sure Paul knows exactly where he's going over the 10 episode arc, but will definitely address some questions that were set up at the end of the series."
To clarify: the event series will take place after season four, but before the straight-to-DVD movie conclusion. AKA, Michael (Miller) is still alive!
"Yes, he is going to be ignoring the straight-to-DVD video," Newman says. "It is past season four, several years past where the series ended. I wouldn't want to give away too much of what Paul has planned but he had a very detailed, incredible story for why these characters become relevant again and why to bring them back. It's going to be very exciting."
But Walden explained that fans shouldn't completely forget everything that happened in the movie finale.
"I don't think he's going to completely ignore what happened in that episode but what he pitched to us was a very logical and believable in the world of Prison Break, an explanation for why our characters are alive and still moving around the world," Walden says.
What are you hoping to see from the rebooted event series? Hit the comments section below with your Prison Break hopes and dreams!
Originally published on Thursday, Aug. 6, 2015, 9:42 a.m. PT