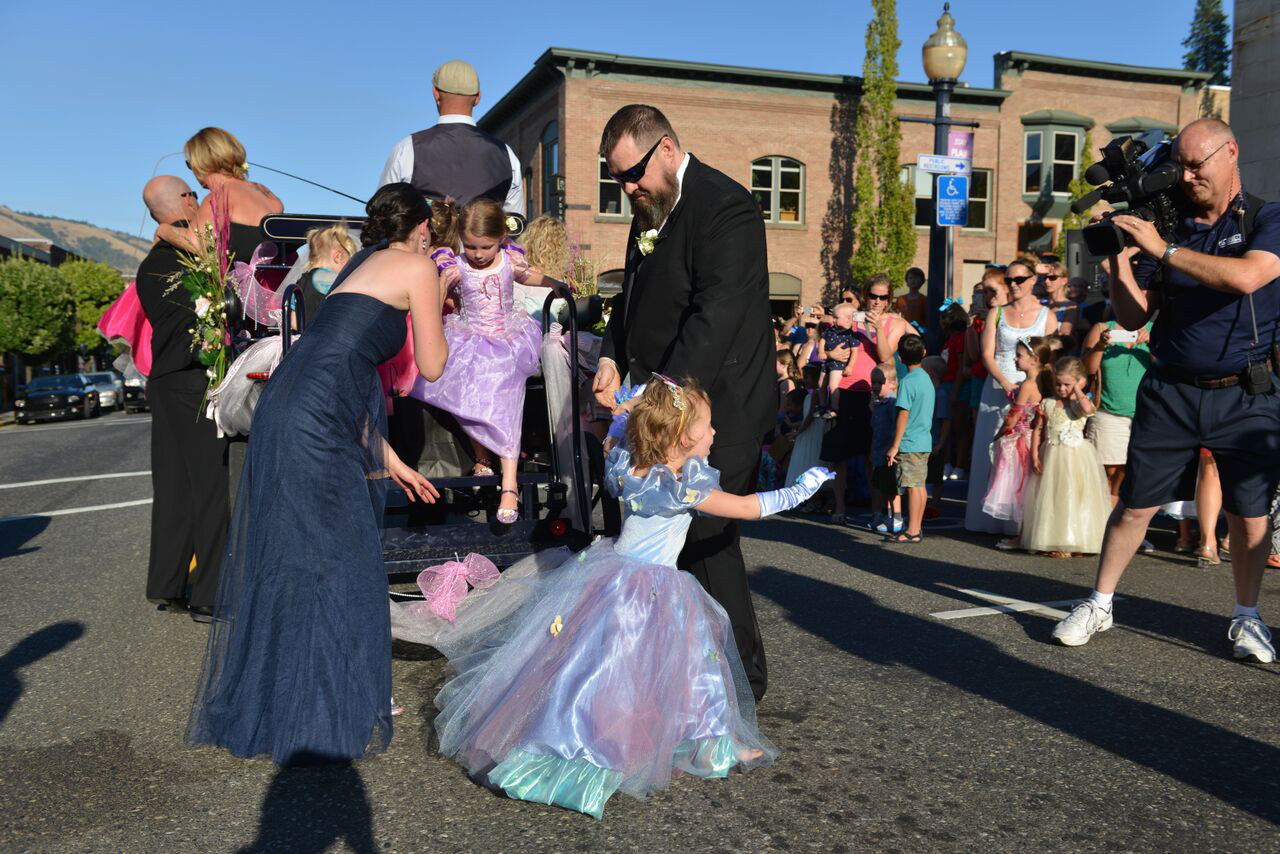 Bryce Jenkinson Photography
Lila May Schow sounds like an incredible girl.
The child from Hood River, Ore., has been battling Stage 4 neuroblastoma and, with her family wanting to make the most of every moment together, ended up being the guest of honor at an incredible celebration for her 5th birthday.
Lila's mom, Heidi Hall, shared on Facebook, "My little princess is turning 5 on July 31, and this is quite possibly her last birthday (We hope to have many more, but this is our reality)."
Wanting to make the birthday extra-special and commemorate all of the celebrations Lila could miss, Heidi wrote, "She really wants to have a ball as a party, complete with fancy dresses and dancing and a few other ideas I've come up with. We really want to make this a big party, seeing as how she will never get to go to the prom or have a wedding. I want her to feel like the [belle] of the ball!"
Bryce Jenkinson Photography
Message received, and people reportedly turned out from all over to celebrate the little princess!
According to local KOIN-6, about 1,000 people showed up to party, even though the building just held 180 people. Some revelers even drove in from as far away as California, Idaho, and Utah.
Lila, meanwhile, arrived in true Cinderella fashion in a horse-drawn carriage, and her gown was custom-made by a woman who lived out of state who heard the child's story.
Days before the ball, she was dancing around in anticipation.
Lila's sooooo ready for the Ball this Friday!!! She's practicing her moves??

Posted by Lila May on Sunday, July 26, 2015
Bryce Jenkinson Photography
She even had her very own Prince Charmings—her dad and stepdad—to twirl her around the dance floor.
We're going to guess there was nary a dry eye in the house.
And at the end of Lila's dance with her stepdad, he proposed, asking for her wee hand in marriage so that she wouldn't miss having a will-you-marry-me moment of her own.
More than 30 volunteers turned out to make the family, community, and ultimately nationwide effort come together. And just one, but six cakes were donated for the celebration, according to KOIN-6.
Bryce Jenkinson Photography
Reflecting to the Channel 6 News, Hall said, "Thanks is not enough. I don't even know a lot of these people."
The celebration was "just the most beautiful thing I think I've ever seen," Lila's mom added. 
Meanwhile, The Elle Foundation has helped fulfill another of Lila's princess dreams, which was to go to Disney Aulani in Hawaii. Dressed in a princess gown, of course, Lila May screamed in excitement as she hugged her mom's legs upon getting the good news!
As Lila May continues to fight, her family is currently raising money to help cover their mounting medical expenses.
Bryce Jenkinson Photography