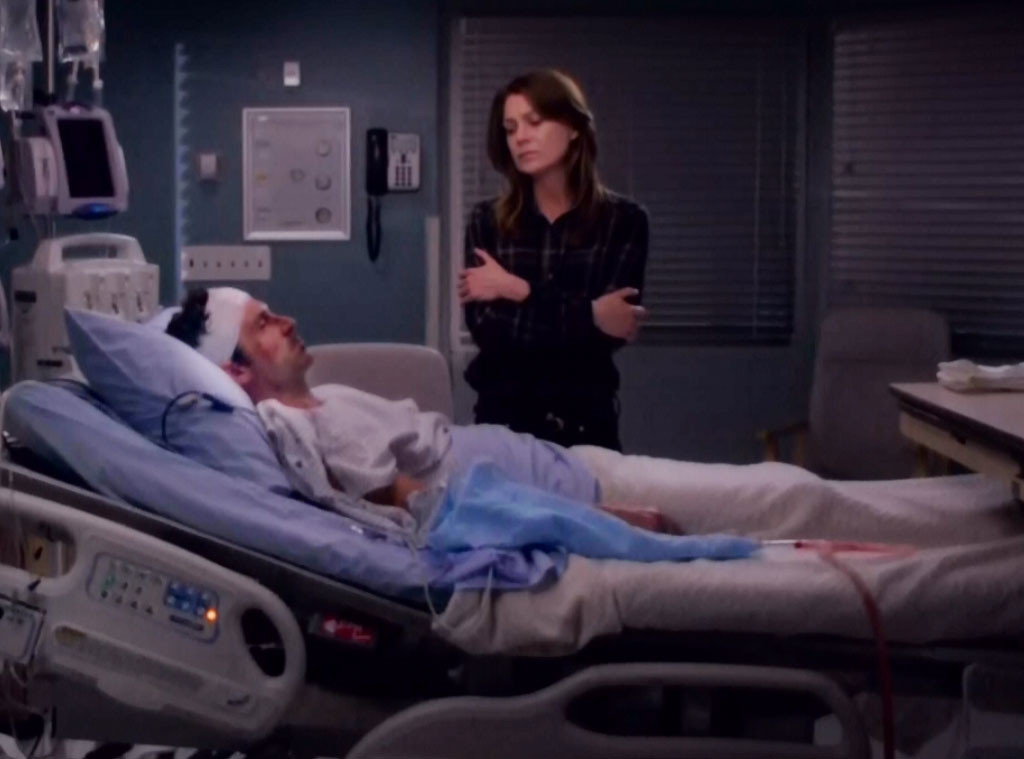 ABC
It's time to dry our tears, fellow Grey's Anatomy fans, and look ahead to the future. ABC's long-running medical drama is set to kick off its 12th season this fall, and although Derek "McDreamy" Shepherd (Patrick Dempsey) is no longer with us, that doesn't mean that Meredith Grey (Ellen Pompeo) is going to be moving on with someone new. 
At least, not right away.
"I have not planned to [introduce a new love interest for her] and that's not really the focus of what we're doing with her right now," executive producer Shonda Rhimes tells E! News. "Meredith is in a rebirth and she's evolving. I'm watching the character do what the character's doing and I'll see where it goes."
That doesn't necessarily mean that Meredith is going to stay single and alone forever though. 
"I'm not going to say we're definitely not doing it because I could be wrong, but that's not my plan right now," Rhimes clarifies. "I can't just drop a new guy in and be like, 'There he is!' I keep seeing all these things that we're replacing McDreamy...and Patrick's irreplaceable. That's not really the point. Meredith's on a journey, she's always been a journey and I'm taking her where the journey leads her, so we'll see what that feels like."
And Meredith won't be the only character on Grey's Anatomy going through this "rebirth," a storytelling device Rhimes has used many times over the course of 11 seasons.
"They all were shot up by a gunman and they had a rebirth," Rhimes says. "They had a plane crash and I left them all in the middle of the forest to die and they all had a rebirth. Cristina [Sandra Oh] left, and for me, that was the most profound change. I thought to myself, if I could figure out what to do without Cristina and Meredith together, then I would be okay. And so the beginning of last season was the most challenging for me. Once I knew that we could do that, we could do anything."
While the fans responded passionately (and almost immediately) online after the big McDreamy death episode aired, Rhimes admits she still doesn't really know what the reaction was.
"I don't know what they felt. I actually don't know what the fan response was, because I knew enough to know that I was going to write Derek's death and I was not going to go online for a while," Rhimes says. "I know enough to know that it was a big deal because I got personal emails from people I know who were angry and I saw an article in Time Magazine about how to cope with a fictional character's death."
She continues, "But I found it to be both incredibly heartening and amazing that after almost 250 episodes, people cared that much. I also found it to be kind of beautiful. I mean, they felt what I felt. They felt what Meredith felt. They were still on the journey, which I thought was pretty profound. I don't know, you think after all this time that people are going to be like, 'Eh, whatever.' No! People were sending me emails saying, 'I am sobbing right now,' and, 'How dare you!' I thought, 'Okay, I am not alone.' That means something to me."
While Grey's Anatomy is currently proving that it can go on without Dempsey, could it ever go on without Pompeo?
"I think the show is Ellen," Rhimes says. "I don't think that's ever been a question. I think for me creatively the show has always been Ellen; that is the heart of the show. I am not going to comment on whether the show will fold without her. I am telling you, that is where I am interested in writing."
As for how many seasons Pompeo is signed on for as of now, Rhimes couldn't say.
"I don't know. I don't know where we're at with that," Rhimes says. "They're talking about that right now."
After a certain numbers of seasons, most showrunners have a plan in their minds of how they want the series to end. But according to Rhimes, we've already seen her "ultimate ending" years ago!
"The ultimate ending that I had for the show happened like eight seasons ago," Rhimes says. "I'm not kidding you. I'm not telling you [what it was]."
Which season finale do you think was Rhimes' ultimate ending for the series? Hit the comments below with your guess now!