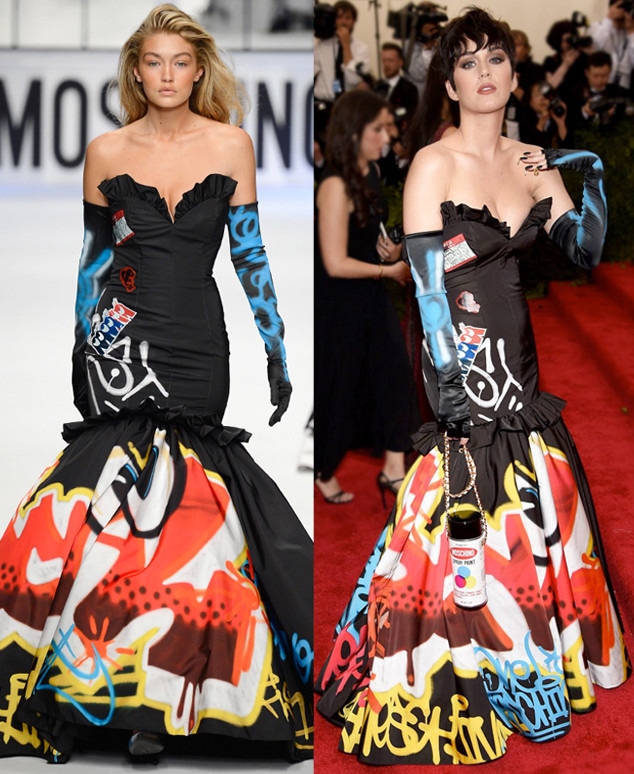 Getty Images
Does this qualify as a real-life imitation game?
Moschino's creative director, Jeremy Scott, is under fire after graffiti artist Rime—aka Joseph Tierney—filed suit against the designer for using his street art on several key pieces from Moschino's Fall 2015 collection. The artwork in question is a 2012 Detroit mural with furrowed brows and a glaring set of "vandal eyes" set amid a popping red and blue background. Which might look familiar, seeing as the design (or a very similar version of it) is featured on the skirt of Katy Perry's 2015 Met Gala gown.
"Rime is a well-known artist. Defendants Moschino and Jeremy Scott—two household names in high fashion—inexplicably placed Rime's art on their highest-profile apparel without his knowledge or consent," the lawsuit reads, according to a copy of the complaint obtained by E! News.
The 30-year-old pop star attended the Met Gala on Scott's arm, even donning a spray paint can-turned-clutch to complement the designer's street art-inspired design, which only added insult to injury for Rime.  
"Defendants paid Ms. Perry to advertise and display the clothing at the Gala," the lawsuit continues. "Not only did Ms. Perry and defendant Scott advertise, wear, and display the clothing at the event, they arrived at the event in a spray painted  Rolls Royce, and even carried around Moschino branded cans of fake spray paint during the event, as if defendants were responsible for the artwork."
The dress in question made its runway debut on another famous face—Gigi Hadid—at Milan Fashion Week earlier this year.
Moschino later responded to the lawsuit, telling E! News in a statment: "We were not aware that a lawsuit had been filed until yesterday. Many of the allegations, especially the inflammatory and gratuitous allegations of wrongdoing are false. We intend to vigorously defend the lawsuit. During the pendency of a lawsuit, it is our practice not to comment on the specific facts of an ongoing case."
Watch:
Miley Cyrus Designs Jewelry for Jeremy Scott