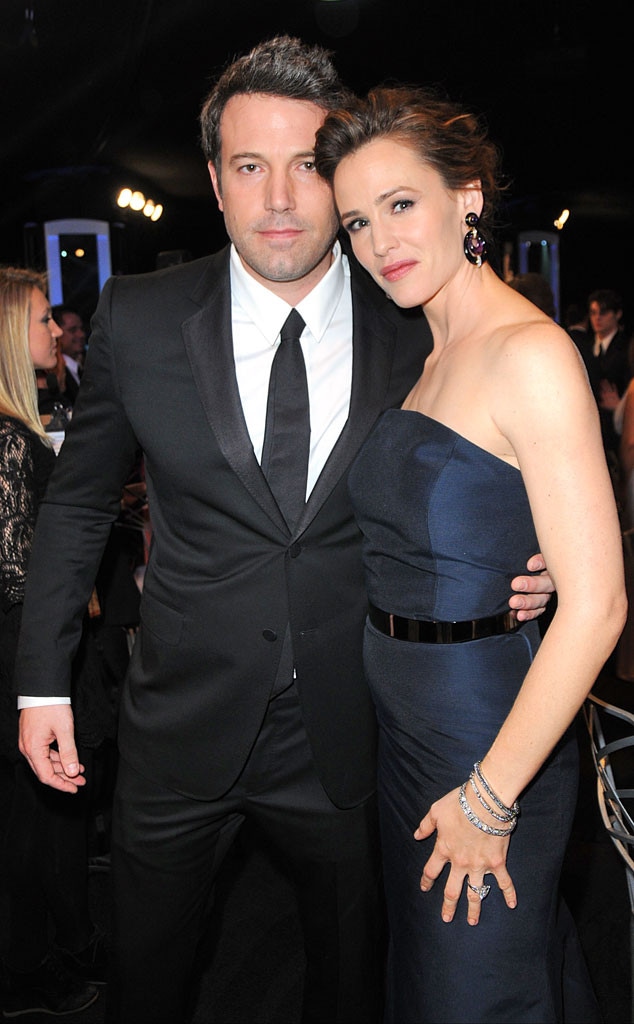 Ron Wolfson /Landov
It's now been over a month since Ben Affleck and Jennifer Garner announced they are divorcing—and the A-list duo continues to remain in the headlines. 
Most recently, a report claimed the parents of three, daughters Violet, 9, and Seraphina, 6, and son Samuel, 3, are no longer speaking following the actor's alleged affair with former nanny Christine Ouzounian, although a source tells E! News that's simply not the case for the couple of over a decade.
"They have children together. They talk all the time," a source tells E! News of Ben and Jen, adding that the Gone Girl star is more than welcome at their Los Angeles home (an insider previously told E! News that Affleck plans to live in a separate house on their Brentwood property so the two can co-parent). 
Additionally, a recent Star magazine report claimed that Affleck is worried Ouzounian is pregnant following their rumored affair. "Not true," the insider says. 
Last week, Ouzounian made headlines when she claimed, according to one of the caretaker's friends, that she and the actor were intimate. A rep for Ben called reports of an alleged affair categorically "not true" and noted that the actor was considering taking legal action. 
However, in spite of Ben's denial, an insider told E! News that Garner was "livid" over the nannygate scandal. She is currently filming Miracles From Heaven in Atlanta, where Affleck has been staying in the guest house of Jen's Atlanta rental property. 
We're told Affleck recently traveled to Savannah for a pre-planned trip to visit family and friends, but plans to return to the Georgia capital soon "to be back with the kids." 
Meanwhile, images of Ouzounian visiting Affleck at his L.A. home on July 17—less than three weeks after Ben and Jen announced their divorce—have surfaced. Earlier in the day, Ouzounian, whose employment with the family was terminated on July 1, was also seen running errands in the actor's Lexus. 
While Affleck has vehemently denied all accusation of infidelity, a friend of Ouzounian's told E! News Christine claimed that her relationship with the Oscar winner did indeed turn romantic. 
"...Eventually she couldn't contain her excitement and spilled the beans that she was dating Ben Affleck...she told her friends she was completely in love with him," Ouzounian's friend explained. "Ben told Christine things that led her to believe they were going to be fully together. Over the course of the last few months, their relationship became very real and serious to Christine."
The pal added that Christina told her that Garner "found out that Ben and Christine had been intimate" in the Bahamas, where the family was staying when their divorce was announced. According to Ouzounian's friend, that was Garner's breaking point and Christine was fired.