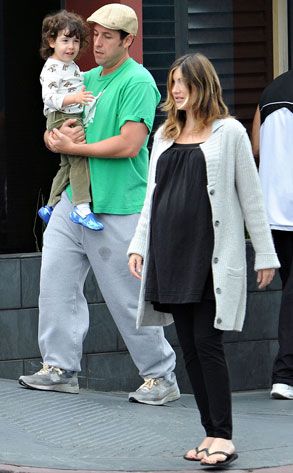 FAME PICTURES
Adam Sandler brushed up on his Bedtime Stories just in time.
The funnyman and his wife, Jackie, welcomed their second daughter together last week.
"Jackie and Adam had a beautiful baby girl, Sunny Madeline, on November 2. Everyone is happy and healthy," read a statement on Sandler's website.
Sunny joins sister Sadie, 2, in the Sandler brood.
Sandler, 42, and Jackie, 34, tied the knot in 2003. The You Don't Mess With the Zohan star joked about his wife's pregnancy during a Tonight Show appearance earlier this year, telling Jay Leno how he eloquently explained the impending arrival to Sadie.
"'[Mommy] just has something growing in her that's eventually gonna shoot out her vagina and take half your toys,'" Sandler quipped.