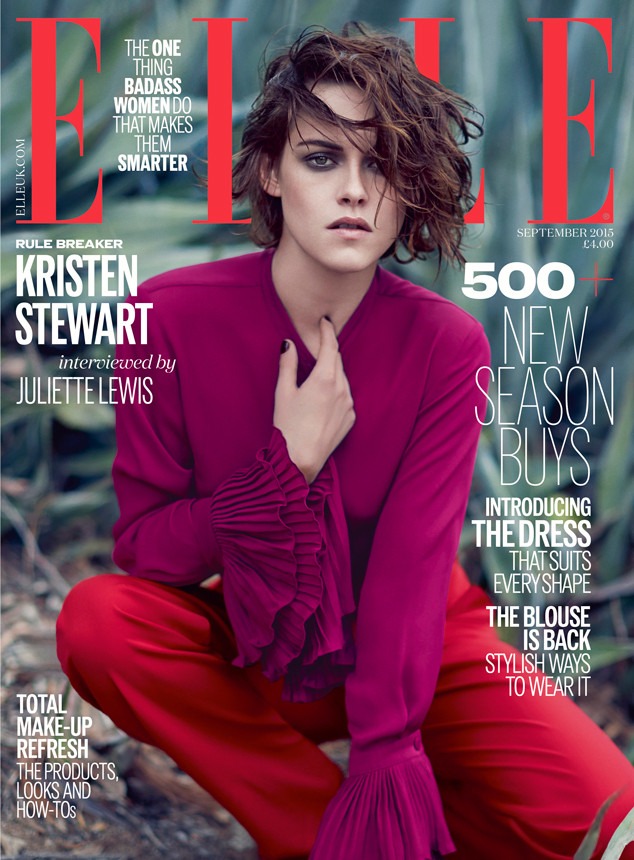 Kai Z Feng/Elle UK
Kristen Stewart may not have a permanent grin on her face, à la Tom Cruise on a worldwide promo tour, but the actress doesn't suffer from resting bitch face, either. In fact, Stewart is tired of people assuming she's always unhappy. "The whole smiling thing is weird because I actually smile a lot," the actress admitted. "I literally want to be like, 'Dude, you would think I was cool if you got to know me.'"
Looking down in the dumps hasn't always been a detriment. In fact, Stewart recalls that one time, when she was "in a f--ked up place" and at a club in New York, music legend Patti Smith took notice and decided to take the actress under her wing. "[Patti] was like, 'I just want you to know that your people care about you, that we're here for you, and I'm your people,'" she said. "We kind of stayed in contact."
"Then I was in New York again and she walked up to me at another after-party—it had been a long time since we'd talked—and she said, 'It's a full moon tonight and I heard that you were in town, so I came out to find you and here you are!' And I was like, 'You've got to stop saying the coolest things ever!'"
For Elle U.K.'s September issue, Juliette Lewis interviewed Stewart and said, "You're the female James Dean...but actually, you're a little bit rougher. I think you're a scrapper. I think you can throw a punch."
Maybe Stewart's looks aren't so deceiving after all.
The American Ultra star also explains why, unlike many of her peers, she's not on Facebook, Instagram or Twitter. "I'm not anti-social media. I just haven't decided to do it. The idea of addressing such a massive group," she says. "If I don't know who I'm talking to it doesn't make any f--king sense to me."
Elle U.K.'s September issue is on sale Aug. 6 and is available as a digital edition.
Watch:
Will Kristen Stewart Ever Play Bella Again?!