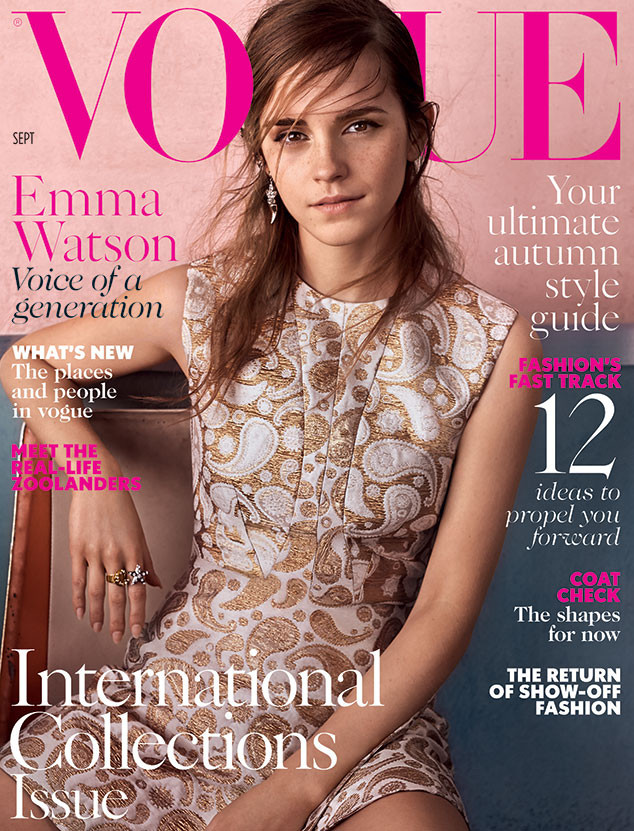 Vogue UK
Fake it 'til you make it!
Emma Watson exudes confidence onscreen, particularly as Hermione Granger in the Harry Potter film franchise. Appearances can be deceiving as the 25-year-old movie star admits to Vogue U.K. she isn't always so sure of her acting abilities.
Asked whether acting comes naturally, Watson—who graduated from Brown University last year—isn't sure. "It's something I've really wrestled with. I've gone back and I've quizzed my parents. When I was younger, I just did it. I just acted. It was just there. So now when I receive recognition for my acting, I feel incredibly uncomfortable. I tend to turn in on myself," she admits. "I feel like an imposter."
In hindsight, she says, "It was just something I did."
By contrast, Watson is steadfast in regard to her views on gender equality.
Last year, she launched the #HeForShe movement during a U.N. address.
The night before she gave her speech in New York City in September 2014, Watson tells the magazine, "I was in my hotel room, thinking, 'I can't do this.' I was just terrified." To calm her nerves and get a fresh perspective, she reached out to a friend via Skype, who told her, "'Go through it again and ask yourself, if you were hit by a bus tomorrow, would you be comfortable with every single line?'"