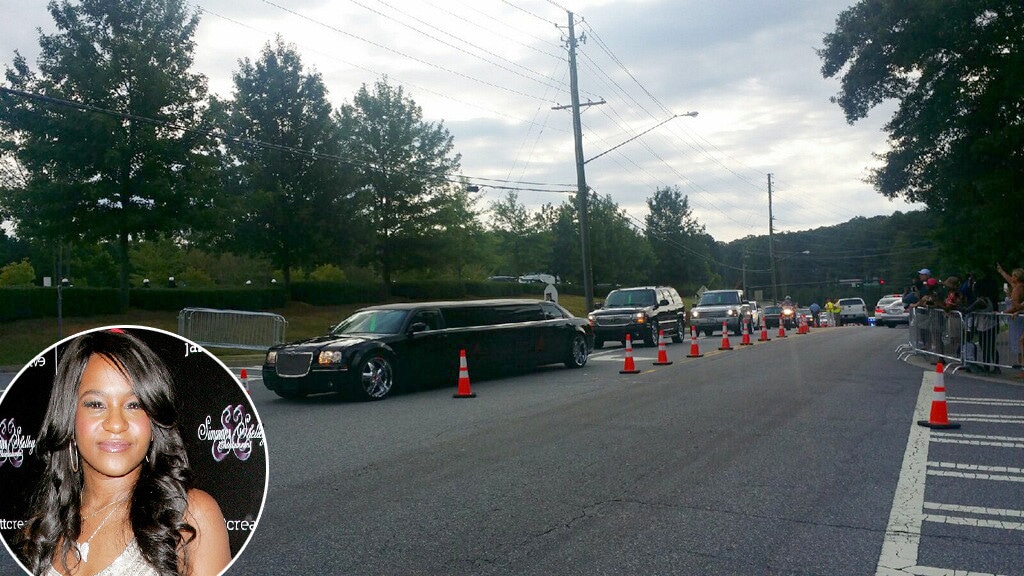 Jocelyn Juhan/E!; Getty Images
Bobbi Kristina Brown's funeral was "perfect" and featured a touching video put together by Tyler Perry, who also helped keep the peace during an interruption, a family friend says.
Ellin LaVar, the former hairstylist of the 22-year-old's late mom Whitney Houston, spoke with E! News exclusively about the small, private memorial, which took place on Saturday at St. James United Methodist Church in Alpharetta, Georgia. She said it was a closed casket service. The casket was silver and adorned with pink roses.
LaVar called the funeral "simple and lovely" and "perfect, like her, small and delicate." 
"The service was very low key and appropriate for her and her life," she told E! News. "It was beautiful."
Family members such as Bobbi Kristina's father Bobby Brown and aunts Leolah Brown, Tina Brown and Pat Houston , as well as celeb friends such as Tyler Perry were in attendance. Perry, Pat, Tina, two of Bobbi Kristina's best friends and her middle school principal all spoke, LaVar said.
Her grandmother and Whitney's mother Cissy Houston, plus Donnie McClurkin and CeCe Winans performed songs, LaVar said. All three are Grammy-winning Gospel singers. McClurkin sang "Stand." He had performed the same song at Whitney's funeral in 2012.
One of the most moving moments at Bobbi Kristina's funeral came courtesy of Perry, who put together a movie made up of home videos showing Bobbi Kristina at different ages, from about age 1 until adulthood.
"It was really touching video," LaVar told E! News. "It ended like she was waving goodbye. It was very emotional to see it."
Paras Griffin/Getty Images
Bobbi Kristina's funeral was marred temporarily by a disturbance: Leolah, one of Bobby's sisters, left the funeral early after confronting Pat, who she has often ranted about online. Pat, Whitney's sister-in-law and a co-guardian of Bobbi Kristina's estate, has not commented. Leolah ranted about Pat to reporters outside.
"She got up during the service to show her anger and her niece went over to ask her to leave and calm her down," LaVar said. "What she was doing was inappropriate."
She said several people, including Perry, came over to calm Leolah down and keep her from disturbing the service.
"He went over there to keep the peace," LaVar said about Perry, adding that Leolah was "escorted out and asked to leave." Leolah has not commented.
Jason Merritt/Getty Images
Bobbi Kristina is set to be laid to rest next to Whitney in New Jersey on Monday.