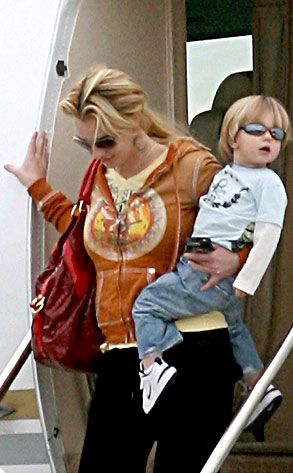 INFdaily.com
UPDATE: The following statement was posted on Britney Spears' official website:
"A source close to the Spears family has told us that Britney and family have left the Southwest Mississippi Regional Medical Center and Jayden is fine."
————————
Britney's little boy is back with his family tonight.
The pop star was spotted carrying son Jayden James out of Southwest Mississippi Regional Medical Center and into a waiting SUV Monday at about 6 p.m., a little more than 24 hours after the 2-year-old was taken to the emergency room after suffering a "bad reaction" to something he ingested.
A police officer and security escort guarded Spears, who, according to one eyewitness, "looked totally exhausted."
The 26-year-old mother of two took her youngest son directly back to her family's "Serenity" compound in nearby Kentwood, La. Britney, dad Jamie Spears, Jayden and 3-year-old Sean Preston just arrived in town on Friday.
Kevin Federline had said that if Jayden was not released today, he would fly from Los Angeles to Mississippi to be with him. There's no word yet whether he still might be making the trip.
—Reporting by Ken Baker