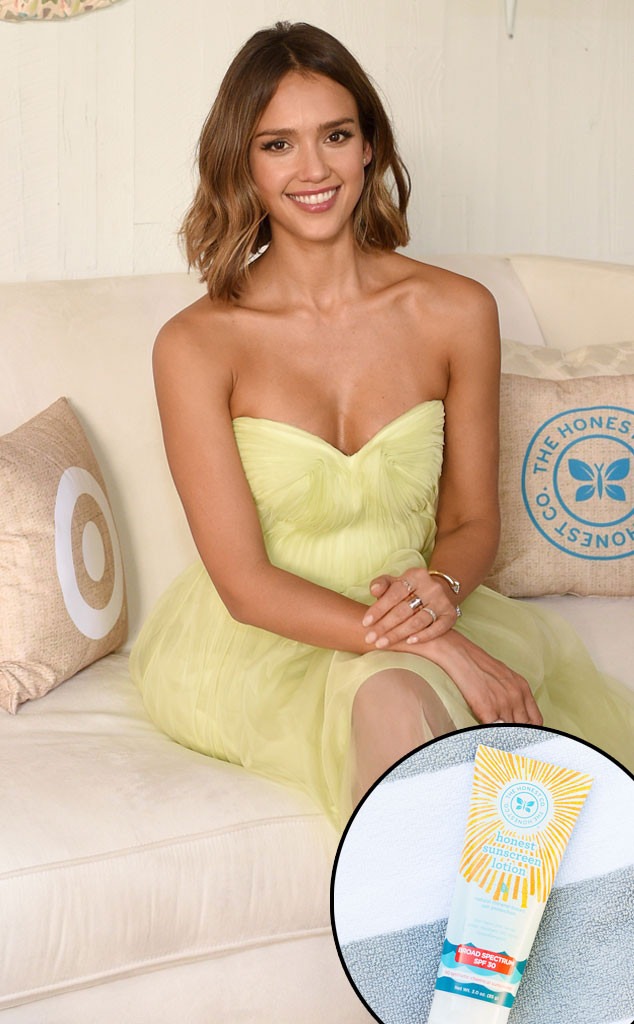 Stefanie Keenan/Getty Images for Target
Ouch! This one might leave a mark.
Jessica Alba's massively successful Honest Company brand has come under fire for a sunscreen that's allegedly not doing its job. Parents are reportedly complaining that the mineral-based SPF 30 formula has left their children with damaging sunburns and, yep, they want Jessica to know.
Mom Gretta Stabler told NBC 5 Chicago that even after applying the sunscreen liberally on her 6-year-old multiple times throughout a day in the sun, her daughter suffered from all-over burns.
"She got really burned on her arms, shoulders, legs face, pretty much everywhere. I was angry," Stabler, who purchased the product from a local Costco, said.
While Honest Sunscreen Lotion boasts a non nano zinc oxide formula free from the harmful chemicals usually found in SPF-rated products, NBC 5's investigation found that the company reduced the lotion's zinc content from 20 to 9.3 percent (the brand maintains that other ingredients were added to keep it effective).
Honest Sunscreen Lotion naysayers have taken to—where else?—the Internet to air their displeasure. Negative reviews from the lotion's product page on Costco's website include, "I bought this product from the Costco Warehouse and had a similar experience to the many disappointed parents who have reviewed here. My entire family got a sunburn even though we applied multiple times throughout the day. This was the first sunburn for my children which is so disappointing." Another dissatisfied buyer wrote, "I covered myself with this sunscreen and now I am burnt to a crisp."
Other users, however, reported having a safe, effective experience with the Honest brand. "Easy to apply. Soaks in nicely with no harmful chemicals to harm your child's skin. Awesome sun protection. Best sunscreen product on the market containing safe ingredients," one happy customer wrote.
Jessica's good friends, meanwhile, are still fans of the product. Her makeup artist Lauren Anderson posted a snap to Instagram from a vacation with model Chrissy Teigen with "Hi Jess!" written in the Honest lotion formula on her back. We're going to assume that's a natural flush—and not a burn—on Chrissy's cheeks.
The Honest Co. shared this statement with E! News: 
"The Honest Company is committed to providing safe and effective products and take all consumer feedback very seriously. Our Sunscreen Lotion was tested, by an independent 3rd party, against the protocols prescribed by the U.S. Food & Drug Administration's (FDA) monograph for over-the-counter sunscreen products. The results showed that our product is effective and safe for use as an 80 minute water-resistant (FDA's highest rating), SPF 30 sunscreen lotion in accordance with FDA regulations when used as directed (Shake Well. Apply liberally and evenly 15 minutes before sun exposure. Reapply after 80 minutes of swimming or sweating, immediately after towel drying and at least every 2 hours). We stand behind the safety and efficacy of this product."
 (E! Online is a member of the NBCUniversal family.)
Watch:
What Kind of a Boss Is Jessica Alba?