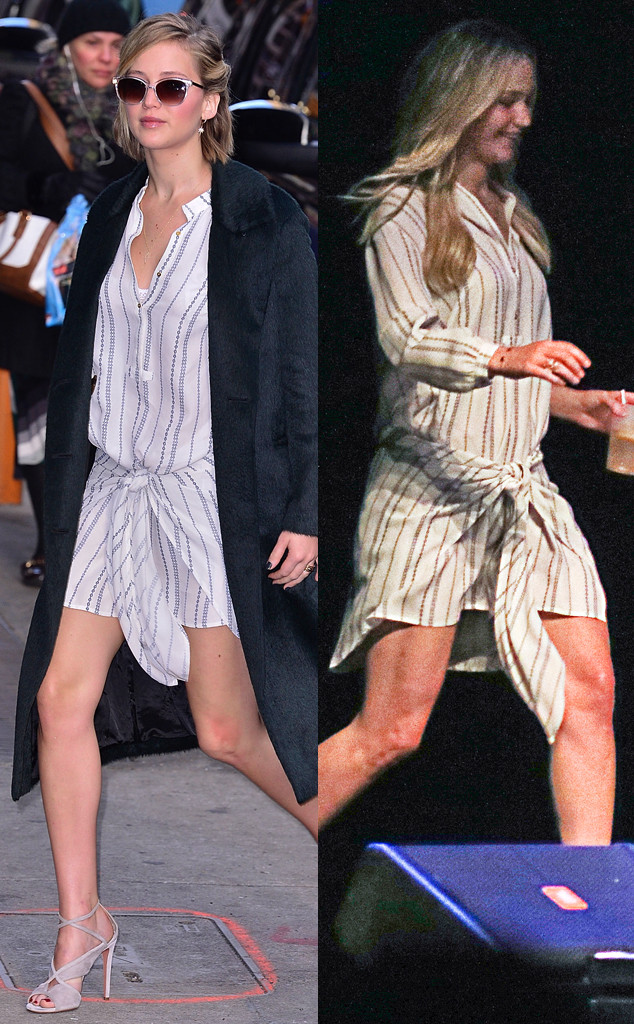 James Devaney/GC Images; R Chiang / Splash News
Jennifer Lawrence isn't going to let a little case of nothing-to-wear get in her way.
The actress stepped out for a live reading of The Big Lebowski on July 24 (ah, the nostalgia) sporting an easy, striped Ulla Johnson shirt-dress from the brand's spring 2014 collection that's cleverly cinched at the waist—and we can't blame her for the outfit repeat. Lawrence first wore the look, which virtually epitomizes her effortless style motif, to a Good Morning America appearance in November 2014. She resurfaced the dress for the Lebowski-centric event (held in Montreal, Canada), where she palled around with actors Michael Fassbender (dressed fittingly as "The Dude") and Olivia Munn.
Jennifer's not the only gal about town who's recycling looks this week: First Lady Michelle Obama repeated a colorful Alice + Olivia skirt and top combo that she sported earlier this spring at the 2015 Special Olympics. Kate Middleton's made a chic practice of dress re-wears, too.
And knowing J.Law, there may be threepeat in the works.