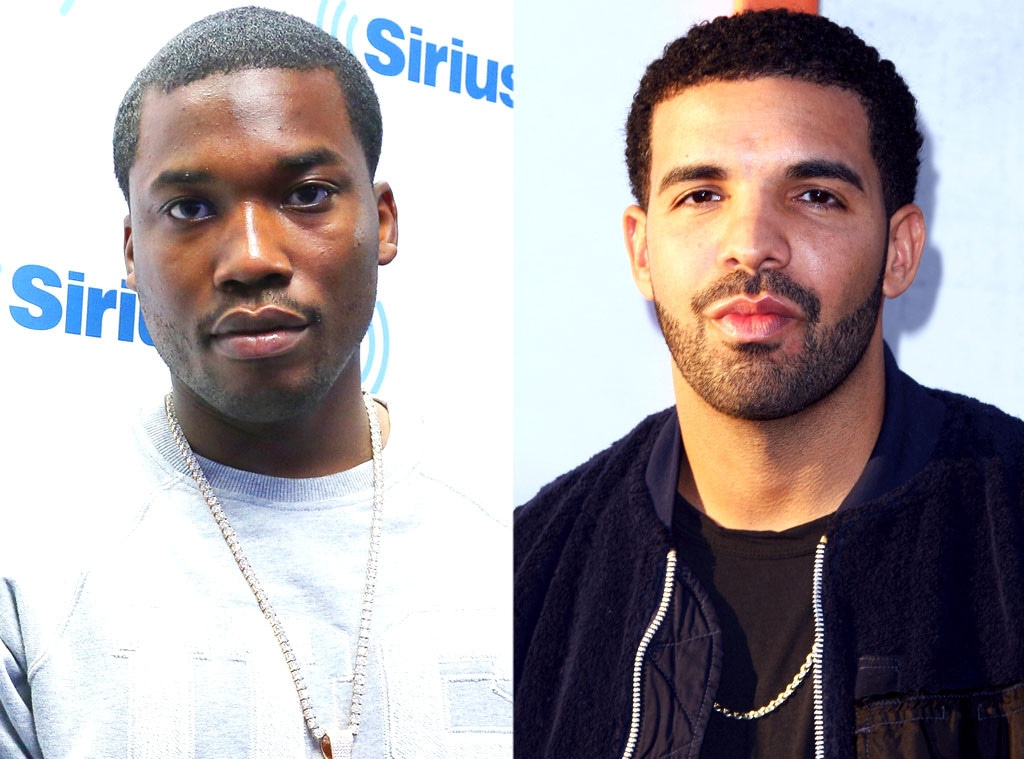 Rob Kim/Getty Images, Rob Kim/Getty Images
The feud continues!
Drake is dissing Meek Mill again after Nicki Minaj's significant other accused the Degrassi alum of using a ghostwriter on his songs. The new insults hurled at Mill come in Drake's new freestyle "Back to Back," in which he repeatedly throws shade at the rapper and his accusations.
"This for y'all that think that I don't write enough / They just mad 'cause I got the Midas touch," he raps in the three-minute track.
Drake also directly addresses Meek, who is opening Minaj's Pinkprint Tour: "You love her then you gotta get a world tour / Is that a world tour or your girl's tour? / I know that you gotta be a thug for her / This ain't what she meant when she told you to open up more."
But he doesn't end the insults there. Drizzy continues to go after Mill and his Twitter rant, rapping, "Trigger fingers turn to Twitter fingers / You gettin' bodied by a singin' n---a."
This is the Toronto rapper's second diss track, his first being "Charged Up," which he released Monday. Over a minimal beat from Maneesh, Frank Dukes and 40, Drake laid into Meek and the whole controversy, spitting, "Rumor has it, there's something that only I know / Rumor has it, I steer this s--t with my eyes closed / Rumor has it, I either f--ked her or I never could / But rumor has it, hasn't done you n---as any good."
Mill acknowledged the track on Twitter, writing, "I can tell he wrote that 1 tho......"
Watch:
Nicki Minaj Gets Romantic to Her Own Music
Fans anxiously awaited Mill's response, and when he finally gave it, it wasn't what they expected. Mill tweeted his new track, which was aimed for Drake, but all it consisted of was him screaming into a microphone.
An actual response from Mill has yet to be released. In the meantime, we have further insults from Drake to focus on while we continue to wait for Mill's new track (if there is one).
"I stay silent 'cause we're at war and I'm very patient/  6 God is watching / I just hope you're prepared to face him / I'm charged up / Wow, I'm honored you think this is staged / I'm flattered, man / In fact, I'm amazed."