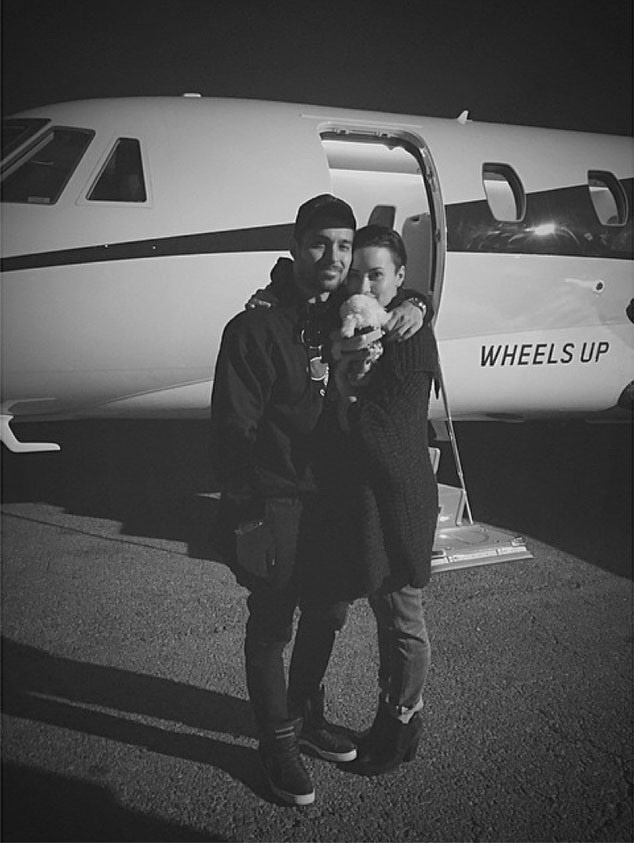 Instagram
Demi Lovato and Wilmer Valderrama have lost a member of their family.
The singer took to Twitter to sadly announce that the couple's maltipoo puppy, Buddy, died over the weekend. "We are absolutely heartbroken to be writing this but Wilmer and I are devastated to inform you that we lost our little angel Buddy last Sunday. He was taken from us way too soon in a tragic accident and though I will never know why this had to happen, I do know that God only puts us through situations that we can handle so with that, together we our staying strong," she wrote.
"We have incredible people around us and so much love and support which is holding us up in this time of need. Buddy was loved by so many people and as small as he was, he made a huge impact in our lives. He truly was human in a way and we were so blessed to have him in our lives."
Lovato continued, "We ask you that you please respect our privacy while we take this time to grieve and remember the magical moments we spent with our little angel. We will never forget our baby boy Buddy and his gentle loving spirit will live on in our hearts forever. RIP my tiniest little nightingale, Buddy..."
No details concerning the tragic accident mentioned have been revealed. Lovato did, however, post a photo a week ago with Buddy lying down next to who seems to be Valderrama with a caption that only contained crying emoji faces. Whether the snapshot refers to the accident that occurred or not is unclear.
The white and furry cutie was a gift to the star late last year, and instantly stole the hearts of many with his adorable face. Buddy continued to be a constant presence in Demi's Instagram photos, snuggling up to the singer as well as enjoy the eventful lifestyle of a Hollywood celeb.
He's taken on the role of her "security," her paparazzi pal, her friend, family and much more. Buddy even took social media by storm, with a Twitter account and Instagram account all his own, and gained over 70,000 and 365,000 followers respectively.
RIP, Buddy, we'll miss you.