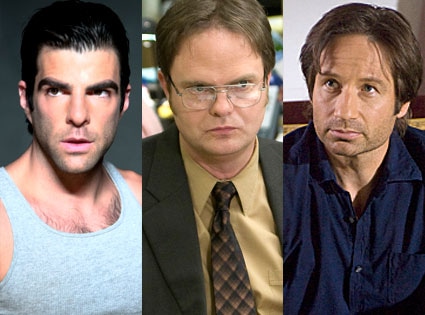 Chris Haston/NBC, Paul Drinkwater/NBC, Randy Tepper/Showtime
Not one, but two of the fan favorites pictured above will be doing the deed—and, yes, planting a seed!—very soon.
Will it be Sylar on Heroes?
Dwight (and Angela) on The Office?
Hank on Californication?
Or how about Liz and Jack on 30 Rock?
And oh yeah, did we mention Brenda from 90210 also has a big secret, as do Ted and Robin on How I Met Your Mother?
Keep reading for our weekly roundup of exclusive, inside TV dish you won't find anywhere else...
Andy in Merced, Calif.: Kristin, I have to know! Is Angela going to get pregnant with Dwight's baby? How perfect would that be since we all know she's not sleeping with Andy?
I just asked Angela Kinsey (Angela) the exact same thing, and guess what? That little tramp wouldn't give a direct answer! She said coyly: "Wouldn't it be funny if all of a sudden I had to be pregnant since I was just pregnant for real? I can tell you this: Things get really complicated pretty quickly in a few episodes." So my money is definitely on a preggo storyline for Angela! (And not just because I want everyone in the world to join me in getting chubby on pickles and mac and cheese.) Note to Dwight, though, Ed Helms told me this of Andy's previous anger-management issues: "They're still very much there." Ruh-roh. Better bring your SWAT gear to work, Mr. Schrute!
AP Photo/Matt Sayles, Michael Tran/Getty Images
Jason in Detroit: Any more insight into Prison Break?
Sources tell me that Oscar nominee Kathleen Quinlan begins production this week on a multi-episode Prison Break arc. Kathleen plays a mystery woman with ties to the Company, and her first ep is the fall finale, airing Dec. 22. I'm told Kathleen is set for at least four episodes, and she may appear in up to three other eps. Now, who is this mystery woman? Well, I believe (but can't swear) that Kathleen plays "Janet," a seven-ep recurring character who first appears in the fall finale. Janet is described as Pad Man's second-in-command and the Company's international operations chief. Janet is said to be ruthless, and she no doubt causes mondo trouble for Michael, Sarah and the rest of the gang...Ah, Prison Break. You so crazy.
Kayla in Los Angeles: Kristin, will we ever get a definite yes that Elle [Kristen Bell] is Sylar's baby mama on Heroes? Or will they leave it ambiguous, because I read that they probably won't do any more flash forward episodes.
Boss Tim Kring is the man with the answers, so I asked him and he said: "We will find out, yes. We will know very soon." Hol-freaking-ler! Though we won't see a flash forward, I hear we see some hot baby making during the eclipse later this month.
Heath in West Hollywood: Any word on if Pushing Daisies has been saved?
No official update yet, but I will be moderating the Paley event tomorrow night (Tuesday, Nov. 11) so you should stop by the Paley Center, or if you have any questions for the writers please email them to TVDiva@eonline.com.
Betty in Lansing, Mich.: Thanks for posting the new 30 Rock clips! They made me wonder if this week's episode will be the week that your "30 Rock: Are the Emmy Winners Gettin' Busy?" spoilers come to fruition. Could Jack be giving Liz that baby she wants?
It won't happen this week, but there is some Jack (Alec Baldwin) and Liz (Tina Fey) development next week! This week, Claire (Jennifer Aniston) will come between them, and when given an ultimatum, Jack chooses Claire over Liz. Liz even deletes Jack from her phone! Still, next week, Liz will end up bringing Jack as a date to her high school reunion. (Inadvertently, but still.) And I'm hearing they'll be locked in a closet for seven minutes of heaven! Can Jack do the deed in seven minutes? Something tells me no, but hey, I for one am dying to see. (P.S. If you missed the awesome clips of Jen A. as a stalker seductress, check them out here.)
Diana in Rumford, Maine: Any news on a return visit by Holly Flax? I know she's gone from The Office, but I miss her so much!
No word about more Amy Ryan, but they are casting for someone who sounds suspiciously like, well, a more ethnic version of Holly. The part is simply named "Woman with Michael," and they're looking for someone "African-American, Asian, Latina; a charming, attractive, smart woman in her 30s who has one large scene with Michael and actually gets along with him really well...Actress doesn't have to be comedic necessarily, just easy-going and appealing." Hmmm...Could this be Michael's rebound girl? If so, please tell me when and where I can promptly kick her ass.
Jaimie Trueblood / The CW
Greg11 in Ipswich, Mass.: How about something good on 90210?
You got it. Brenda is keeping a secret from Kelly.  A big secret. And we'll find out what it is in a November episode. Got any guesses? Post them in the comments down below!
Hank  in Trenton, N.J.: How about some more news on the Gossip Girl death? Also, I'm tired of rebellious Jenny. (Snore.) Will they stop with that?
I forget your first question, but for starters, Bart Bass' 30-year-old brother, Jack Bass, will be introduced and is up to no good trying to get control of Bass Industries. As for Jenny, she will return to school but her feisty ways are far from over...She'll jump right back into her feud with the mean girls. P.S. I, for one, love all the Little J craziness!
Nancy in San Francisco: I hear that Susan is losing a "loved one" to the big fire on Desperate Housewives. Can you give us a clue as to who this might be?
Well, Dana Delaney scooped last month that a man and a woman would not make it out alive. My money is on Mike Delfino (James Denton) not coming out of the fire since he's a loved one for both Susan (Teri Hatcher) and Katherine. Then again, I'm not sure I can really handle another "Is Mike dead?" scare! You? For more on the big fire heading to Wisteria Lane, click here.
Frannie in Memphis, Tenn.: Anything juicy on Desperate Housewives?
Once Carlos gets his sight back, Gaby tries to get him a job to go with his restored vision. She gets a great lead on a high-paying financial gig, but Carlos wants to spend more time with the family and teach the blind down at the community center, and as you would guess, that leads to mondo conflict in the Solis marriage...
Maddy in Chicago: Anything on good friends from Californication?
Last season's finale ended with a wedding, and this season ends with...babies! Yep, in the season finale, Sonja's in labor, Julian's missing (shocker) and Karen and Hank head on over to attend the New Age-y birth of Hank's love child. You know, if loving Californication is wrong, I don't want to be right. (Even though it is the sickest show on TV.)
Neila in San Jose, Calif.: Any scoop on Lindsay's pregnancy on CSI:NY?
Looks like the baby may just be a blessing for the rocky duo. Anna Belknap just told us: "I think they are surprised to find out the news, but they deal with it in a really loving, really honest way."  Awww...yay!
Heather in Charleston, W. Va.: What's ahead for Kitty and Robert on Brothers & Sisters?
Besides heading for adoption, there is a rocky patch coming for the couple. Rob Lowe told me, "Senator McCallister is very ambitious. He's very, very driven, and he doesn't let anything stop him. I think that's going to be a problem for the happy marriage." Argh! It's also probably not going to go over well when the birth mother of his and Kitty's soon-to-be-adopted baby is about to deliver just as McAllister is announcing his candidacy for governor on live TV.
Riley in Miles City, Mont.: More scoop on the Walkers please!
Justin (Dave Annable) is going to set Saul (Ron Rifkin) up on a date this week, and it does not go over well. Another set of lovers will have some trouble as well when Scotty (Luke Macfarlane) gets a promotion, and Kevin's (Matthew Rhys) manhood is threatened.
Greta in Los Angeles: Any news on my How I Met Your Mother faves?
Ted and Robin are getting back together! According to Barney, Ted and Robin are not only roommates, they totally back to having sex, and that means Barney is freakin' out. He starts buying home appliances just so he can smash them on the sidewalk. If he doesn't get his anger out that way, he might start crackin' skulls, so he decides crackin' TVs and microwaves is the way to go...
Gray in Albuquerque, N.M.: Any Supernatural goodies to share?
We'll soon be meeting younger versions of Sam and Dean and see that Sam never liked their life on the road, and for a while there when he was young, he even dared to dream of another life. Dean, meanwhile, enjoyed the "love 'em and leave 'em" aspect of dating while never staying in one place for too long. Those scamps!  
Mark in Daytona Beach, Fla.: I can't believe they pushed Law & Order: Criminal Intent back to next year! Have you seen any of Jeff Goldblum's scenes?
I've seen the premiere, and though Jeff Goldblum is not in the first episode, Leland Orser (Dr. Dubenko on ER) stops by to play an adulterous priest.
Steve Granitz/WireImage.com
Anna in Salt Lake City: I am jonesing for some Bones scoop please!
Chad Lowe just directed an episode that will air later in the season, and he teased, "There is an NHL hockey superstar in the episode." OMG, yay! I've never watched this "hockey" thing of which you speak, but it sounds fascinating. (And something tells me David Boreanaz will be pleased.) And for those of you not in the loop on your Bones spoilers, that hockey star is Luc Robitaille.
Delilah n Albuquerque, N.M.: I am loving the new show Privileged. Can you share any info on it?
Me too! And it looks like we're not the only ones; it's in the running for a People's Choice Award, and you can help it win by voting here. On the spoilery side, Lily is going to be arrested! Also, when her mom returns, it turns Megan's world upside down.
Andy in Long Beach, Calif.: It's been two whole weeks since we've had a new Heroes episode. What's going to happen tonight?
Eric Roberts returns in a flashback when we're shown how Meredith (Jessalyn Gilsig) was once an agent in training for the company. (Say wha? Claire's mommy is crazier than I thought!) Speaking of, we'll meet Claire's other uncle tonight as well. Check back tonight for the Redux on what this all means.
Corinna in Orange, Calif.: Poor Landry getting dumped on Friday Night Lights...Is there any hope for him?
Yes there is! He'll have a new girlfriend this week, or so he tells Tyra (Adrianne Palicki).  In other FNL news, one of the Panthers never told his parents he was on the team, and he's yanked off the field just before the big game. As for the newest football hero, J.D. McCoy (Jeremy Sumpter), poor guy's overzealous daddy continues to not understand the distinction between coach and father. Can Coach's patience with that guy run out now? Please? I want to see him give Mr. McCoy what for!
Alexandra: Kristin, wonderful and brilliant source of TV knowledge, I am in dire need of Chuck info! I burned through every episode in about a week, and now I am going through Chuck withdrawal...
With an introduction like that, how can I fail you? Oh right, quite easily, but I'll give it a go just the same. When our man Chuck Bartowski (Zachary Levi) runs into his old college flame Jill (Jordana Brewster) tonight, he'll lie about working at Buy More and play Rico Suave to impress her, but the jig is soon up thanks to a few Nerd Herders. And once she finds out Chuck's a CIA agent, she'll be by his side. Hmmm...I smell something fishy about this Jill chickadee! (And no, she doesn't work at Long John Silver's.) I think there's a chance for Chuck and Sara after all.
Mikaela in Chicago: Please tell me that Drea de Matteo is coming back to Sons of Anarchy this season!
I can do even better than that—I can tell you she's coming back this week! Wendy is now clean and sober with one thing on her mind: getting her family back. But now that Jax and Tara are finally together, most of us—ahem!—might see that as a problem. And things look even worse for the couple when Gemma vows to do whatever it takes to make sure that Wendy, Able and Jax are reunited. By the way, is it just me or is that woman terrifying? (P.S. Cutie Tom Everett Scott also appears this week and in the season finale as Rosen, SAMCRO's attorney/legal fixer.)
Delilah in Austin, Texas: Any news on Grey's Anatomy?
They're looking for a famous actress to play a thirtysomething patient for a three-episode guest arc. She's said to be funny, warm, have a sense of humor and be a girl next door type. Uh, Holly Madison, obviously. Or maybe Bridget Marquardt! OK, that's just me—who would you like to see stop by Seattle Grace? Post in the comments! 
Ginny in Rhode Island: Any word on Smallville? Specifically Doomsday?
Doomsday himself, Samuel Witwer, will be in here for a chat very soon, so email any Q's you have to tvdiva@eonline.com. In other news, I'm hearing Clark is going to reveal his secret identity to the world! Also to be revealed? Lex's whereabouts, current condition and what he's been up to all these months!
Tonya in Las Vegas: I am loving Ugly Betty this season! Are Connor and Wilhelmina going to get serious?
The sexy new man-about-town himself, Grant Bowler, told us that things are about to get "very sparky" and "very hot," so keep your flammables away from the screen. The minor glitch: He is a taken man. But Vanessa Williams promised she's not giving up: "At this point, Connor is still engaged, and Wilhelmina is trying very hard to make that not happen." And she does often get her way now, doesn't she. 
Frederick in Portland, Ore: How about a little spoiler juice on One Tree Hill?
Millicent loses her V-card (virginity)...but not to Mouth! Also, Chase will be back (and no, Millie doesn't lose it to Chase).
—Additional reporting by Natalie Abrams and Jennifer Godwin