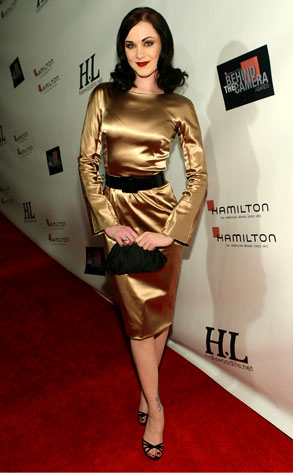 Jesse Grant/Getty Images
We went to Hollywood Life's Behind the Camera Awards at the Highlands, right in the heart of fake-it H'wood. Jonah Hill made the room crack up while presenting an award to his Knocked Up producer, not skimping on the anal sex jokes—like you'd expect anything less from this famously crude dude.
Later, the jokester was seen using his potty mouth to smooch on his tiny blond date, making out in front of everybody. Um, yuck? Stick to making jokes, Jonah.
One celeb sans any date was the recently single Evan Rachel Wood, who just broke off her inappropriately aged affair with Marilyn Manson. She's also busy getting her M.M. tatts removed, ouch! Lasering after love's gone astray is so painful, n'est-ce pas?
Nevertheless, ERW piped: "We love each other—I just want to be by myself."
Gal, in a shiny gold dress Oscar would covet, is clearly enjoying getting back to being an actress as opposed to some goth arm candy.
Ev exclusively told us while waiting for a libation at the bar, "I don't want to drink anything except one glass of white wine because I have an audition tomorrow and I'm nervous." Ev was still partying alongside Ryan Phillipe and Abbie Cornish by 11 p.m., a red concoction in her hand. Hope your audition went well, babe! Or perhaps you didn't care anymore since you were so damn busy snuggling, in heated overdrive, up to Joseph Gordon-Levitt?
New couple alert, sweets?
—Additional reporting by Becky Bain