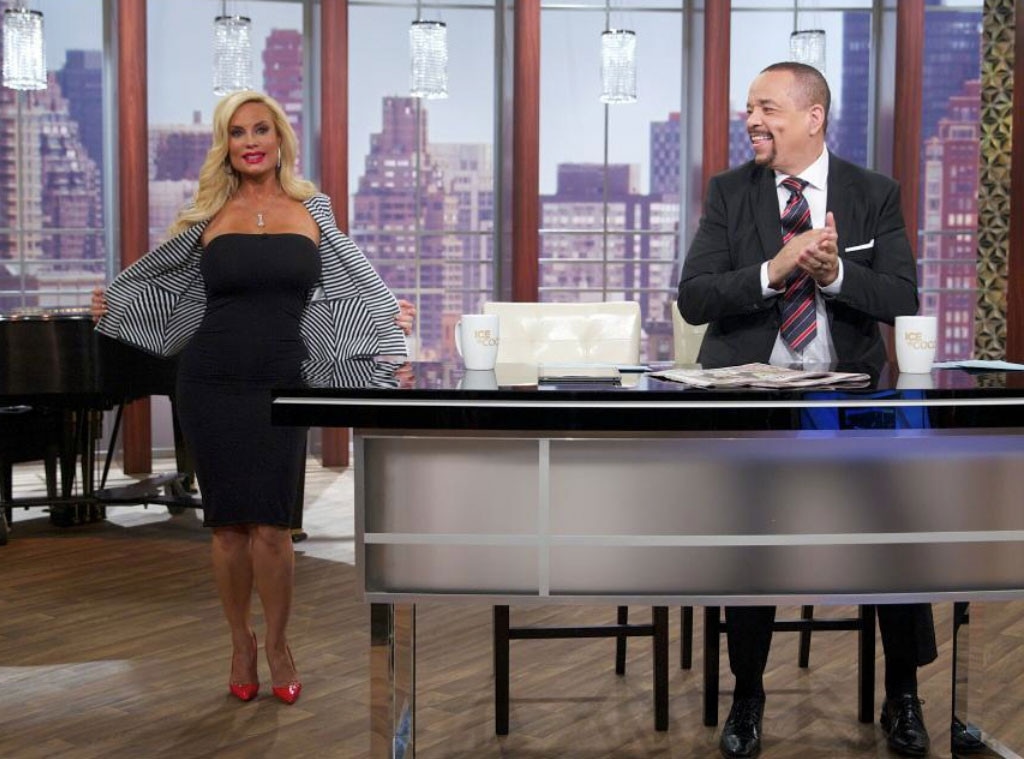 Twitter
It's true: Coco and Ice-T have a baby on the way!
E! News reported late Sunday night that Coco, 36, and Ice-T, 57, are expecting their first child together, and on Monday morning, the couple confirmed the happy news via Twitter. "Oh s--t! The news is out. YES. We"re having a baby. We announced it on the Ice&Coco Talk Show taping Friday.. That show will air August 3rd," Ice-T wrote. Coco tweeted, "Remember I told u this yr I had LOTS of surprises 4 u? 1st was my new lingerie line, then the release of new Talkshow! NOW FOR THE BIG NEWS.." The glamour model and author then shared a photo of her tiny baby bump from the upcoming talk show's set, writing, "I'm pregnant!!! Yah!! Ice & I are so excited! I announced it Friday on our new talkshow which airs Aug 3rd."
Ice-T and Coco also called in to FOX 5's Good Day New York Monday morning. "We're pregnant! I've been pregnant for a while, but we've been holding it between us for quite some time. We just finally released it this past Friday on our talk show and it was a really awesome moment. I cried. I didn't think I was going to actually cry, but it was a nice feeling to finally know that the world knows and I don't have to hide it anymore," the mom-to-be said, adding, "It actually shocked us how it happened so easily. It's beautiful how life actually works. Now that I have a little thing inside of me moving around, it's amazing."
The former E! reality stars' talk show, Ice & Coco, was announced in June. The spouses will reveal their baby's sex and name during the debut episode.
They are hosting the program for Warner Bros. Domestic Television Distribution and getting a three-week daily preview on Fox TV stations in select markets, including L.A. New York City, starting Aug. 3. "It's a fun show with our own style of hip, married humor and honesty," the couple said in a statement.
"We are thrilled to continue our ongoing relationship with Fox attempting to develop the next generation of successful talk shows," Ken Werner, president of Warner Bros. Domestic Television Distribution, said in a statement. Frank Cicha, SVP of programming for Fox TV Stations, added, "We see this as another attempt to do something different—big personalities, new to the daypart. Ice-T helped change popular culture. We're trying to do the same thing for daytime."
Their new jobs aside, Coco and Ice-T have been trying to start a family for some time. "Ice and I are very organized. We keep a list of what we need to do, and right now having a baby is next on the life list!" Coco told In Touch in April 2014. "I'm prenataling it with vitamins and everything to get my body prepared." She added, "I always told myself that when I turned 35, I would start thinking about a baby."
The couple, who starred in E!'s Ice Loves Coco from 2011 to 2013, have been married since 2001. Ice-T, who plays detective Odafin Tutuola in NBC's Law & Order: Special Victims Unit, has two children from previous relationships.